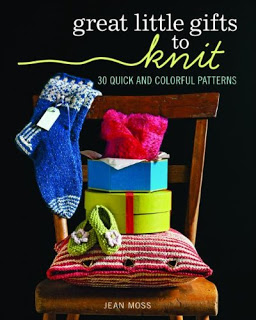 I am delighted to be part of Jean Moss' blog tour for the newly published Great Little Gifts to Knit (GLGTK) and was given the chance of previewing the book as well as interviewing her. As if that was not enough, you have the chance to win a copy of her book merely by commenting on this post, and I will draw a winner on Saturday 5th November who will be e-mailed. For those of you who do not know Jean Moss, she is one of Britain's leading knitwear designers. I know her amazing designs from my Rowan Yarn days, and love her exquisite work. Do check out her blog: More yarn will do the trick: jeanmosshandknits.
What inspires you?
I'm a very visual person, I always have my camera to hand and snap things that delight me all the time. This could be as simple as light playing on water or tracery through the leaves of a tree, lichen on stones, sculpture in the landscape, vegetables in the garden etc – nature provides a constant masterclass in colour, texture and form.
I've used all sorts of sources for my collections over the years –  music for In The Mood , travel in Sweet Shawlettes, architecture  in Sculptured Knits, and ceramics in Knits for all Seasons.  The Welcome Toran in GLGTK is inspired by a beautiful one from Rajasthan we've had hanging at home for years. We're surrounded by awesome inspiration every day of our lives  –  the trick is to make sure your eyes are open to it.
But I also love street fashion and random mundane objects that spark my imagination – like a quirky coffee cup, a sleek piece of technology, junk shop finds and of course, lots and lots of yarn. William Morris says it all in Have nothing in your house that you do not know to be useful, or believe to be beautiful.
Being synesthetic and a musician is helpful too. I have the most common form of synesthesia in that I see all letters as different hues making up the overall colour of every word. Playing the guitar and songwriting is another passion, it can take me somewhere else when I'm struggling with a pattern and I often find when I come back to it the original problem is gone.
My life is a work in progress – I'm still filling my memory with things I love, ready to draw on and use when the right moment comes.
Do you give away knitted gifts yourself? And if so do you use your own patterns?
Yes I do, to both questions. I always knit a few things for family and friends at Christmas, usually scarves, fingerless mittens or hats. Sweet Shawlettes was a wonderful source for my festive knitting last year. One year I did knit necklaces  and bracelets using someone else's pattern. I have to admit I customized it as I went along, but this is a fun part of the creative process – I always encourage knitters to play with my patterns to create pieces that are unique to them.
You mention lightbulb moments in your book, when you talk about the Fiesta Fingerless Gloves. Do you often have those when you design, and do they lead to unexpected turns at times?
Always. I get completely carried away with the design on my needles at any given moment. It often occurs to me that the concept could probably inspire a whole collection, so I'm always keen to travel as far as I can with it. That's the reason many of the projects in Gift Knits have two styles, multiple colourways and some even different yarn weights.
Can you recall a very memorable question from your "Ask Jean" advice column in the UK magazine Knitting?
The most memorable question was Is it OK to knit after sex?
You have so many passions: gardening, music and vegetarian food. As well as hosting knitting and gardening tours to beautiful locations. How do you find enough time to design?
I share the organization of the tours with my partner, Philip, who does much of the day-to-day admin and planning, whilst I do the web work, promotion and teaching. We both enjoy the enviable job of checking out all the lovely places we stay in and visit. The tours are a fabulous way of connecting with kindred spirits and we have a wonderful time with a good mix of returners and newcomers, so each tour feels something like an extended house party.
I always have a knitted project on the go, but as far as commercial designing is concerned, I have to have a book, commissions or a specific project in mind. I enjoy variety and it keeps me fresh to do different things in between. So when I've had a long stint of pattern-writing, say, for a book, it's good to have some time off when I can just knit for myself, play my guitar, write some songs, play in the kitchen or plan some new feature for our garden in Wales.
Can you reveal any design tips or techniques or methods from your time at Polo Ralph Lauren, Laura Ashley, and Benetton that has been elementary for your further designs?
Not really design tips, but it's very important that you believe in yourself.  At the start of my career I learnt on the job, my mantra was yes I can do it, then found a way of doing it later. Working with Ralph Lauren was an exciting but exacting time when sometimes I'd be writing three patterns in a day. Samples would be couriered back and forth over the Atlantic almost daily and any amendments had to be made and samples reknit constantly. I learnt the hard lesson that meeting production deadlines was paramount. If you miss them, the order is cancelled. Working with Laura Ashley and Benetton was different. Laura Ashley was my intro into UK volume production, when most of the factories were happy to poodle along making argyle socks. I remember receiving my first order for 25,000 garments in a season and having to go out and try to source them. No pressure! With Benetton I was employed in a purely design capacity – I have great memories of trips to the factory in Italy and staying in Venice.  What a perk!
This is your 11th book, is the next one already in the planning or what is next on your knitting agenda?
I'm constantly wearing my designer hat, although my output has been seriously curtailed since I broke my wrist a couple of months ago, teaching my grand-daughters how (not) to ride a unicycle! As it's my right wrist, even now the cast is off I still can't write, knit or play guitar for long, so life has been very boring and frustrating recently. I've decided to use the enforced sabbatical as cooking time for future projects and already have a list of ideas I'd like to pursue.
My first ever KAL was a lot of fun so I've been trying to organize another one. I'd like it to be the Welcome Toran, as it's such a joyous piece and knitters can customize it to suit their style, skill sets and lives. As well as the KAL, what I'd really like is to co-ordinate an installation, where knitters contribute to one massive Toran, which could eventually be festooned across a major bridge or urban gateway (Bootham Bar or Scarborough Bridge in York would be perfect), which in the true spirit of the original Hindu and Buddhist doorhangings, would bless all who go beneath it with an abundance of love, prosperity, health and happiness.
Thank you Jean, for answering all my questions with so much consideration! All the cute and beautiful projects in the book can be viewed here: GLGTK-project-gallery. I love the Fiesta Shrug and the matching Fingerless Gloves, while the Welcome Touran puts a smile on my face with its happy colours. You will find the book at Amazon.com and Amazon.co.uk and in Norway from: Tanum. I recommend you study her complete collection of books, marvel, get inspired and enjoy!
The winner of the draw, picked by Random.org, is Pauline Hornsby who I will contact for her mailing address. Thank you to all who participated.