It is awhile ago since I released Eira in English on Ravelry, but I have not yet announced it here until now. Gorgeous model Alexandria Eissinger at Pholk, brilliantly styled by Sissel Fylling, is wearing a beautiful linen silver printed dress by Judith Bech and perfect flats called Elisabetta black by Monica Stålvang, all magically captured by photographer Eivind Røhne at Hvalstrand Bad. The Norwegian pattern was published in the Nordic Vintage series in the new magazine Familien Trend which briefly took over after Made by Me, at the end of February.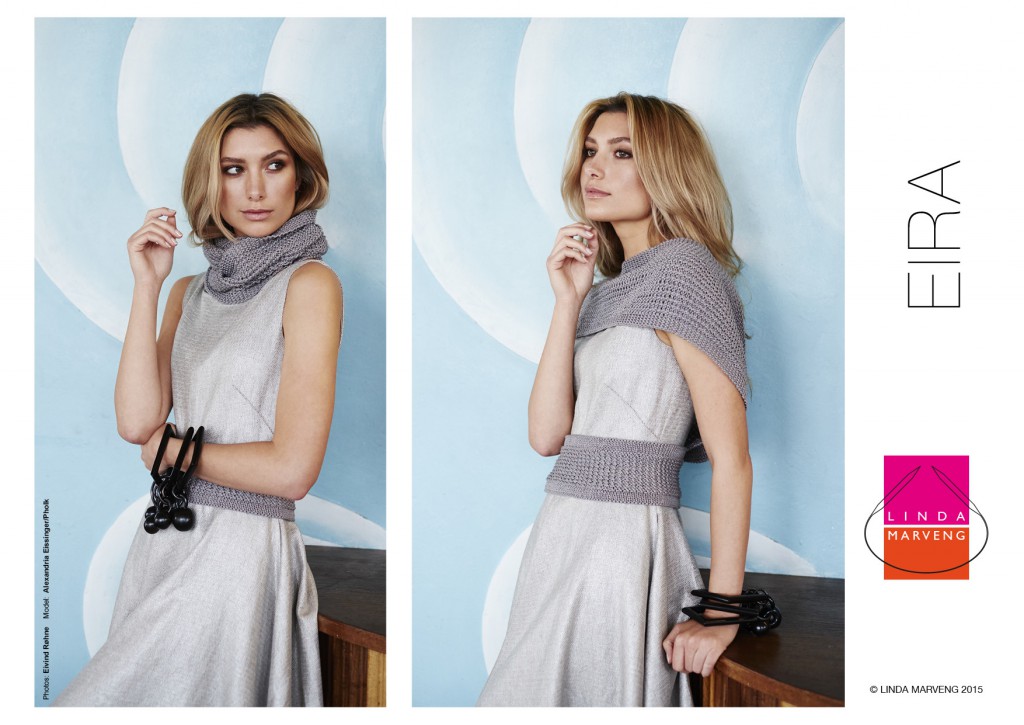 EIRA
A sporty looking cowl with a matching belt knitted in a reverisble rice pattern closed with snap fasteners was the idea for Eira; A Norse name meaning merciful. A thin drapey mercerized cotton called Hifa, Perle, held doubled, seemed ideal for these accessories.
Size: One size
Finished measurements: Cowl: Height: 20 cm/7.75″                                                   Length: 120 cm/47.25″                                                                                                                     Belt: Height: 10 cm/4″                                                                                                               Length: 72 cm/28.25″
Yarn: Hifa, Perle 12/6 (100% mercerized cotton, 200 g cone, 670 m/733 yds). Sample is knitted in Grey 18370.                                                                                                                  Cowl: 1 cone; 555 m/607 yds                                                                                                      Belt: 1 cone; 270 m/295 yds                                      http://www.ull.no/garn/bomullsgarn/perle-merc-bomull-12-6                                         Note: Yarn is held double throughout.
Alternative yarn: Patons, 100% Cotton 4 ply (100% cotton, 100 g, 330 m/361 yds) http://www.makeitcoats.com/en-gb/explore/knitting/patons/100-percent-cotton-4-ply Mondial, Cotton Soft Speciale Baby (100% cotton, 50 g, 180 m/197 yds) http://www.lanemondial.it/home/sv/?option=com_content&view=article&id=1870:cotton-soft&catid=280&Itemid=403&lang=sv                                                                                   Elann, Lustrado (100% cotton, 50 gm, 169 m/185 yds)                                                               Or another fingering/4 ply yarn to be held double throughout.                                                   Or another DK/8 ply yarn held single.
Notions: Waste yarn, 3 snap fastners for belt (1.5 mm/0.059″) and yarn needle.
Needles: 2 sets of 4 mm/US 6 circular needles (80 cm/32″). Adjust needle size as needed to match gauge.
Gauge: 21 sts and 26 rows in st st using yarn held double measures 10 cm/4″ square. 20 sts and 28 rows in Rice Pattern using yarn held double measures 10 cm/4″ square.
Notes: Both Cowl and Belt are knitted flat. The Cowl is cast on with a provisional cast-on using waste yarn which is removed at the end so that it can be grafted or bound off with 3 needles to join into a loop. The Belt only comes in one size but can easily be adjusted to your preferred waist length by adding or removing pattern repeats. It is closed with snap fasteners and has a folded hem.