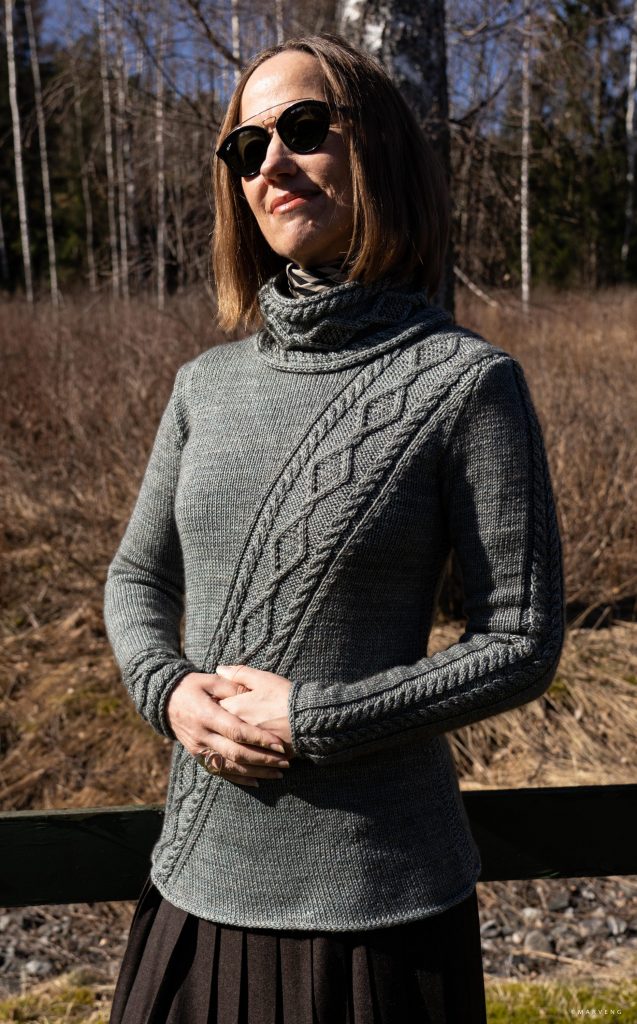 I am thrilled to show you my new design called Varun – Norse for secret keeper – an A-line pullover with a cowl knitted in the gorgeous Norwegian Norne Yarn, DK – Merino/Silk/Yak in Fimbulwinter in size Small. The sample is beautifully knitted by Grete Jenssen, aka ma9 on Ravelry. My idea began with having a cable as a sash – signifying a position not necessarily royal but a secret one of your own choosing. Instead of a crown, make and wear a cowl. One sleeve has a cable cuff to match the sash, like an honorary bangle, while the second one has two small cables running along the sleeve. I am happy with the result and here you see me wearing size Small with only 2 cm/0.75″ of positive ease, photographed by my husband in our back garden early in April.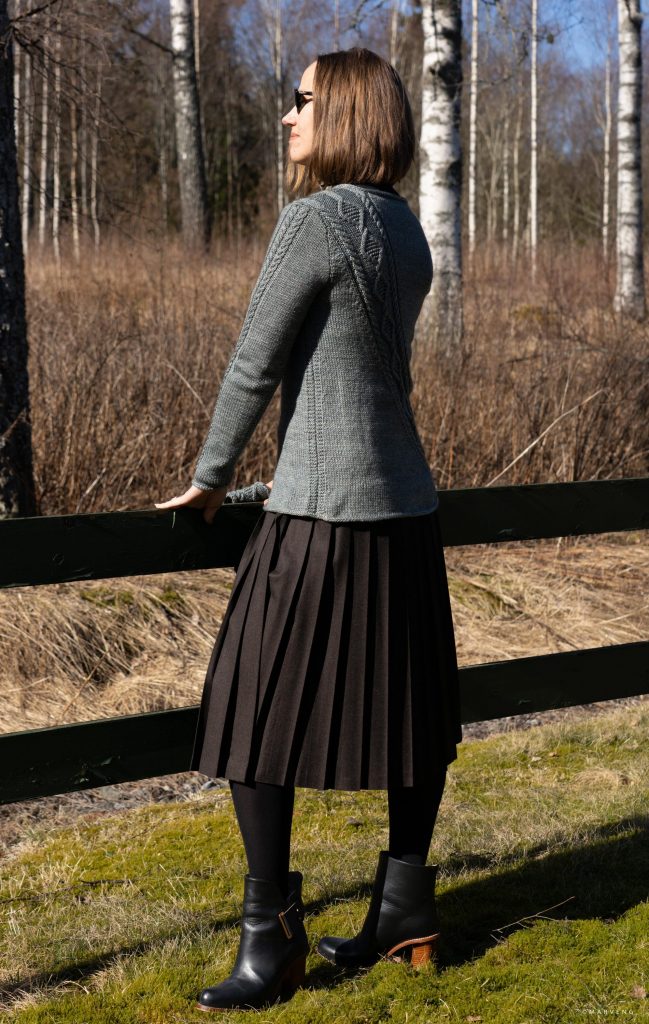 Varun will be graded into sizes XS to 5XL with a bust circumference of 82 til 164 cm/32.5 to 64.5″. Yes, I do have a number of calculations to make first and that is the reason why this pattern will probably be the last of the seven new patterns I have designed to be finished.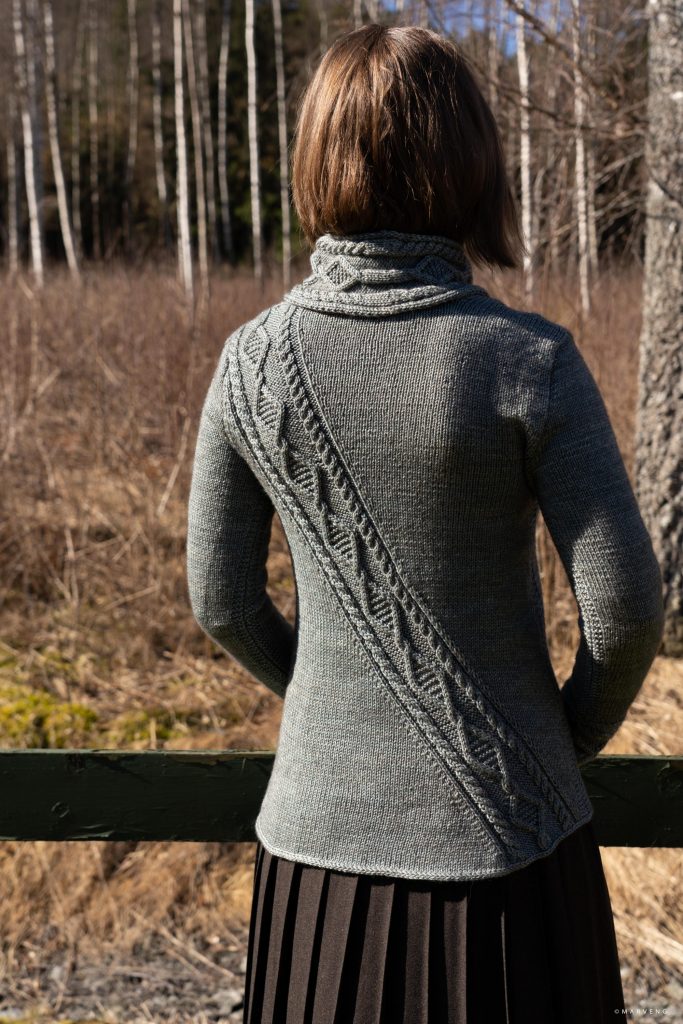 The sample is knitted using a 4 mm/US 6 needle and a 20 stitches and 30 rows in stockinette stitch gauge. Varun is worked back and forth in separate pieces and seamed.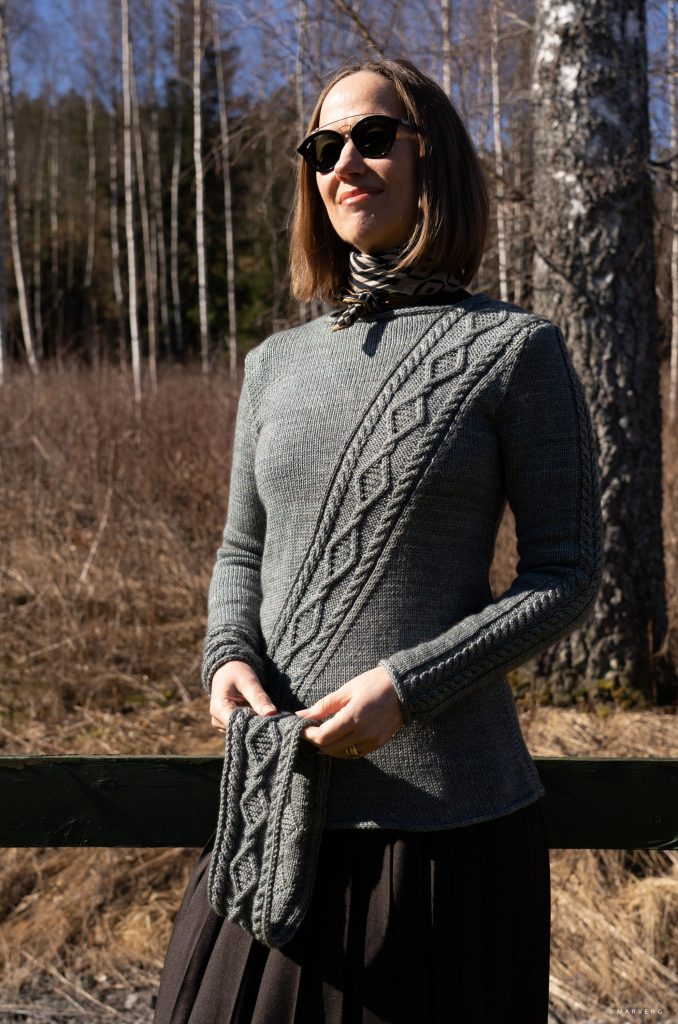 While I am wearing it with a brown pleated skirt in these photos, I choose cream coloured silk trousers for new model Aksa Mortensen. I also brought a silk scarf to match the colour which she wore around her hair and it looked stunning on her! I look forward to show you the photos that Eivind Røhne took at Hvalstrand Bad at the end of May.
Both the English and the Norwegian pattern will be released after at the end of November as the test knitting begins on 18th of October.