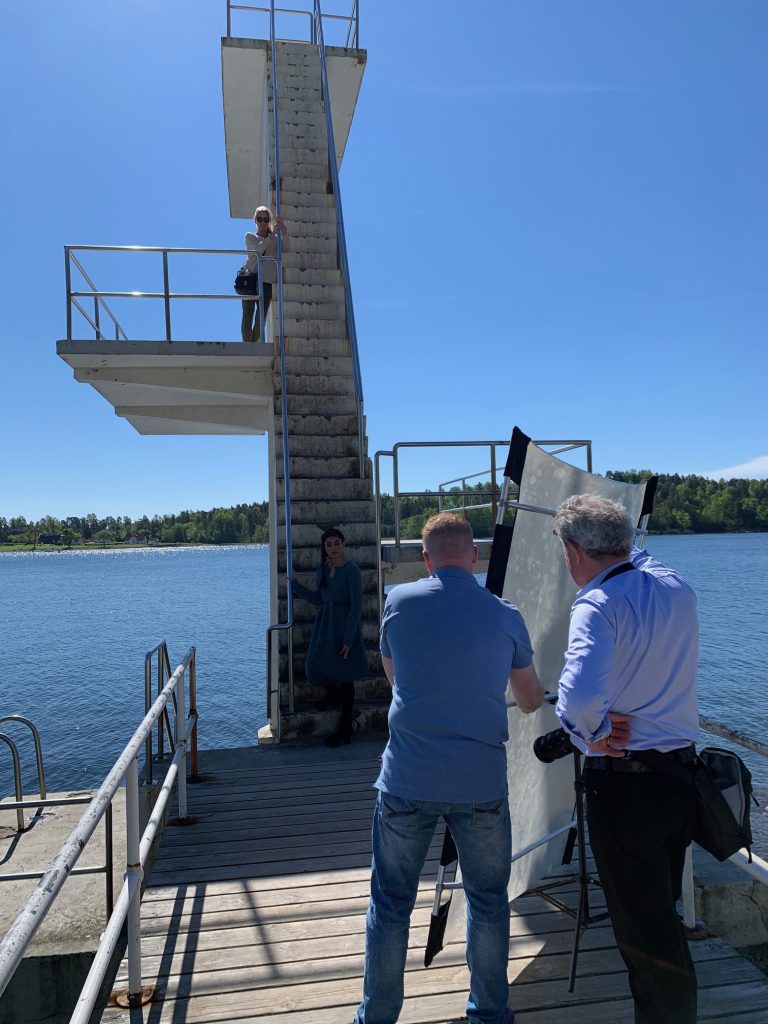 What a difference a day makes; we went from what felt like a green winter to a hot summer over night. Hence I did not dress for a party at the Polar Base Camp, instead I should really have brought my bikini to cool down in the summer heat or worn a cocktail dress to fit in with the wedding that took place on the beach while we where at Hvalstrand Bad in Asker (about 20 minutes west of Oslo) on last Friday (28th of May). But since I was there for our photoshoot I needed to wear something a bit more practical and opted for a pair of summer trouser with my Maith shrug on top in addition to two more jackets (making sure I would not freeze – fat chance!).
At the top you see Hair and Make up Stylist Nina Hjertaas Bull is covering for the sun on Aksa's hair and you can spot her standing high up in the diving tower. You can barely spot model Aksa Mortensen standing at the bottom of the stairs. Photographer Eivind Røhne is adjusting the reflector, while Michael had to hold it in place as soon as we started. Above you see us trying out different spots at the diving tower. Michael has taken a number of these photos, but not all of them, as I was able to capture a few too.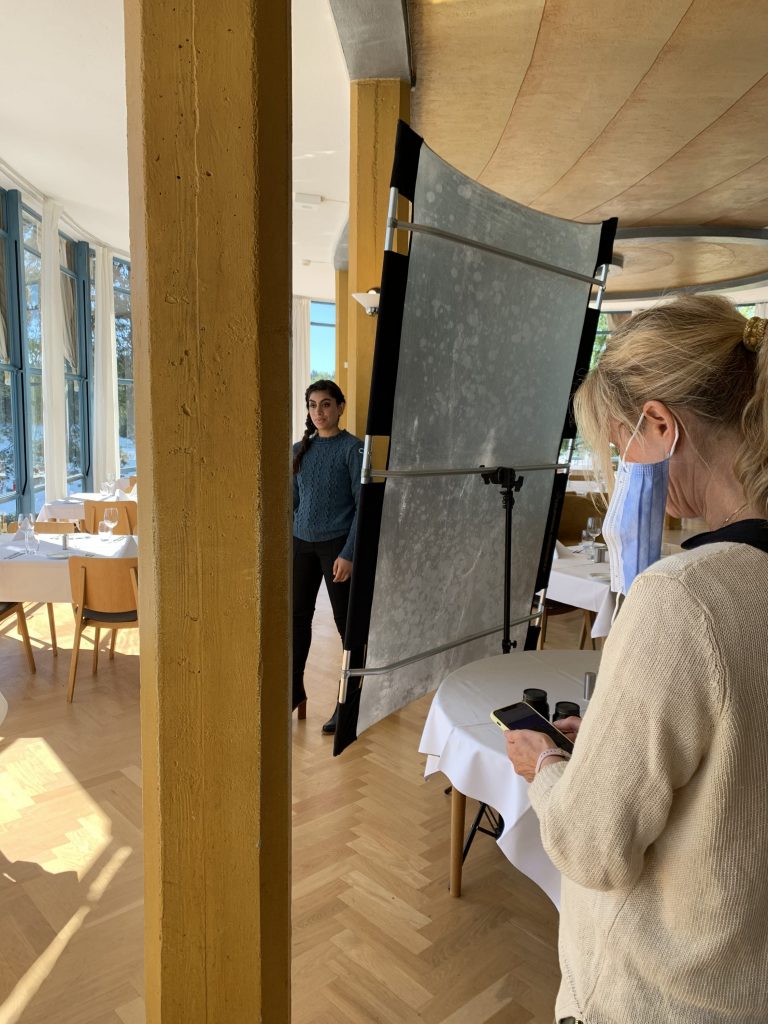 This is the second time we are photographing at Hvalstrand Bad, as we were there back in 2014 with the then editor Mary Ann Astrup of the magazine Made by Me in charge. This time I wanted us to photograph the diving tower – as it was pouring down the last time. It was not a lot easier this time with a blue sky without any clouds for a bit of shadow. Hence we only photographed one garment outside and went inside instead. Above you can see Aksa wearing another of the four new designs for Hillesvåg Ullvarefabrikk.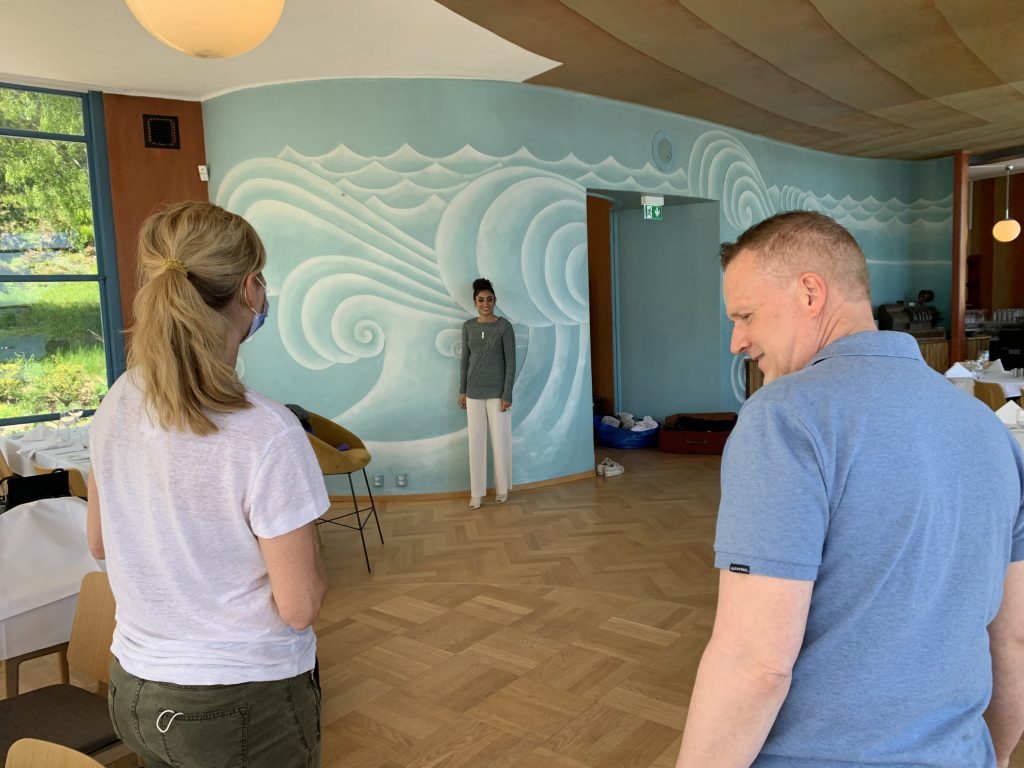 Just as last time we wanted to use the Art Deco wall painting inside. Photographer Eivind Røhne remembered it well. Above you see us preparing to photograph the last three garments after a lovely lunch. Aksa is wearing one of my new designs, an a-line pullover called Varun. I had also booked modell Olivia Lindtein, but unfortunately she had to go into a waiting quarantine (a friend of hers had been exposed to an infected person, hence she had to wait for the result – it was negative).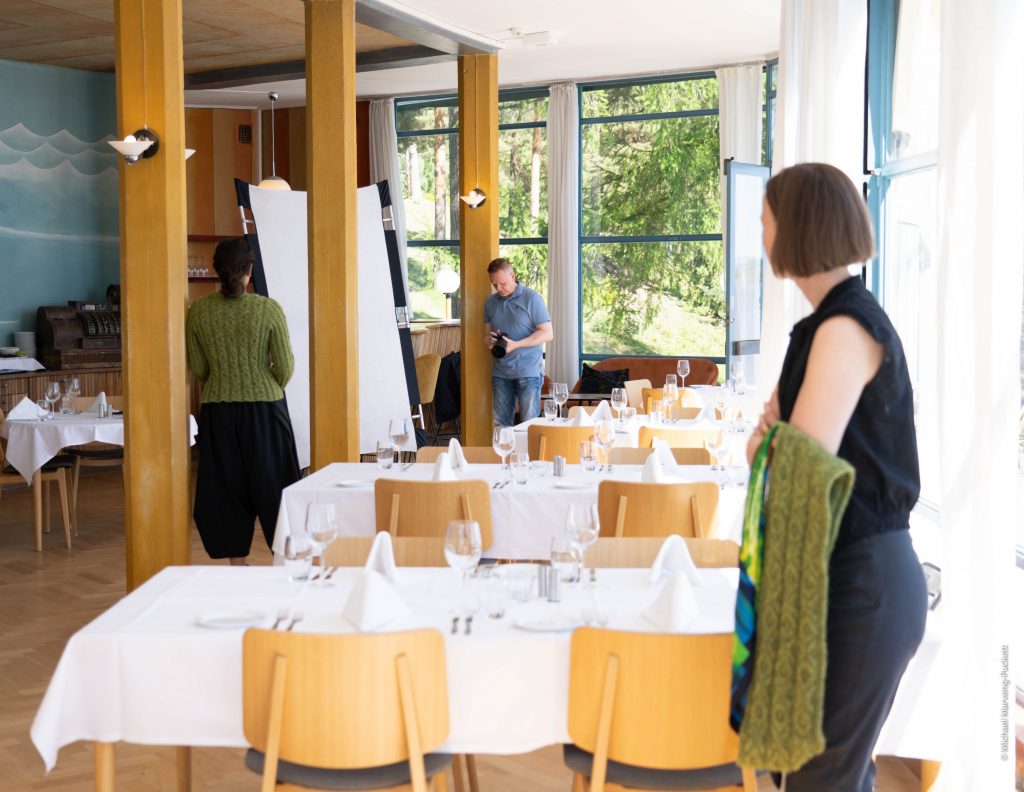 We had a total of nine garments to photograph this time; 7 new ones and 2 old ones. Above is the old Mistale worn by Aksa and I am holding onto the cowl plus a silk scarf for hear to wear on her head.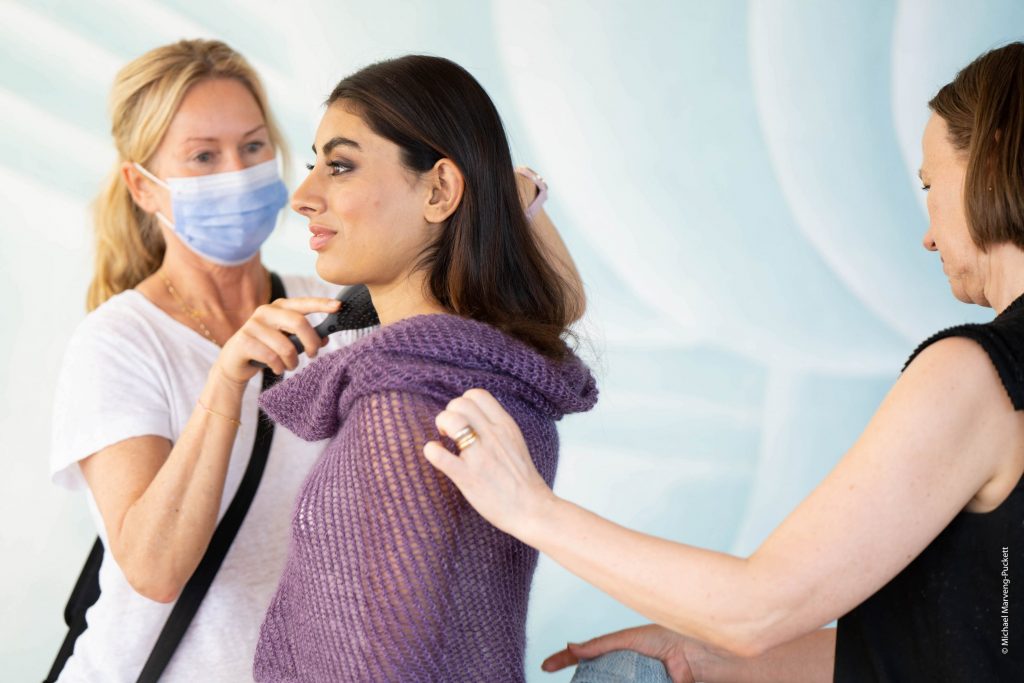 Above you see both Nina and me in action. Aksa is wearing another of my old designs, this time the Syrin Shrug from my book. As always we had a lot of fun and also had to help the ice cream delivery man to find the delivery entrance downstairs. Eivind did tell him that we would be happy to eat some of it, if he wanted just to deliver it to us. He chose to deliver it downstairs instead. We also spotted a wedding outside on the beach in addition to several school classes coming to relax.
It was a treat in these Corona days to have lunch together at the restaurant – we had it all to ourselves – as we had rented the space for the day.  Just before lunch we had two visitors: designer Tove Fevang and photographer Geir Arnesen, who recommended Aksa to me. Michael and I were lucky to stay with them after the photoshoot so we did not have to drive the long way back to Ørje. It was a great way to end the perfect photoshoot day!