The new Norwegian magazine; Familien Trend that takes over from Made by Me came out on Monday. My series called Nordic Vintage which includes 10 designs is part of it, and Saga has made it on the cover, worn over a stunning dress by Judith Bech with outstanding shoes by  Monica Stålvang, by gorgeous model Alexandria Eissinger at Pholk, beautiful hair and make-up by Sissel Fylling, captured by brilliant photographer Eivind Røhne at Hvalstrand Bad. In addition to jewelry by Kaja Gjedebo and bespoke buttons by Siri Berrefjord. I am so thrilled with the result as well as the feedback I have received for this series, and hope to work with this fantastic team again! Thank you!
The series was commissioned by the skilled former editor Mary-Ann Astrup of Made by Me, now in charge of Egmont Publishing's handicraft blog Tusenideer.no, and presented by her: "The stitch patterns in these unique garments have clear lines going back to Norse tradition and the intricate patterns we see in the Dragon Style. Paired with gorgeous dresses in Norwegian design, the goddess look becomes complete."
Freja Top and Chocker: A stunning skirt with a train by Judith Bech, deserves a top with a train. Freja, named after the goddess of love with the added meaning of like a lady, is knitted with a longer back shaped at the bottom. Three Lace panels adorn the sleeveless top with garter stitch bands and vents in the side. A fine tweed yarn is held together with an alpaca lace yarn, with a chain construction, to create a fabric with beautiful stitch definition and a slight halo.
Yarn: Du Store Alpakka, Dreamline Soul held together with Pickles Merino Tweed. Sizes: XS (S, M, L, XL, 2XL). Model is wearing size S. Difficulty level: 4.
Eira Cowl and Belt: A sporty looking cowl with a matching belt knitted in a reverisble rice pattern closed with snap fasteners was the idea for Eira; A Norse name meaning merciful. A thin drapey mercerized cotton called Hifa, Perle, held doubled, seemed ideal for these accessories.
Yarn: Hifa, Perle held double. Size: One Size. Difficulty level: 2.
The bangle is privately owned. Shoes by Monica Stålvang.
Honeysuckle Shawl, Cowl and Belt:  Inspired by the climbing of the Honeysuckle is this lace pattern which adorns a soft summer shawl that can be buttoned into a shrug. Like Honeysuckle it is equally beautiful on both sides. Wear it with a cowl as a collar and a stylish belt in stockinette stitch. The belt is worked as a hem and can either be tied or pinned together with a stunning brooch. Knit all parts in the cozy Rowan Softknit Cotton.
Yarn: Rowan Softknit Cotton. Size: One Size. Difficulty level: 4.
Atika Cowl and Loose Sleeves: A cowl to warm your shoulders or your neck. Or why not wear it as top with matching loose sleeves gracing a stunning dress like this designed by Judith Bech. Both the cowl and the loose sleeves are knitted in the round using a beautiful reversible stitch pattern called Hearts of Oak with both texture and a drapy edge. Make your own perfect yarn by combining a lace weight yarn like the luscious Dreamline Soul from Du Store Alpakka with a fingering yarn like Merino Tweed from Pickles.
Yarn: Du Store Alpakka, Dreamline Soul held together with Pickles Merino Tweed. Sizes: XS (S, M, L, XL, 2XL) Model is wearing size S. Difficulty level: 4.
The divine jewelry:
Kaja Gjedebo
The earrings and ring you see worn by the model above is designed by Kaja Gjedebo under the brand KGD. Kaja says she is not lead by trends, but by personal interests. The result is elegant and timeless jewelry that combines natural shapes with delicate constructions. See more on www.kgd.no.
Hillevi Scarf : A reversible scarf with a large shawl collar in a self-made tweed mixture of Rowan Lima and Rowan Fine Tweed. Two staghorn cables form the stitch pattern combined with garter stitch edges and shawl collar. Wear it as a scarf with the collar tight around your neck, or as a shawl with the collar around your shoulders. You can even wear it upside down with the collar as a shaped curve, or as a top around your bust pinned together with a shawl pin.
Yarn: Rowan Lima held together with Rowan Fine Tweed. Size: One Size. Difficulty level: 3.
Gyda Jacket: Cables that create diamond shapes adorn this fitted jacket on all its parts. A deep v-neck and a button band with three bespoke buttons by Siri Berrefjord make it suitable to wear on top of any treasured outfit. The fronts and back are knitted flat, while the sleeves are knitted in the round, all in the bouncy pure wool melange Ask – Hifa 2.
Yarn: Hifa Ask. Sizes: XS (S, M, L, XL, 2XL). Difficulty level: 4.
Gyda Cowl and Belt: A belt in tweed pattern lengthens the jacket and introduces the brown cowl. You can also wear the cowl as a belt and the belt as a large collar.
Yarn: Hifa Ask. Huldra Kamgarn held together with Du Store Alpakka, Dreamline Soul. Sizes: XS (S, M, L, XL, 2XL). Difficulty level: 4.
The nice buttons:
Siri Berrefjord
The buttons on this set are designed by Siri Berrefjord. They are casts of antique national costume silver. The jewelry is available for sale at Designerkollektivet, Norway Designs in Oslo and Trondheim, Sugarshop Bislett and Briskly, Maihaugen at Lillehammer and Galleri Osebro in Porsgrunn. See more at www.fredenshavn.no.
Saga Jacket with Extra collar/Belt: Inspired by the ancient sagas, I have designed a warm jacket with cross chain link cables that prepares you for the battle of the winter or for a cold Northern summer day. The jacket is straight and closed with three large bespoke buttons at the top, with cross chain link cables continuing across the saddle shoulders. The standing collar is a cable knitted separately and attached at the end. I knitted a second loose collar you can use as a belt if you prefer. The vivid melange color and lovely texture is created by holding Rowan Lima and Hifa Pelsull together.
Yarn: Hifa Norsk Pelsull/Pelt wool held together with Rowan Lima. Sizes: XS (S, M, L, XL, 2XL) Model is wearing size S. Difficulty level: 4.
The standing collar is knitted in cables separately, and attached afterwards. The extra collar is loose, and it can be worn as a belt if you prefer.
Hennika Bolero: A lace pattern with Gotic shapes adorn this bolero, which has a scarf collar where the pointed arches reigns. Hennika is a name with Gothic origin and means master of the house. The bolero is tapered and worked in pieces, while the sleeves are worked in the round. Wear the collar lying flat or folded in half lengthwise to add volume and close it with a shawl pin or a beautiful brooch.
Yarn: Hifa Ask. Sizes: XS (S, M, L, XL, 2XL). Model is wearing size S. Difficulty level: 4.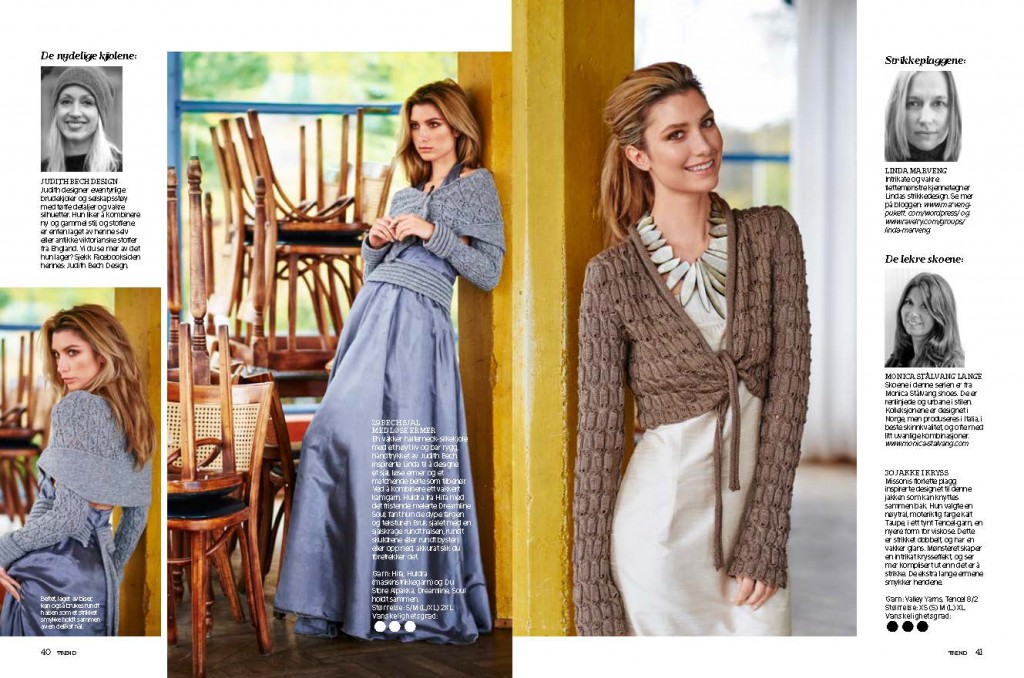 The lovely dresses
Judith Bech Designs
Judith designs fairytale bridal gowns and ballgowns with cool details and beautiful silhouettes. She likes to combine new and old style, and the fabrics are either made by her or antique Victorian fabrics from England. Do you want to see more of what she makes? Check out her Facebook page: Judith Bech Design.
The belt made of tucks can also be worn around your neck as knitted jewelry, pinned together with a delicate brooch.
Bech Shawl, Loose Sleeves and Belt: A stunning halterneck silk dress with a high waist and bare back, handprinted by Judith Bech inspired Linda to design a shawl, loose sleeves and a matching belt to accessorize it. By combining a beautiful pure combed wool called Huldra from Hifa with the luscious Dreamline Soul from Du Store Alpakka, she found a rich yarn shade and texture. Use the shawl with a shawl collar around your neck, shoulders, bust or upside down, just as you prefer.
Yarn: Hifa, Huldra Kamgarn held together with Du Store Alpakka, Dreamline Soul. Sizes: S/M (L/XL, 2XL) Difficulty level: 3.
The knitted garments
Linda Marveng
Intricate and beautiful cable patterns characterizes Linda's knit designs. See more on her blog: www.marveng-puckett.com/wordpress/ and www.ravelry.com/groups/linda-marveng.
The divine shoes
Monica Stålvang Lange
The shoes in this series are by Monica Stålvang Shoes. They are clear-cut and urban in their style. The collections are designed in Norway, but produced in Italy in the best leather quality and often in uncommon combinations. www.monica-stalvang.com.
Jacket in Cross: Missoni's thin and featherlight garments inspired me to design this jacket that can be tied in the back or front. I chose a neutral but fashionable color, namely Taupe in a thin Tencel yarn, a newer form of viscose, knit double with a divine gloss. The pattern creates an intricate cross effect and looks a lot more complicated than it is to knit. Extra long sleeves adorn the hands.
Yarn: Valley Yarns, Tencel 8/2 held double. Sizes: XS (S, M, L, XL). Difficulty level: 3.
———————————————————————————————————-
The magazine, Familien Trend, is available in selected supermarkets and newsagents all over Norway. If you live abroad and read Norwegian, or simply are desperate to get your hands on it, you can order a copy and receive an invoice for the magazine plus postage from Customer Services by e-mailing: kari.bachke@egmont.com. Do also check this link to see if it has become available as an iPad app: www.klikk.no/produkthjemmesider/familien/.
The photographer Eivind Røhne has also written a blogpost about the photo shoot with additional new photos available here: erohne.wordpress.com/2015/02/23/nordic-vintage/
All the patterns will be released in English. I will publish Jacket in Cross and Eira shortly, but want to organize test knits for the remaining patterns, beginning with Gyda in the beginning of March.