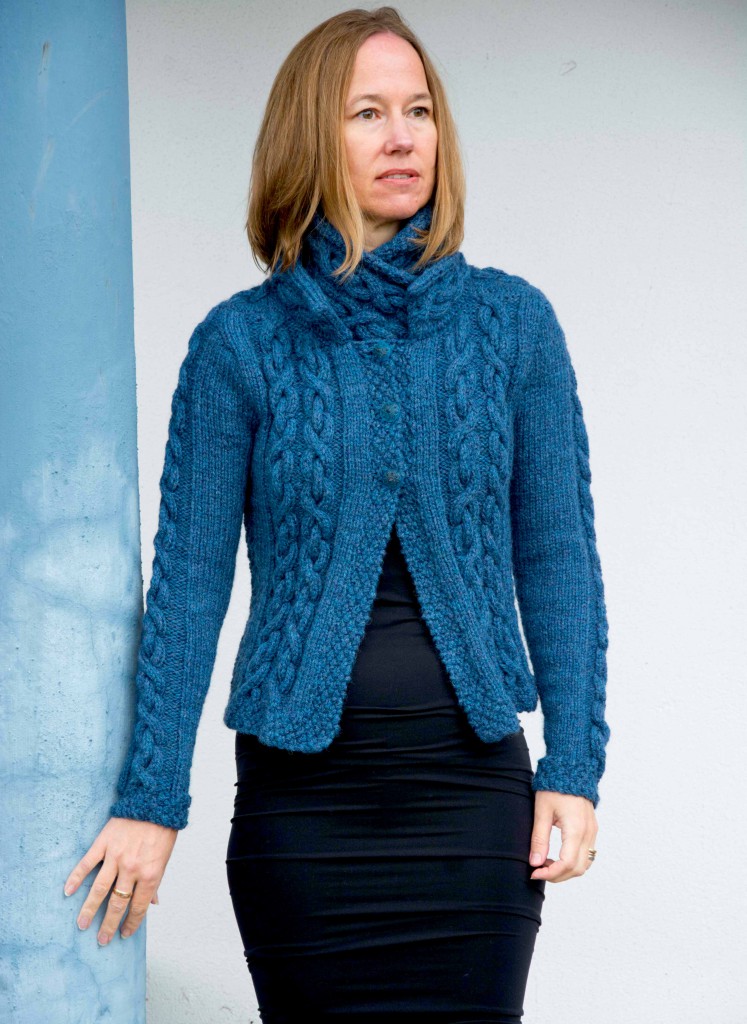 Cross Chain Link Cables became like an obsession for me after I discovered them in one of Barbara Walker's magnificent stitch dictionaries. They require 2 cable needles and full concentration for a short period of time before addiction sets in, at least that is what happened to me. How could I show off their playfulness in the best possible light? What yarn? You know me, it did take two different yarns to find the texture and vibrant color I wanted. But then I captured the essence of a deep ocean blue, by combining the alpaca soft Rowan Lima in the shade Amazon and the bouncy Hifa Norsk Pelsull/Pelt wool in the shade Jeansblue. The chunky knit using 5.5 mm/US 9 lets the cables pop, next to stockinette stitch and double seed stitch. Saga, inspired by the ancient sagas, was born in the shape of a jacket, knitted straight and closed with three large bespoke buttons at the top by Siri Berrefjord.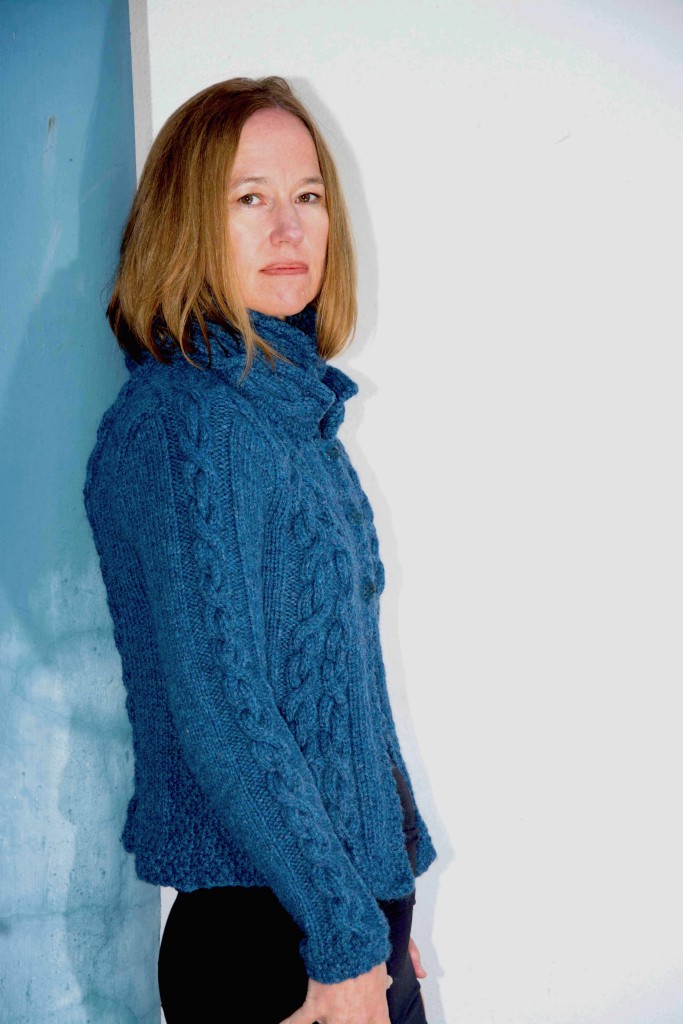 To do the cross chain link cables justice I had to let them continue across a saddle shoulder  from the bottom of the sleeve. The round neckline demanded a stand-up mandarin like collar, and I knitted it double to make sure it would be standing firmly. It is knitted separately and attached at the end. An extra loose collar, you can wear as a neck tie or attach snap fasteners and wear it as a belt. The collar has one band of cables, while the extra loose collar has two.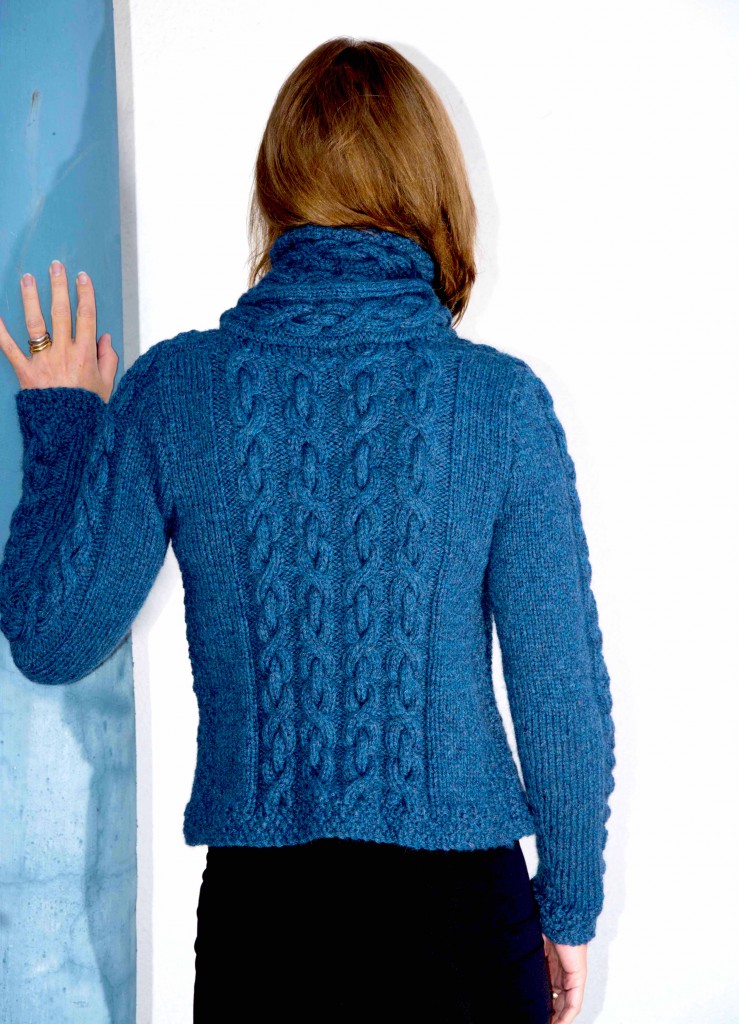 To make sure the cables would keep their texture to the end, I gathered them just before final bind off by knitting them together. The back has four cables, while each front has two cables each just as the sleeves. The jacket comes in size XS to 2XL with a finished bust measurement of 86 to 126 cm/33.75 to 49.5″. I knitted a size S, so both Alexandria and I are wearing it, she with a lot more positive ease than on me.
I decided to knit the sleeves in the round while I knitted the back and the fronts flat. The Norwegian pattern is part of the Nordic Vintage series published in Familien Trend on 23. February, while the English pattern will be test knitted before it is released. Below is one of my photos from the fashion shoot showing talented stylist Sissel Fylling and gorgeous model Alexandria Eissinger at Pholk in action.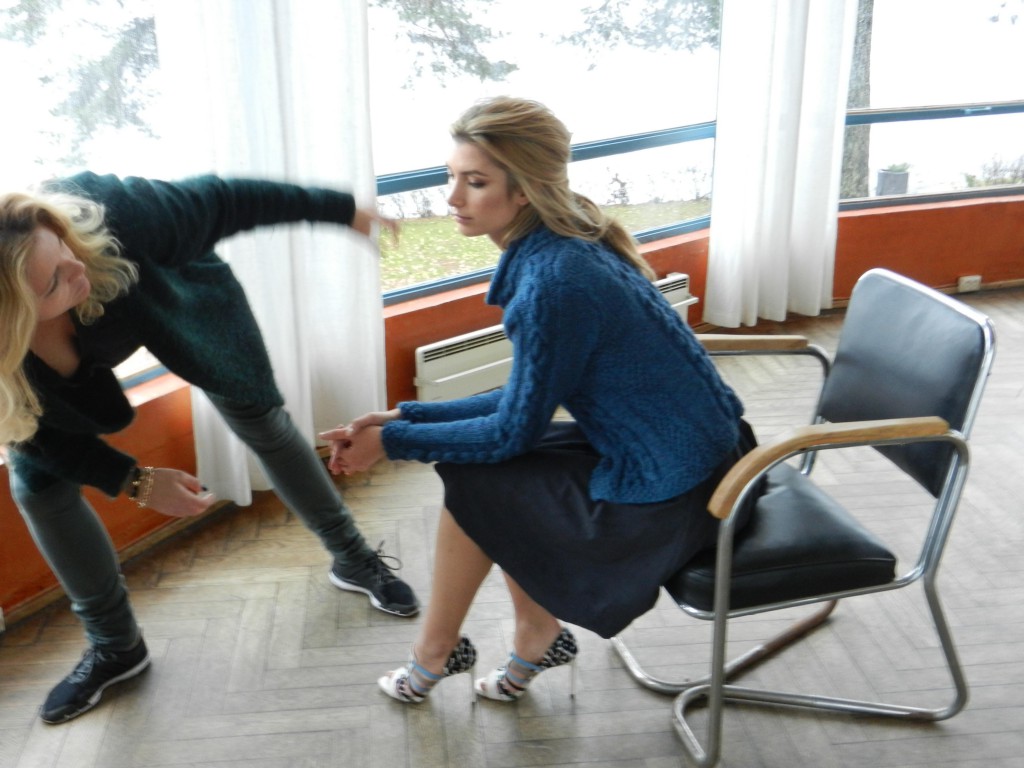 If you are on Ravelry you can now see all my designs in Familien Trend, with all their essential pattern information. Very soon I will show you all the 12 pages in Familien Trend.