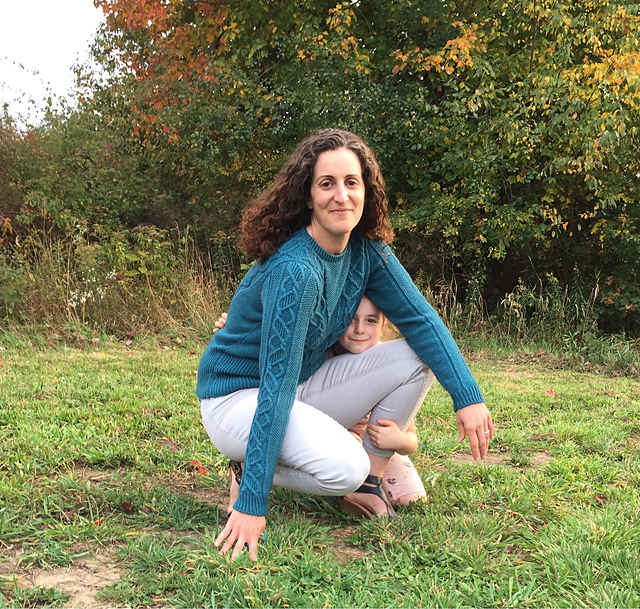 I just had to share these lovely photos of Kelly Ohnmeiss, aka Knobelknits on Ravelry, wearing her Milana and joined by her youngest daughter. Kelly knitted the sweater in size medium with the Valley Yarns Westfield in Teal and using a 4 mm/US 6 needle to achieve the gauge of 20 stitches and 30 rows in stockinette stitch measuring 10 cm/4″ square. On her project page she writes: "I absolutely loved making this sweater….The pictures of these cables on Linda's lovely model had me swooning to try them out. This chart was so relaxing to knit, I really found it to be very intuitive after the first repeat or two."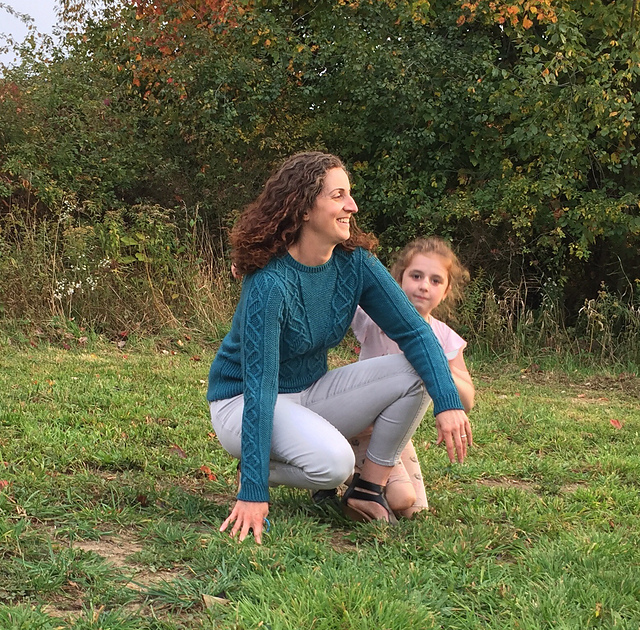 Kelly continues: "The yarn is ABSOLUTELY LOVELY it is lusciously soft, not at all splitty, has a nice twist without being too overly twisted. I had really wanted to order yarn from Norne Yarn, but my favorite colorway was ungettable… so i started looking for a sub and found this lovely yarn from Webs, Valley Yarns Westfield that is 60 merino, 20 yak, 20 silk and it is absolutely gorgeous".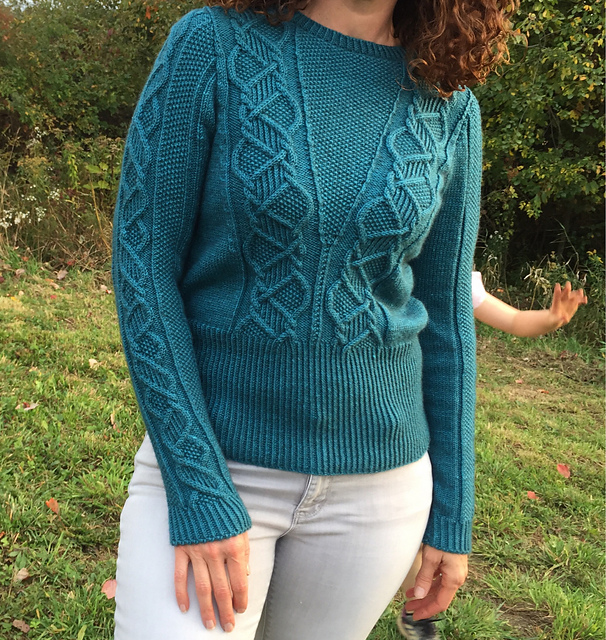 The only modification she did was to add 2.5 cm/1″ to the length to the torso before dividing for the sleeves, as Kelly is 175 cm/5'9″ tall.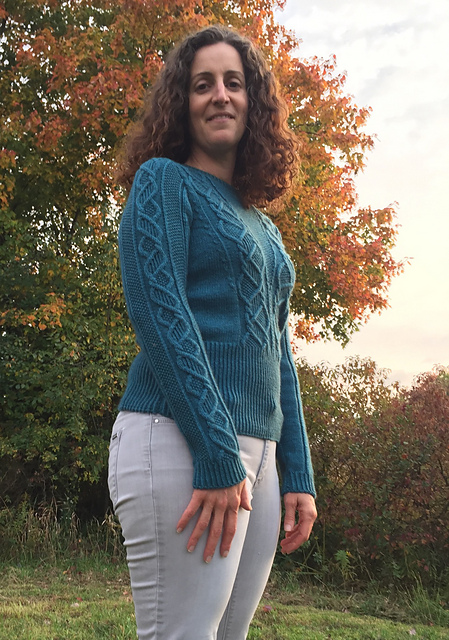 I am so honoured that she reviews the pattern as follows: "Pattern was perfect and easy, charts were really really nice with really lovely color coding that made everything super easy and completely clear and easy to follow. Excellent pattern Linda!!" Thank you ever so much, Kelly!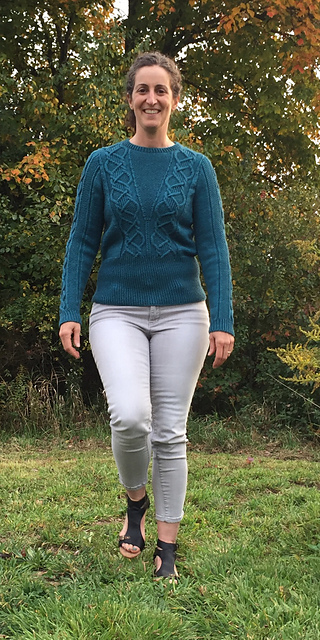 Named after the sophisticated city of Milan in Italy, is this pullover with a high rib, creating a narrower waist. Two center cables travel towards the shoulder on the body with all their texture; Seed stitch, twisted stitch rib and cables. While a narrower matching cable adorn the sleeve with a panel of seed stitch. Milana is knitted in pieces for the ultimate fit and ends in a crew neck. A separate cowl can be worn as a crowning collar. The hand dyed DK – Merino/Silk/Yak yarn from Norne Yarn makes the cables pop and the texture shine in all its glory.
You will find the pattern made for sizes XS to 5XL, with a bust circumference of 84 to 160 cm/33 to 63″, in English and Norwegian in my Ravelry Store and on LoveCrafts.