Last Friday, I had a photoshoot at Bøler Church in Oslo with my brilliant team: Photographer Eivind Røhne, Model Olivia Lindtein, Hair & Make-up Artist Sissel Fylling, Jewellery Designer Kaja Gjedebo and Michael. It was a beautiful day that started out quite cool. Bøler Church in Oslo wished us welcome even during the Corona virus, as long as we used only the rooms we were allocated and made sure to clean all surfaces afterwards. We were met by the manager and the priest Dag Auli, who remembered us from last time we photographed in the church back in October 2017. He wanted to know how many garments we were photographing and where we had photographed since last time. The plan was to photograph seven new designs; four for Hillesvåg Ullvarefabrikk plus Leylak; Skyla and Milana, and four old designs; Ravna – see above – Sculpted Frost, Aran Cuffs and Folded Cardigan. In the photo above you see Eivind securing the sun screen with sand bags and Sissel holding it while texting on her mobile.
Above is a photo I took in the morning when Michael and I were walking around the church looking for backdrops. You can spot me in the window taking the photo. We used this corner for two of the new designs: Skyla and Milana.
 Here we are testing out my Monies statement jewellery, while waiting for Kaja, and Sissel is adjusting Olivia's pony tail. The bracelet looked way too heavy on her slim wrist, in fact so heavy that it looked like the weight would topple her, Sissel joked. Olivia is wearing Skyla, knitted in Dye Dye Done, Pure Sport while I am wearing my Regal Purple Jacket. I loved seeing my new designs worn by Olivia, as she gave them new life.
I also wanted to share this photo Michael took inside the church hall showing the divine light. The church hall is just inside the window in the two photos above. Bøler Kirke is a community church by HBA Arkitekter completed in 2011. See more photos here: www.bygg.no.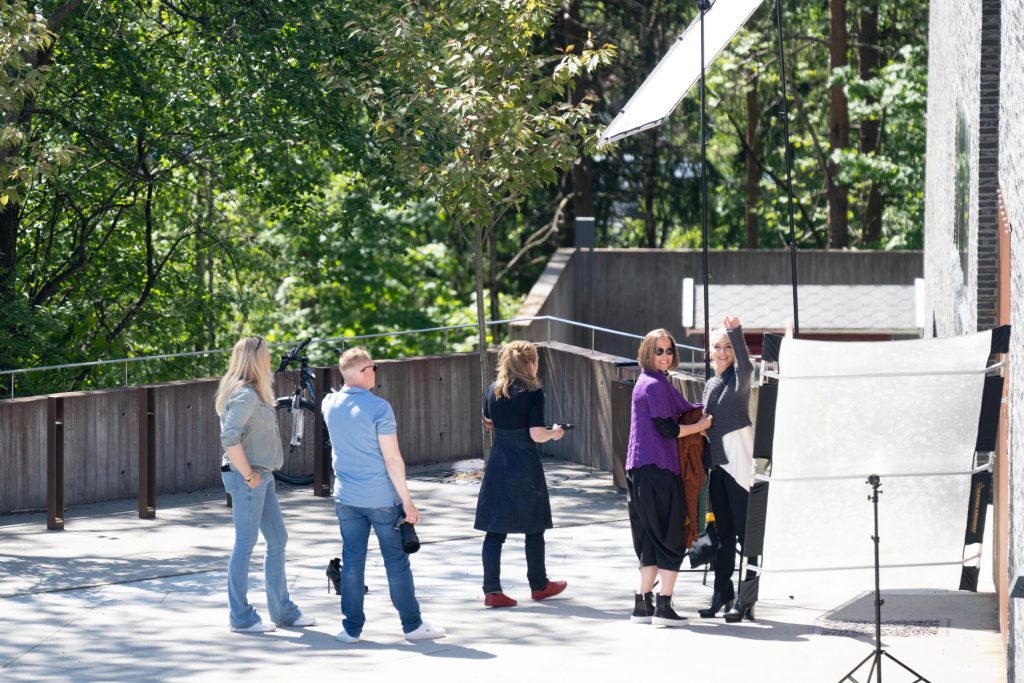 Michael took this photo of us while we were preparing to photograph the Folded Cardigan. Kaja is carrying a tray with the jewellery we had selected for the design. It was convenient that Kaja, who lives at Bøler, could join us on the photoshoot, as it meant I did not have to travel in to Oslo merely to visit her and borrow the jewellery, this time. After photographing this, we had lunch. I was relieved to find that Eckers was open and that they could deliver lunch with juices and smoothies to us. As planned it was delivered at 11 o'clock in good time for our lunch. After lunch we only had three more Hillesvåg designs to photograph. Below you see us planning the first of those; Caravay in Tinde pelt wool.
Michael has made a behind the scenes video including drone footage, which is available for all my patrons, only on Patreon. So if you are interested in learning more about my life as a designer and want to support me, choose your level based on the rewards – such as monthly newsletter, sneak peeks of new designs, Hillesvåg yarn discount, pattern discount, free monthly pattern and monthly video – here: www.patreon.com/lindamarveng.
We had a wonderful day and enjoyed being able to chat face-to-face again. It was yet another magnificent photoshoot! Thanks to my brilliant team! I look forward to showing you the new designs – I still need to finish off those patterns – as well as selecting from Eivind's photos!