Meet Swedish knitter Heidi Torres, aka Heidi197 on Ravelry, who is one of my test knitters and patrons. I had the pleasure of meeting Heidi in Spain at Barcelona Knits back in 2019, at a workshop I was holding. Here she is wearing her stunning Milana for Halloween, knitted in Madeline Tosh DK Twist. The gorgeous orange shade is called High Plains Drifter. Heidi knitted size XL, with a 116 cm/45.75″ bust, using a 4 mm/US 6 needle to the given gauge of 20 stitches and 30 rows in stockinette stitch measuring 10 cm/4″ square. On her project page, she writes: "The pattern is absolutely top notch, I didn't do any mods at all, except for knitting in the round where possible." I am so thrilled to hear just that!
As you can see from these photos, Heidi is extremely photogenic and always seem to have fun during her photoshoots!
The hand dyed yarn was ordered directly from Madeline Tosh, but this time she did not receive matching skeins. Heidi writes: "I didnt notice at first, so had to frog quite much where I had alternated the wrong two skeins. Then I decided to use the lighter skeins for the body and the darker skeins for sleeves, neckline and cowl (coming later) That way the color variation looks a bit more intentional."
The final photo I will share is of the back, see below. The sweater was finished fittingly for Halloween, hence her chosen project name. The photos are taken at the cemetery where the leaves match the colour of the pullover! Thank you so much for these divine photos, Heidi!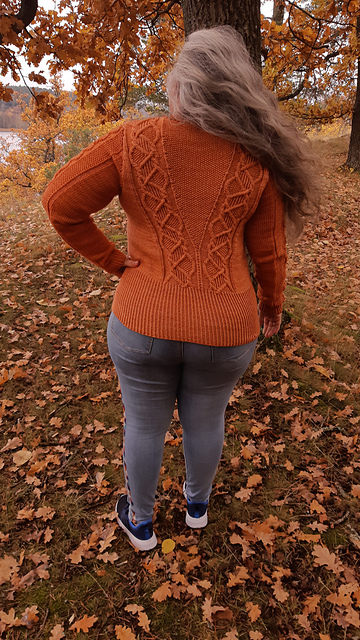 The Milana pattern is available in English and Norwegian on Ravelry and on LoveCrafts, in sizes XS to 5XL with a bust circumference of 84 to 160 cm/33 to 63″.
Here is my introduction to the pattern: Named after the sophisticated city of Milan in Italy, is this pullover with a high rib, creating a narrower waist. Two center cables travel towards the shoulder on the body with all their texture; Seed stitch, twisted stitch rib and cables. While a narrower matching cable adorn the sleeve with a panel of seed stitch. Milana is knitted in pieces for the ultimate fit and ends in a crew neck. A separate cowl can be worn as a crowning collar. The hand dyed DK – Merino/Silk/Yak yarn from Norne Yarn makes the cables pop and the texture shine in all its glory.