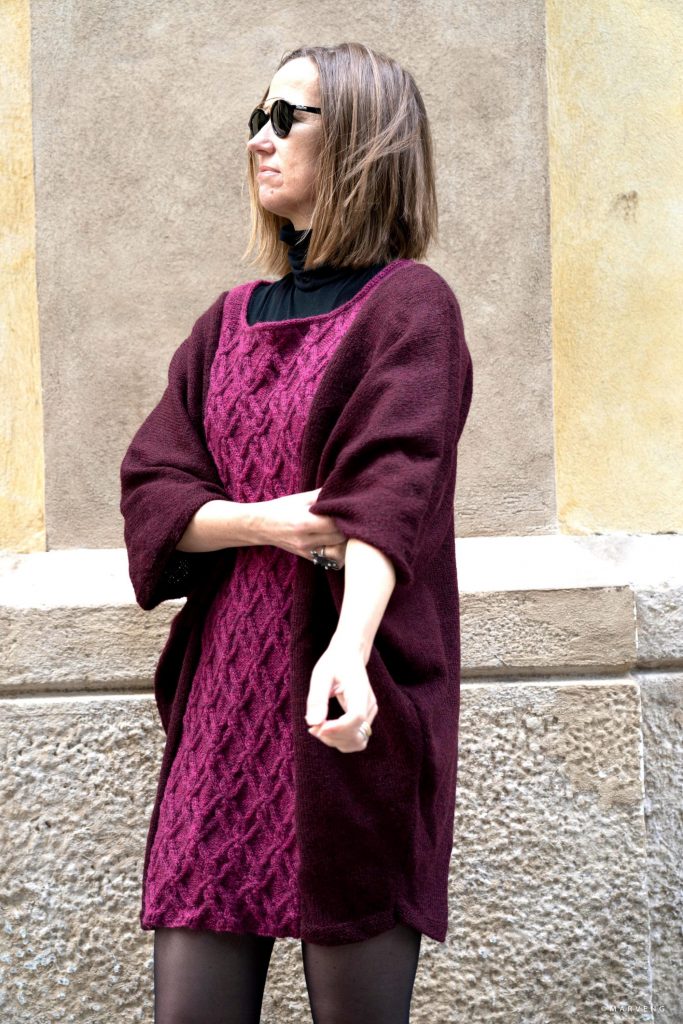 I am thrilled to show you the new dress I have designed for Hillesvåg Ullvarefabrikk. Gyro works equally well as a tunic so we photographed worn both ways. The sample in size Small is beautifully knitted in pieces in Tinde and Sølje pelt wool by Grete Jenssen, aka ma9 on Ravelry, while I crocheted the seams together and made the I-cord neckband plus the garter stitch sleeveband. Michael took these photos of me wearing Gyro outside our hotel in Barcelona, back in November when I was teaching at Barcelona Knits 2019.
Gyro is an oversized dress with bat sleeves knitted in two yarn thicknesses and colours. The center cable panel crowns the dress and ends in a wide neck with an I-cord bind off. Gyro is an old Norwegian female name, well suited to this dress or tunic made in pieces and sewn or crochet together with a garter stitch sleeve band. The dress is knitted in the divine pelt wool yarn from Hillesvåg Ullvarefabrikk; The thicker Tinde for the cable panel and the thinner Sølje for the side parts.
I have graded it in these sizes: XS (S, M, L, XL, 2XL, 3XL). Since the bust measurement includes the sleeve part I chose to write in to fit sizes and not write out the ease in cm/inches:  To fit sizes:  UK 6 (8, 10, 12, 14, 16-18, 20-22)/US 2 (4, 6, 8, 10, 12-14, 16-18)/EU 34 (36, 38, 40, 42, 44-46, 48-50).
The gauge is 21 sts and 30 rows in st st with Tinde (COL 1) and 3.5 mm/US 4 needle measures 10 cm/4″ square. 24 sts and 32 rows in st st with Sølje (COL 2) using 3 mm/US 2.5 needle measures 10 cm/4″ square.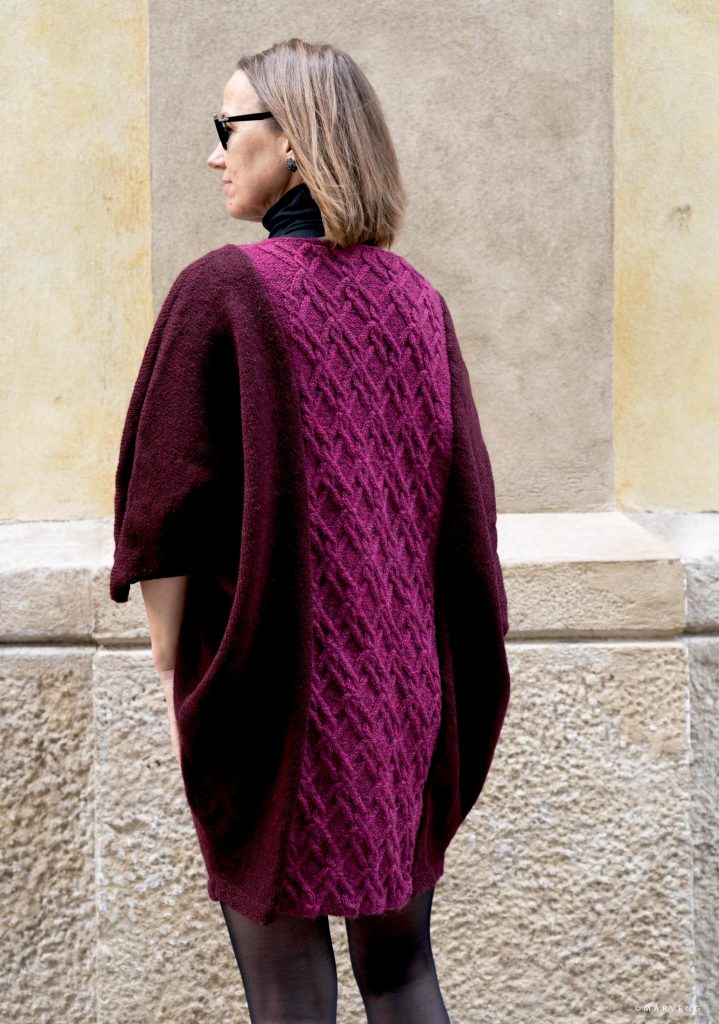 The dress is worked in pieces and seamed. You can easily adjust the length of the dress if you prefer, for instance by shortening (or lengthening) it with one or half a cable pattern repeat 12 cm/4.75″ or 6 cm/2.25″ and work less rows in between the increases.
The English pattern, and also the Norwegian one, will be released after the test knit which begins 17th of February.