Værbitt, aka Laila Henriksen, asked me this autumn if I wanted to design a small accessory for the Advents Calendar she was planning to sell on her yarn shop website. Laila hand dyes so many gorgeous shades and I am especially fond of her colours on Sølje and Tinde pelt wool by Hillesvåg Ullvarefabrikk. I got to choose colours from her shop and loved "Dragegg"/Dragon Egg in green turquoise shades and "Lillebror"/Little Brother in darker navy shades the most. What should I design? I pondered for awhile and ended on a shawl or a wrap. How about a shawl you can wrap around you but also use as a scarf or a collar? Ovedine was born. Above you see me wearing it as a scarf, together with the new skirt Rebine I have designed for Hillesvåg Ullvarefabrikk knitted in Tinde, photographed by Michael in Barcelona. We somehow ended up photographing on the coldest afternoon while we were there, which is so typical and why I look cold.
Named after an old female name from Norway is this shawl with tucks, short rows and garter stitch stripes in two colors. The hem and one tuck made on the wrong side, in addition to the double I-cord bind off, make the shawl two-sided. Choose if you want to wear it as a shawl, or a wrap around your body or as a shawl collar. Ovedine is knitted in two gorgeous hand dyed shades by Værbitt on the pelt wool Sølje from Hillesvåg Ullvarefabrikk.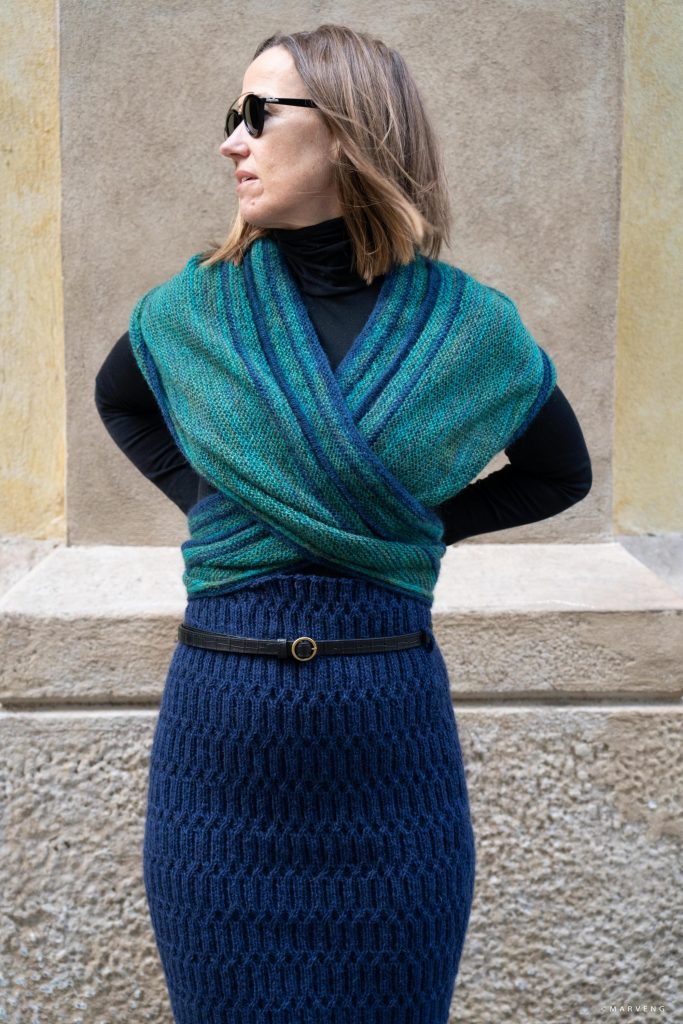 I developed further my earlier design Saqqara, but choose garter stitch instead of lace to show of the subtle depth of the colours and added more tucks. The tucks I worked in both the colours and I decided to do the same with the I-cord bind off.
Ovedine is knitted using 3 mm/US 2.5 needle for the garter stitch and 3.5 mm/US 4 needle for the tucks as well as the I-cord bind offs. The gauge is 21 stitches and 32 rows in stockinette stitch using 3.5 mm/US 4 needle so it is knitted with a loose gauge for the sportweight yarn. Ovedine requires 497 m/544 yds of Drageegg (2 skeins) and 315 m/344 yds (1 skein) of Lillebror, both dyed on Sølje from Hillesvåg Ullvarefabrikk. Each skein of Sølje has 350 m/383 yds on 100 g.
The pattern is already available from my Ravelry store and from Love Crafts in both English and Norwegian. I will soon share with you the brilliant photos Eivind Røhne took of model Olivia Lindtein at Mortensrud Church of this shawl.