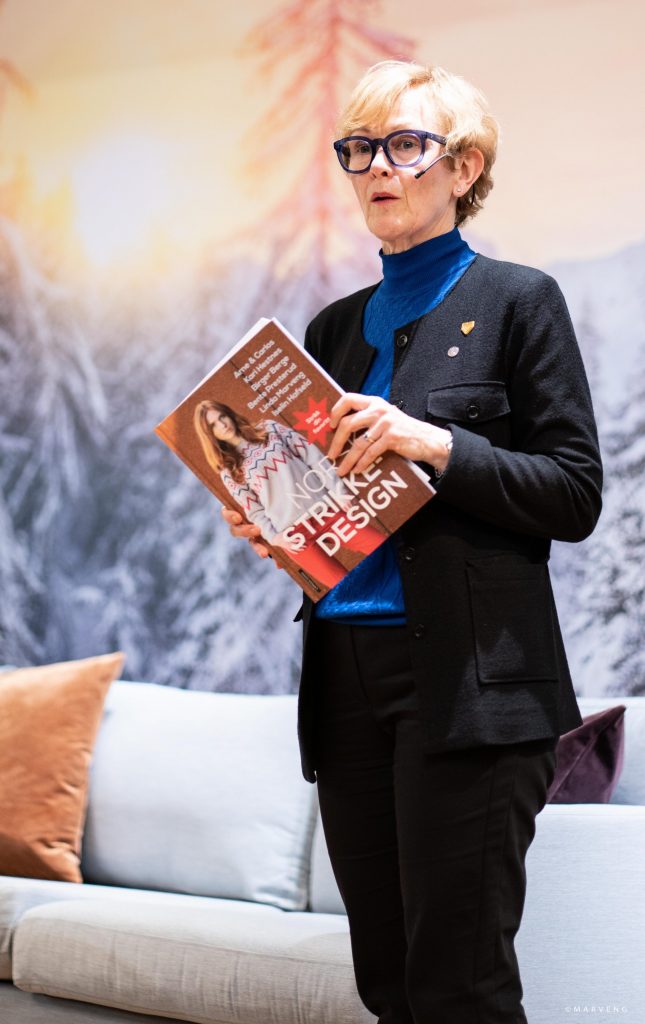 The "Norsk strikkedesign. Strikk din favoritt" book with editor Iselin Hafseld, was launched at Cappelen Damm's offices in Oslo last Thursday. A "Pre-Christmas' Eve at Cappelen Damm" said the invitation on Facebook. Around 120 people attended and above you see the Editor-of-Chief of Non-Fiction Anne Søyland introducing the book. Both Iselin and Arne & Carlos were travelling, hence not present at the book launch, but the remaining four of us where there: Kari Hestnes, Bente Presterud, Birger Berge and me. Three other books were launched the same evening: "Moderne tradisjonsstrikk" by Birger Berge, "Lindteinstrikk med stil" by Tove Lindtein and "Babytepper" by Marta Skadsheim. Michael took these photos, while I presented, listened to the other designers, signed books and spoke to knitters & friends.
80 of the first people arriving was given a goodie bag, while everyone received a raffle ticket when they arrived. As you can see above, the Cappelen Damm canteen was full. I was sitting at one of the two authors' table reserved for us.
So we were six authors present and we came around 4.30 pm with our display garments. Cappelen Damm had ordered pizzas and drinks for us, since only Christmas cakes and the hot Christmas drink "gløgg" was on offer. But you could buy drinks at the bar. Anne offered us free drinks, so Kari did check if they had Champagne but unfortunately not, so she settled for water instead. Before the evening started I had to show Tove the photos I had selected from the photoshoot of her daughter Olivia.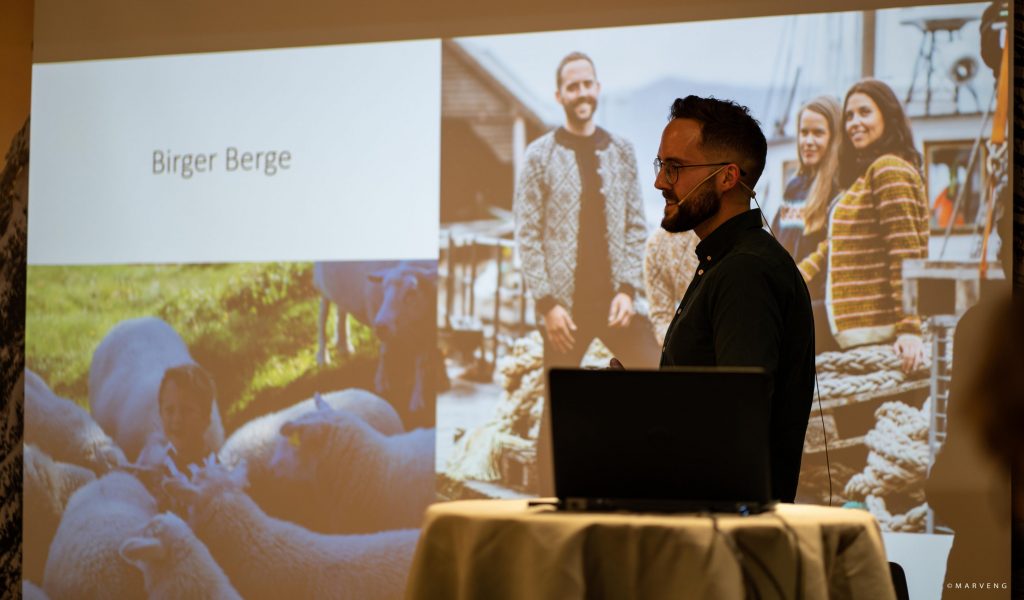 First out was Birger and he gave a presentation of his book as well as knitting experience. Above you see the cover of his book but also a photo of him as a child standing surrounded by sheep and he did tell us how scared he had been then. Quite funny considering how much wool he has both knitted and crocheted with since the photo was taken.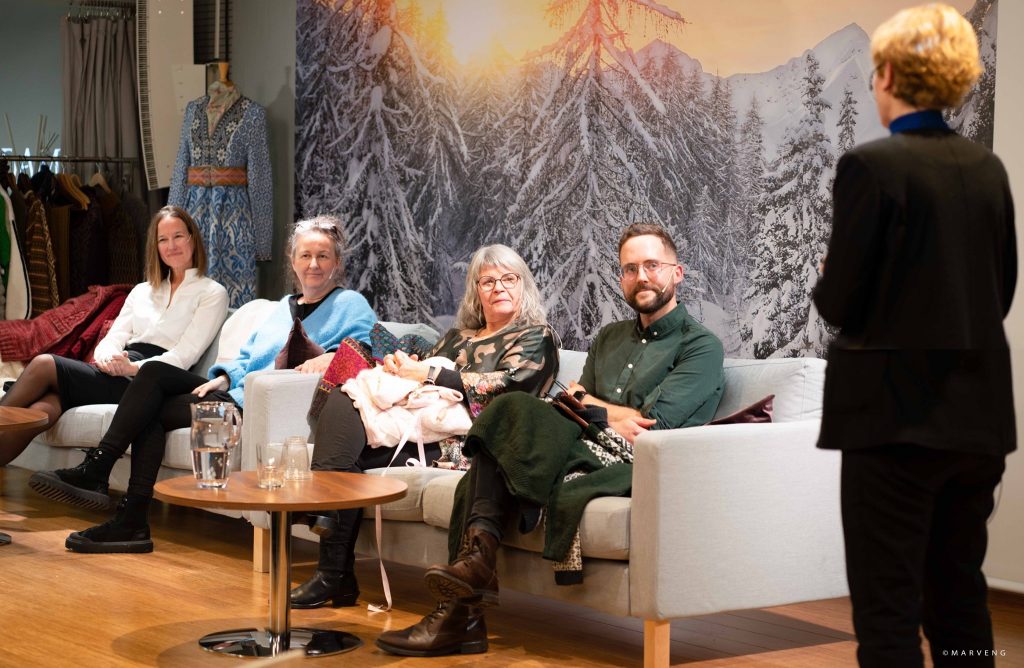 Next out was the book I took part in and the four of us sat in the two sofas present on the stage: next to me is Bente, Kari and Birger. Anne introduced us and then wanted to hear why each one of us thought knitting had such a resurgence. We all agreed it was several reasons behind it such as: Being creative, the meditative process (you have as a knitter not as a designer, though), taking back the slowness from an everyday where everything goes fast.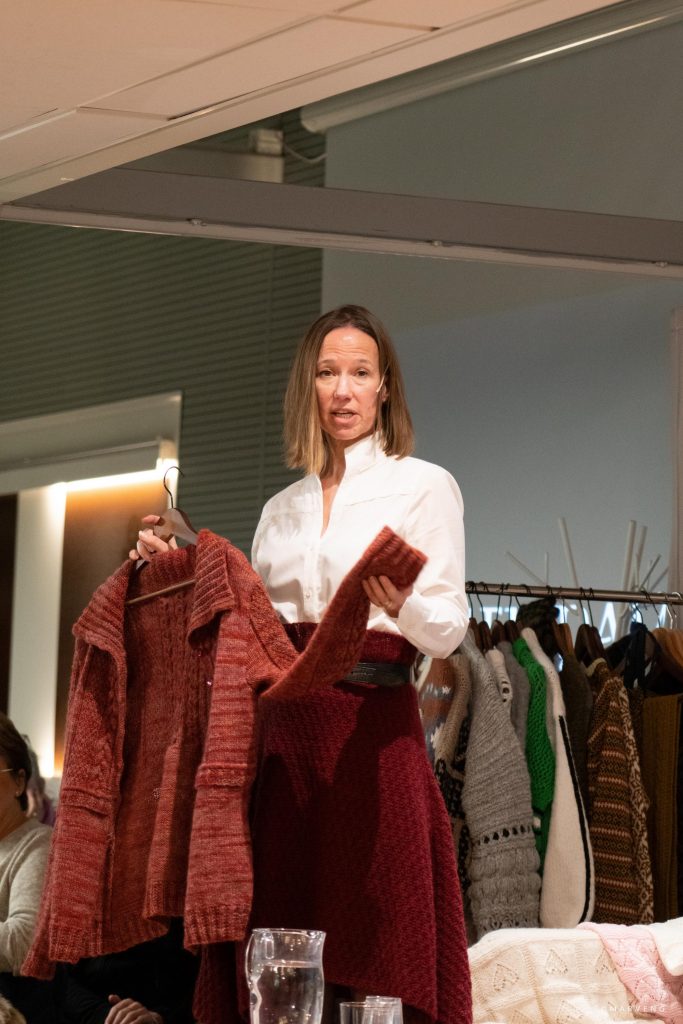 Then we talked about two designs each. I wore my Damara skirt and took it off at to wear it as a poncho.  It was easier said than done because of the microphone wire. Tove thought I had lost my marbles, but I hadn't and did wear a second skirt beneath it.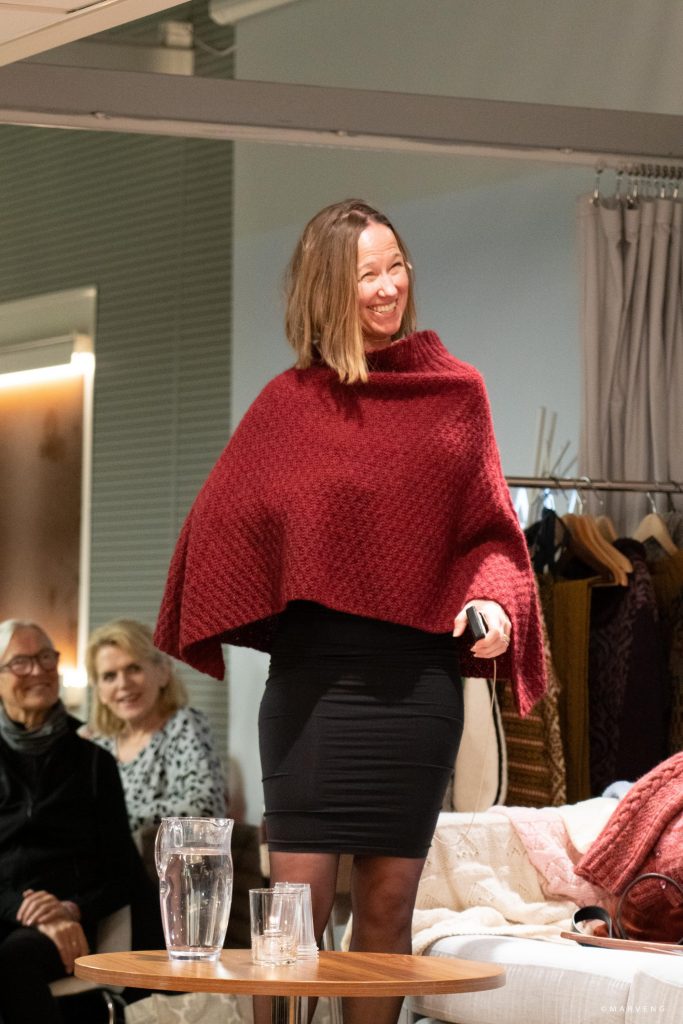 My second design I had chosen to talk about was my Thia jacket, knitted in the hand dyed Mikkel Rev by Værbitt on Tinde pelt wool by Hillesvåg Ullvarfabrikk. I told the story about my idea for the five designs and how I had constructed my garments.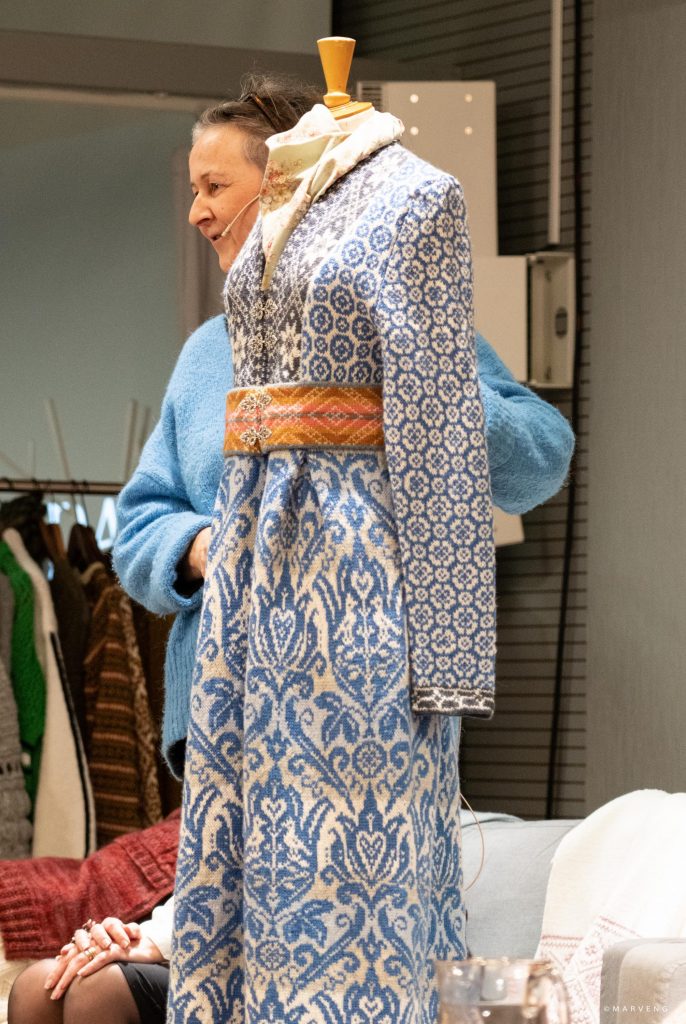 Bente had brought a tailors dummy for her stunning dress and spoke about her ideas behind it.
Next on the agenda was Marta talking about her book and her baby blankets.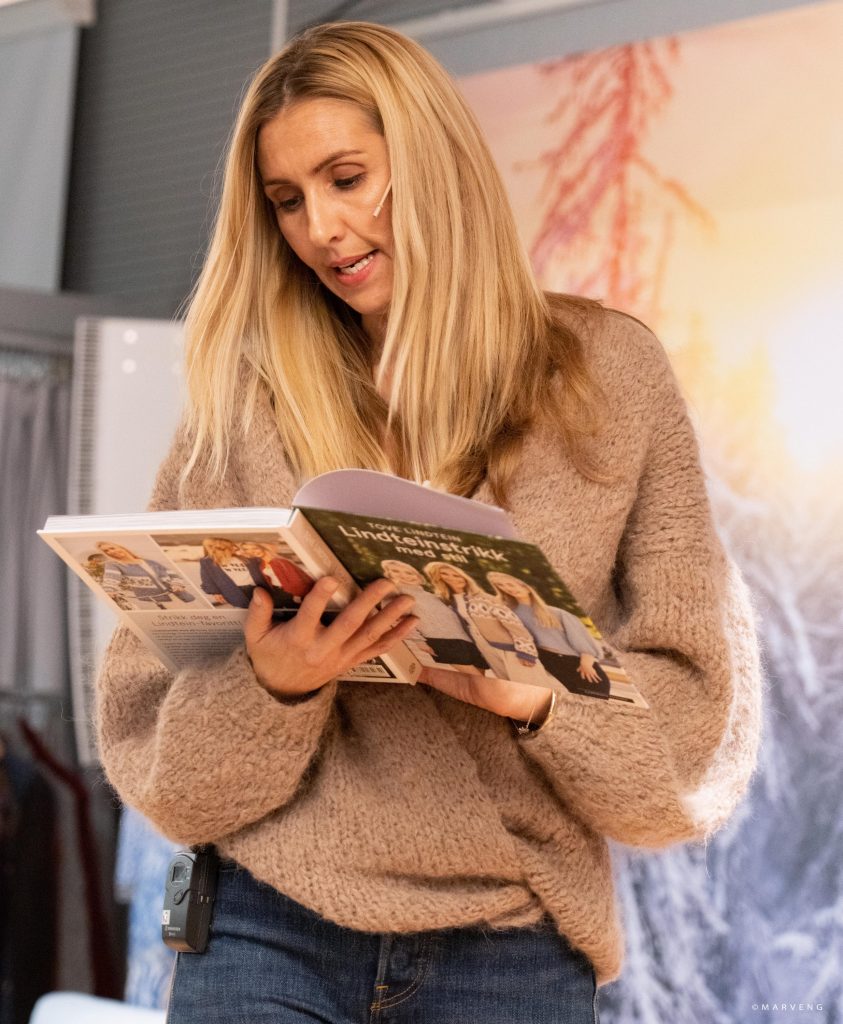 Then Tove presented her book and several of her garments. She ended her talk by reading from her book. And no, it was not a pattern she read, but from her introduction which summed up her intent with the book.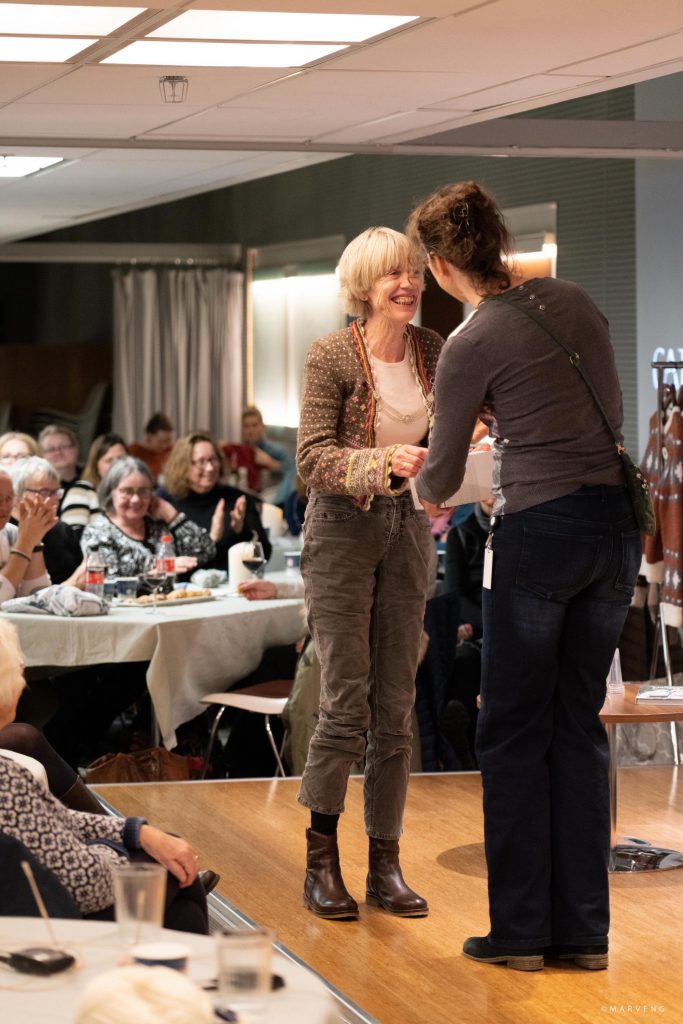 Before the book sales and signing, the raffle prizes were drawn. Cappelen Damm had asked the yarn sponsors to contribute yarn kits for the designs and the Hobby Club (read: book club) had also contributed with several gifts. The happiest winner of them all was this woman who won yarn for one of Tove's designs. It is presented to her by Linda Aagnes, head of marketing at Cappelen Damm.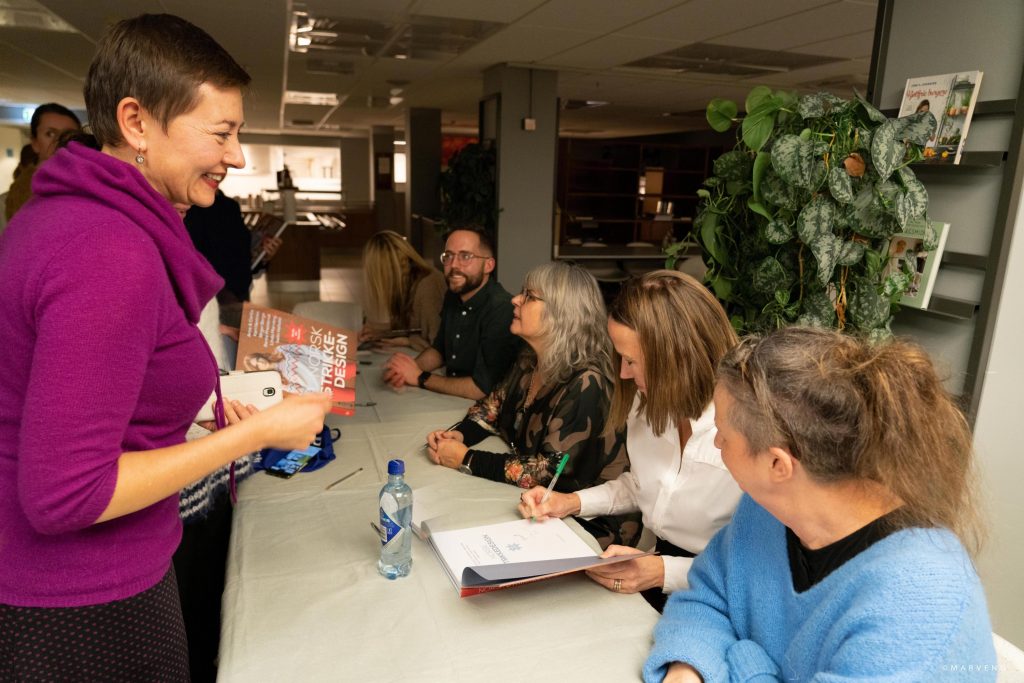 Friends and other designers had come to celebrate with us. After the raffle we took our seats at the signing table. Above you see designer Rasa Ziburkute, aka GalgenDesign, waiting to have her copy signed.
I had a fun evening in great company! I met a number of knitters I knew but also some new ones! Thank you to everyone who came and to Cappelen Damm for hosting this fun evening!