Yes, this is actually a shoe shop but feels like a shoe gallery and it really badly wants to be a fetish shoe lounge! "Reflecting United Nude's flare for innovation, the store is a hallmark to the brand's conceptual approach. Spanning nearly 200 square meters it is  encased in darkness. Products alone are highlighted in the exclusive computer controlled Wall of Light TM installation, presenting each shoe as a work of art encapsulated in its own geometric frame. Mirrored walls create a sensation of vastness and grandeur."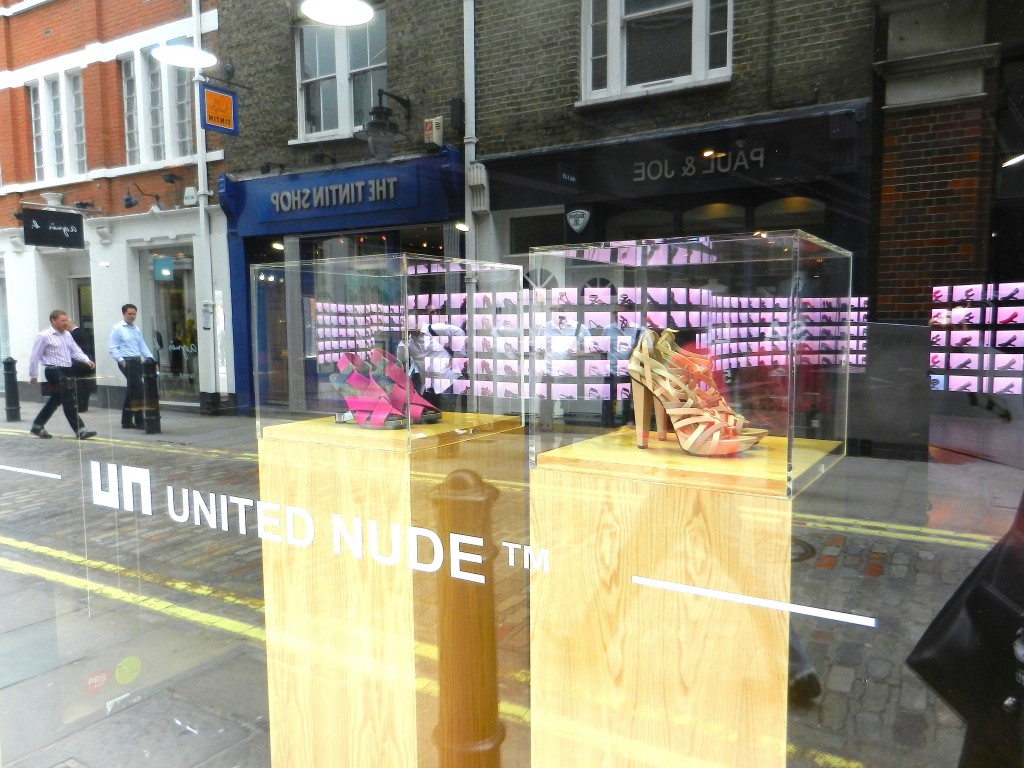 I do love architectural footwear and United Nude is certainly the undisputed leader of just that. The latest collection is the most complete so far where shapes and colours herald sensational levels of elevation. I can testify to that claim as I was wondering how long I would stay up-right wearing some of the pairs.
It was launched in 2003, founded by Dutch architect Rem D. Koolhaas and seventh generation British shoemaker Galahad Clark (read: British shoe dynasty Clark's). "United Nude has grown into a worldwide team of creative minds – a hub of interaction between architects, designers, editors, photographers and artists."
One of the favourite pairs of mine are these, Crystallization ankle bootie, designed by Iris van Herpen and part of their limited collection, all handmade in  a price range way beyond my means! Iris van Herpen is known for pushing the boundaries of Haute Couture and I realised I had previously seen her designs, including shoes, in the fashion bible L'Officiel. All her footwear was – not for the first time – created in collaboration with United Nude.
United Nude's story "begins with a broken heart. Rem's attempt to get the girl back was made by downsizing architecture to its smallest and most vulnerable scale, that of a woman's foot. While most romantic notions are often foolish, what was hatched through the inspiration of romance was the 'Möbius' shoe. The girl was gone, but he knew the shoe had to become real." Read more about United Nude on their website: unitednude.com and if you are in London, do visit and gawp – like I do – 13 Floral Street in Covent Garden.