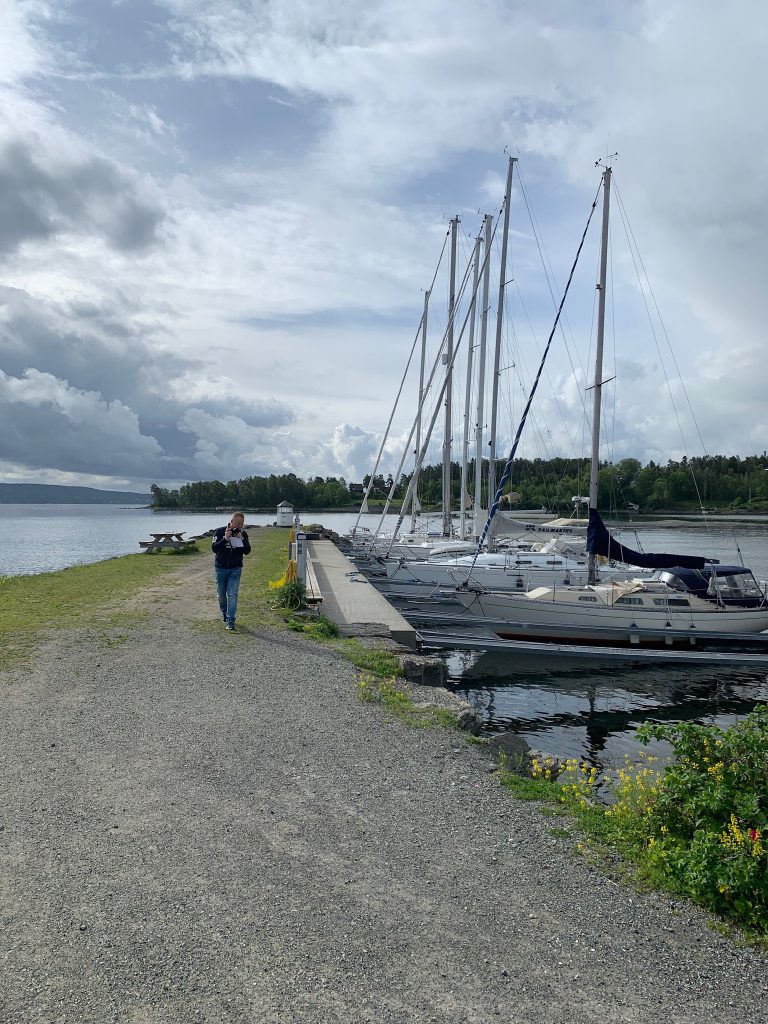 Monday morning was cold with grey skies when model Emma Ross, Michael and I set off from our house in Ørje, driving to Vollen, Asker for the photoshoot at the Oslofjord Museum. We were early but photographer Eivind Røhne had already arrived and so had the second model I had booked for the day, multi talented Kaja Kvernbakken. Kaja is also a designer herself in addition to a novelist, translator and former book editor at Cappelen Damm. This time I had thirteen garments plus accessories to photograph hence I thought a second model would be essential. Some of these designs are secret so you will not see these photos until late this autumn. Fortunately, Kaja was available to model that day. Below you see me talking to Kaja, as I am planning the jewellery borrowed from Kaja Gjedebo Design. I am wearing my Brewster Cardigan first published in knit.wear Wool Studio Vol. I.
Our base was the lecture hall at the Oslofjord Museum, where we had plenty of space. I began by hanging all the garments to photograph including the clothes to wear beneath, then unpacking the shoes, assisted by both Em and Kaja before makeup & hair artist Sissel Fylling arrived. When that was done, Eivind and I walk around in the area and found five different backdrops. Above is the last one we picked. In the meantime, Sissel arrived and we updated her on our plan as well as on the colours of my designs. We decided that both models should have their hair up due to the many collars and cowls, plus extra makeup around the eyes. Below you see her styling Em's hair.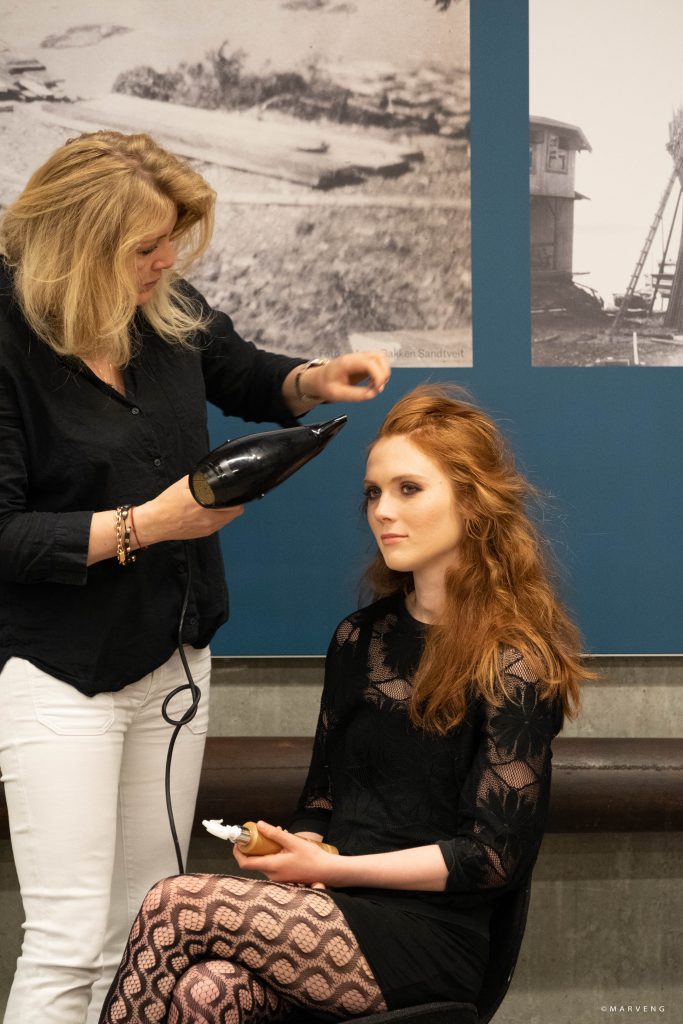 We began photographing the series of new designs for Hillesvåg Ullvarefabrikkull, next to a small black wooden building, one of the museum buildings. The colour of the building matched the designs perfectly. I wanted one photo of the models together since I have a jacket and a pullover with same cable, so that was the first shoots that Eivind did. Below you see us finishing off that first series, just before we moved to the second location, the corten wall outside along the museum.
After photographing half of the second series, we decided to break for lunch. It was noon and we all had an early start. Just as at the Vigeland Museum, I had ordered catering from Eckers at Frogner in Oslo. The food and smoothies had arrived even before we did so our contact person Anita had taken those in for us. I have taken even less photos than I usually do, since my hands were full (read: with knitted accessories, belts and shoes). Michael was assisting Eivind with the reflector at times, hence he did not photograph all the designs.
I wanted to show this photo of Eivind in action, photographing Kaja. He was alternating between his two cameras and had both hanging from his camera belt when they were not in use. At this point we were just in front of Anita's office window. Luckily, she was in a meeting and not sitting at her desk while we were outside. Kaja has a large shoe size but managed to squeeze into my red shoes, below worn together with the O-Chem Tunic published in Interweave Knits Winter 2019. The design was returned to me from the US a few months back, hence needs new photos before I can release it after one year. Sissel is fantastic on hair & makeup styling and does her magic all the time. As a former model she is also very quick to spot and correct any flaws. I imagined her giving Kaja a spell – not that she needed it – but take a look at Sissel's hand movements!
Designer and author Tove Fevang, who lives near by, popped down to say hello so we had a quick chat before we continued to our last backdrop and photographed the last designs, all in much shorter time than I had anticipated!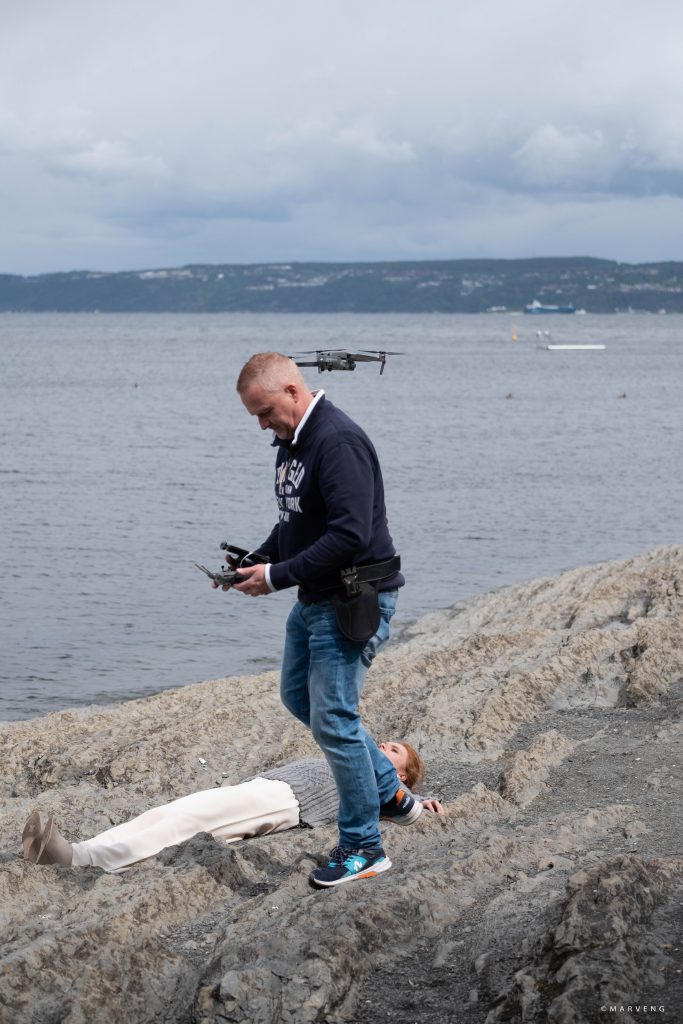 Michael made a behind the scenes video which will be available for all my patrons on Patreon only, after he has edited it. While Eivind used his drone to make a video, and below you can see him instructing Em. The drone video will also only be available for all my patrons. So if you are interested in learning more about my life as a designer and want to support me, choose your level based on the rewards here: www.patreon.com/lindamarveng.
We had a fun day and it was a magnificent photoshoot! Thanks to my brilliant team! I look forward to showing you the new designs – I still need to finish off those patterns – as well as selecting from Eivind's photos!