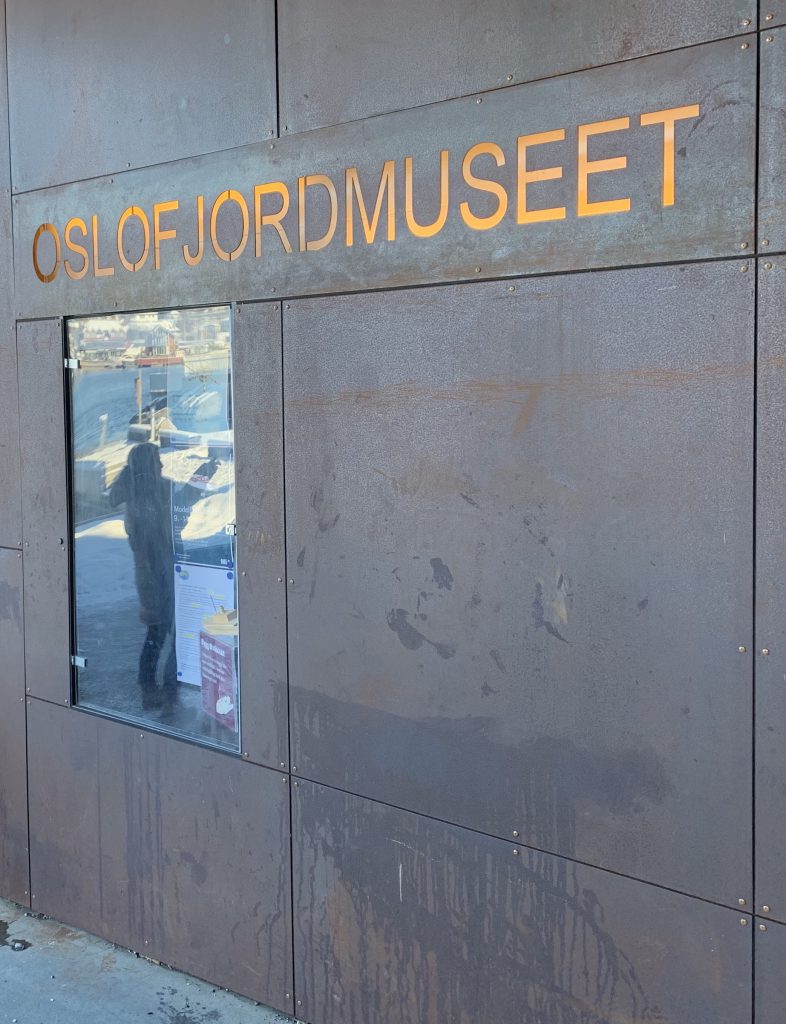 My next photoshoot will be on Monday 27th of May at the Oslofjord Museum  in Asker, on the west side of Oslo. I got the idea last year after seeing designer Nina Granlund Sæther post a lovely photo from the beach in Vollen. If you follow my blog, you know that I was holding a talk for the Norwegian Knitting Association back in March in Asker and since we were staying with Tove and Geir, I suggested to them that I would like to go there on Sunday to have a look around. They took Michael and me around the whole area. Above you see the entrance area with Tove's reflection in the glass. The wall has the same rusty cor-ten wall panel as at Bøler Church in Oslo, where we had a photoshoot in October in 2017.
I had initially planned to have the nearby marina as a base but that is a rather long walk from the beach and the museum. Hence the museum will be our base. Yes, we will have to pay a fee for photographing at the museum, both inside and outside. Hopefully the weather will be good enough for us to photograph outside. Photographer Eivind Røhne gave me a couple of Mondays, when the museum is closed, as options before I sent a message to model Emma Ross. Em could do the first date, so then I booked hair & make up stylist Sissel Fylling.
The coffee shop at the museum is also closed on Mondays, so I checked with Eckers, who I used last time, if they could deliver and I was relieved to hear that they could. So now, I am working on finishing the new designs. Luckily I have had help from my fantastic sample knitters Grete Jenssen and Kristin Nygård. I could not have managed to knit all the new designs myself. I am planning to have seven new designs ready and to add three that has been returned back to me from Interweave in the US. You will know when I post the behind the scenes blogpost after the shoot.