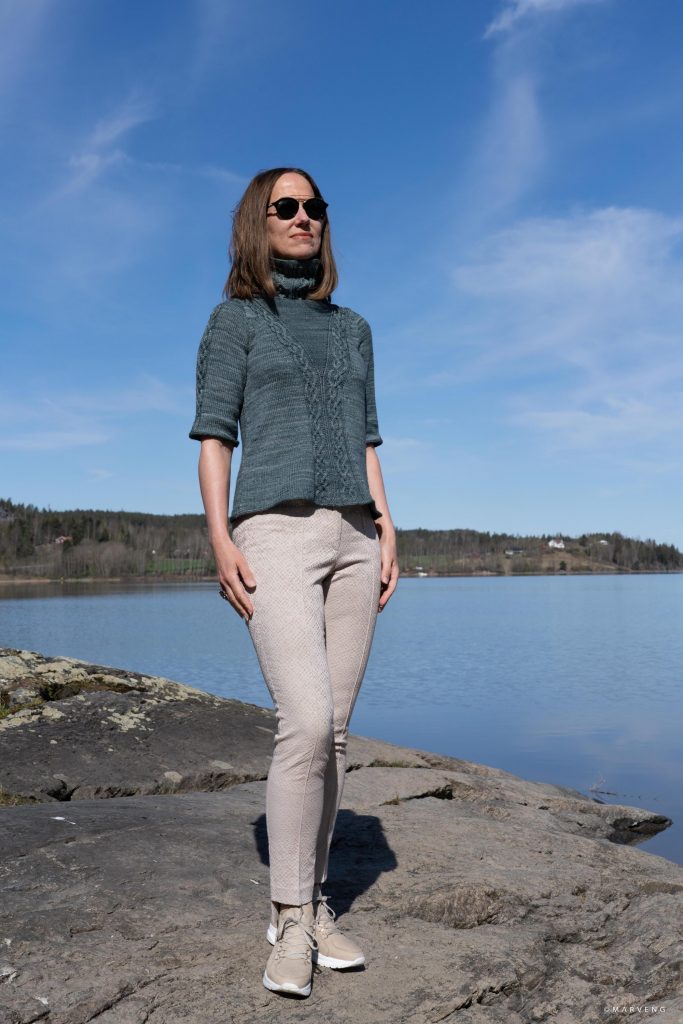 I am thrilled to show you my new design Skyla knitted in the gorgeous hand dyed Dye Dye Done, Sport yarn by turbo knitter Grete Jenssen, aka ma9 on Ravelry, for me. It is Daniel Maciejewska, husband of designer Hanna, aka Hada Knits, who dyes all the Dye Dye Done yarn. I was offered yarn support for yet another design. The idea came from a skilled test knitter and patron of mine with the nickname GG, aka WoollyPurlfection on Ravelry. GG suggested the a-line silhouette, the short sleeves and a travelling cable. The cable I chose is one of Devorgilla's designs, I wanted a fairly simple one that did not have a large stitch count. Grete suggested a matching cowl as there was yarn left over. I do like having an extra collar to add, hence I wrote a pattern for it. My husband took these photos of me at the beach in Ørje a few weeks back.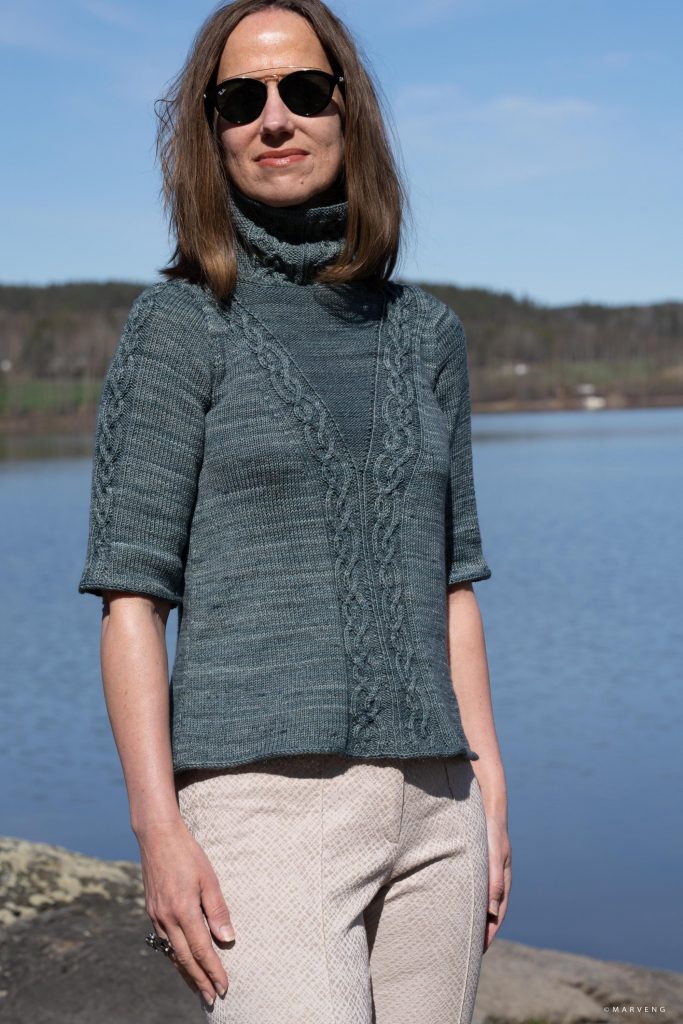 Skyla is a cabled a-line pullover with short sleeves, adorned with two central mirrored cables divided by twisted stitches. The small cables, created by Devorgilla, runs towards each shoulder and make a v-shaped panel of reverse stockinette stitch at the center. The sweater ends in a casual wide rounded neck. To show off the stunning hand dyed Pure Sport yarn by Dye Dye Done, the sides are all in stockinette stitch. Skyla is knitted in pieces for the ultimate fit and has a cowl that can be worn as a collar.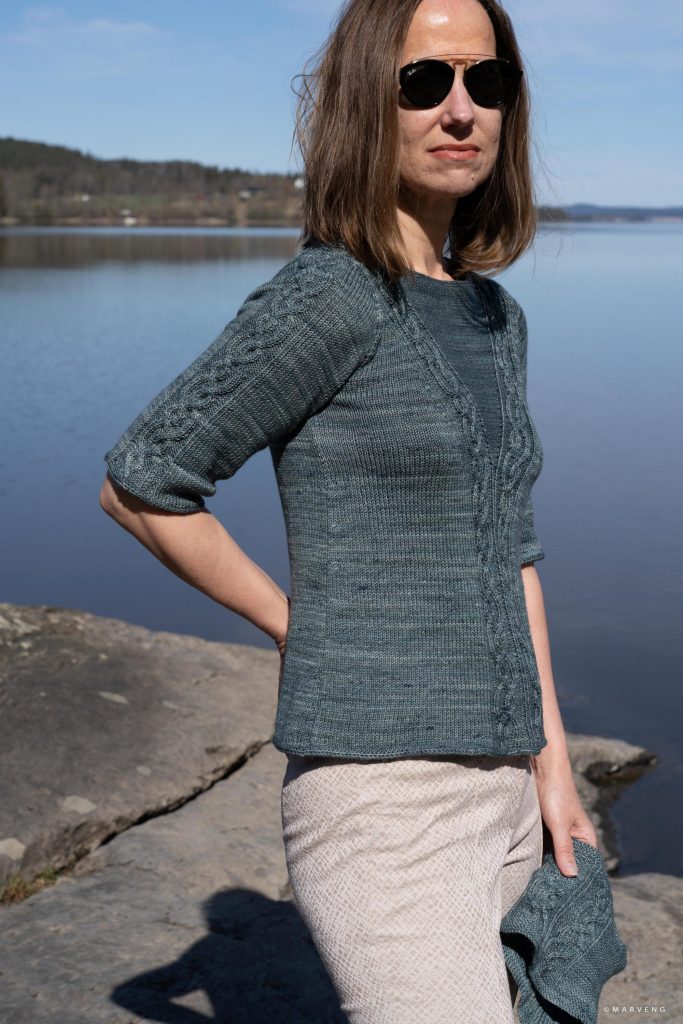 I am wearing size S with a bust circumference of 90 cm/35.5″ with 2 cm/0.75″ of positive ease. The pattern is graded from size XS to 5XL with bust measurements of 82 cm to 164 cm/32.25 to 64.5″.
The Dye Dye Done, Pure Sport yarn is made of 100% Superwash Merino and has 300 meters/328 yards on each 100 gram skein. Skyla is knitted in the shade Mystic Mermaid, using a 3 mm/US 2.5 needle with a 25 stitches and 32 rows in stockinette stitch gauge measuring 10 cm/4″ square.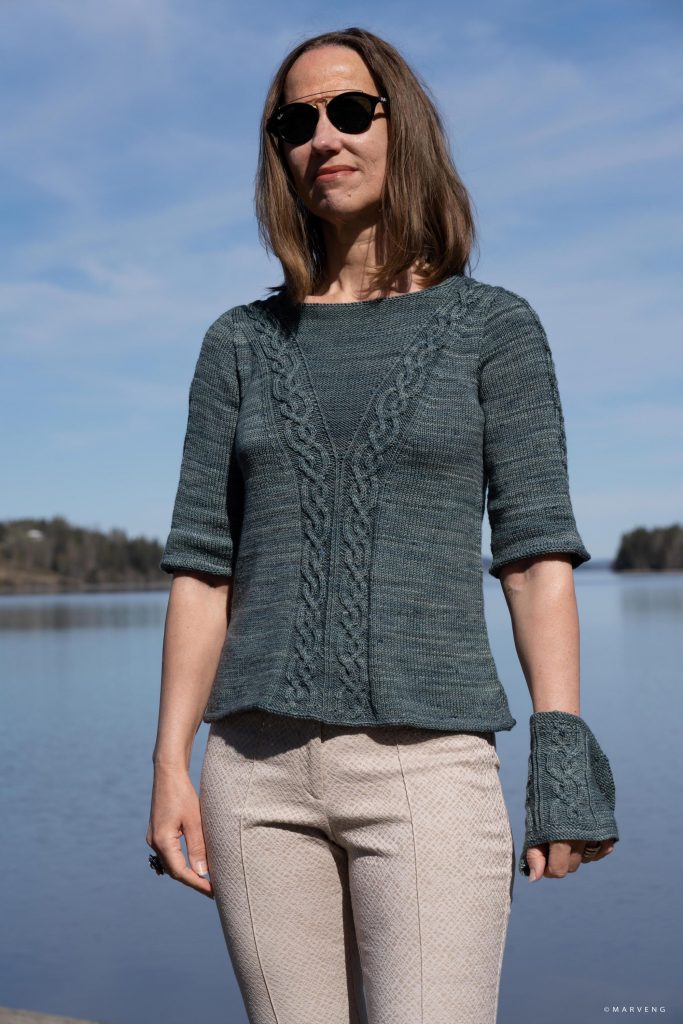 The pullover is worked back and forth in separate pieces and seamed, while the cowl is worked in the round. 
I look forward to seeing how it will look on Olivia during our photoshoot held yesterday (Friday 29th of May) at Bøler Church in Oslo.
The English pattern will be test knitted in my Ravelry group beginning on the 15th of June and released on the 3rd of August.
For more details on the design, become a patron and receive rewards like monthly newsletter, sneak peeks, free pattern(s), monthly video, all depending on the level chosen, see more details here: www.patreon.com/lindamarveng