I have just uploaded the Norwegian pattern to Ataraxia to Ravelry and thought it was time for a recap. The design began as a submission to the Winter 2018 issue of Pom Pom Quarterly with guest editor Norah Gaughan – the cable expert – whom I had the pleasure of meeting at Strik Bornholm in Denmark back in 2014. The Pom Pom Quarterly magazine was founded by two of my former Loop colleagues: Meghan Fernandes and Lydia Gluck. The Ataraxia sample is knitted in the stunning The Copper Corgi Fiber Studio, Jones Street Worsted using 4 mm/US 6 and 3.5 mm/US 4 needles. The model  has a 86 cm/34″ bust, stands 165 cm/5.5″ tall and is wearing a size 2 with 97 cm/38.25″ bust. The cardigan is available in 5 sizes with a finished bust measurement of 91 to 132.5 cm/35.75 to 52.25″. See more of the photos here: Ataraxia in Pom Pom Quarterly Winter 2018.
The gorgeous sample photographed is not the one I knitted in SweetGeorgia Yarns Mohair Silk DK in Pumpkin, as you will see from the photo Michael took of me above. The wonderful orange colour did not fit in with the other designs and a second sample had to be knitted up quickly in time for the photoshoot.
Before I finished the jacket I sent the knitted swatch – showing off the different stitch patterns – to photographer/jewellery maker/designer Siri Berrefjord and ordered 9 bespoke small buttons with a diameter of 18 millimeters/0.7″ to match the colour. Above you see the stunning buttons and one of the photos that Siri took. See more of them here: Ataraxia Buttons by Siri Berrefjord.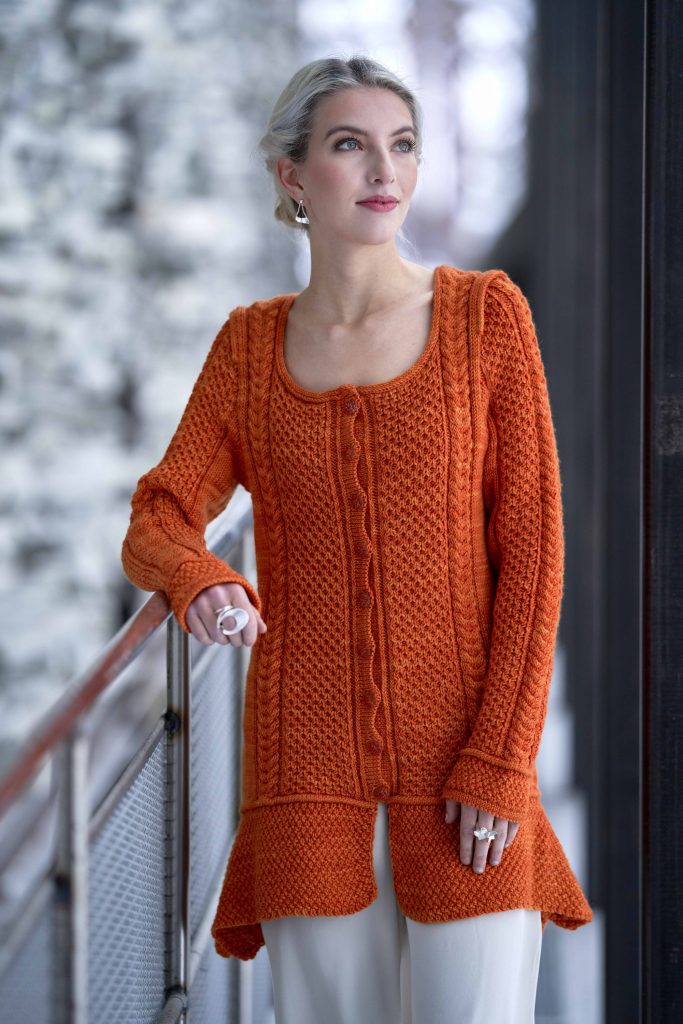 The rights to the pattern came back to me a year later in November 2019 and I asked Pom Pom Quarterly if I could borrow their sample too, so that I could photograph them both. Yes, I could before I returned it. Eivind Røhne photographed both worn by Olivia Lindtein, with make-up & hair by Erica Poppe and jewellery by Kaja Gjedebo Design at Mortensrud Church in Oslo in November 2019.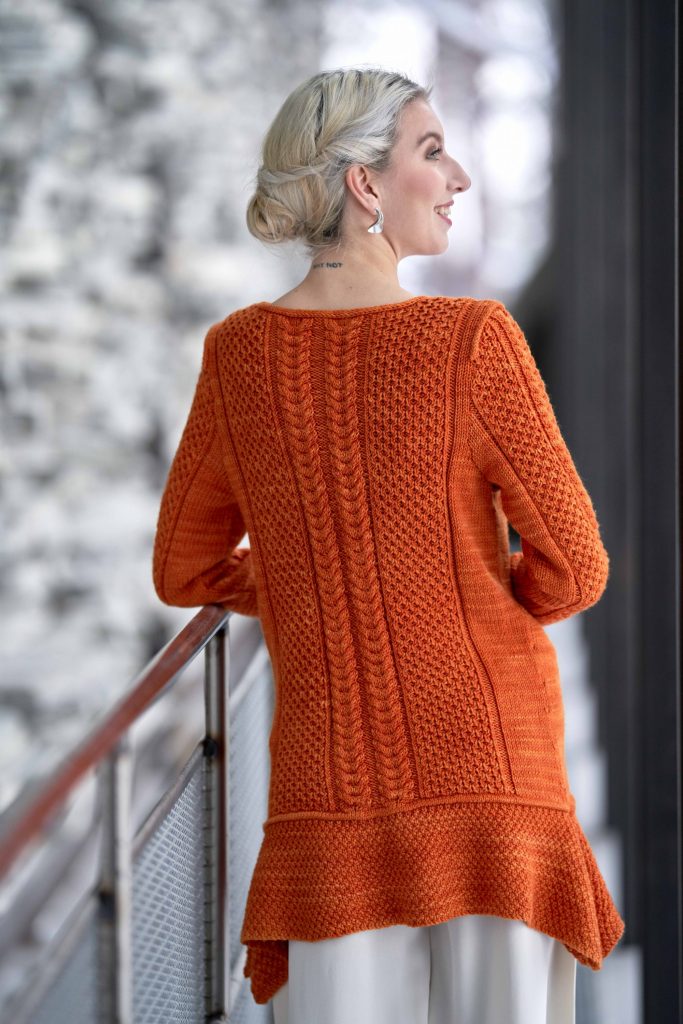 Ataraxia is named after one of Caroline Norton's poems, to give you a sense of calm, sheltering you from whatever storms you bravely weather. She was known for her drive to establish basic legal rights for women. The long jacket's fitted shape is achieved through a careful arrangement of vertical texture panels and I-cord highlights. Finished with a tucked asymmetrical peoplum. Designed with a mythic shield maiden in mind, not unlike Caroline Norton.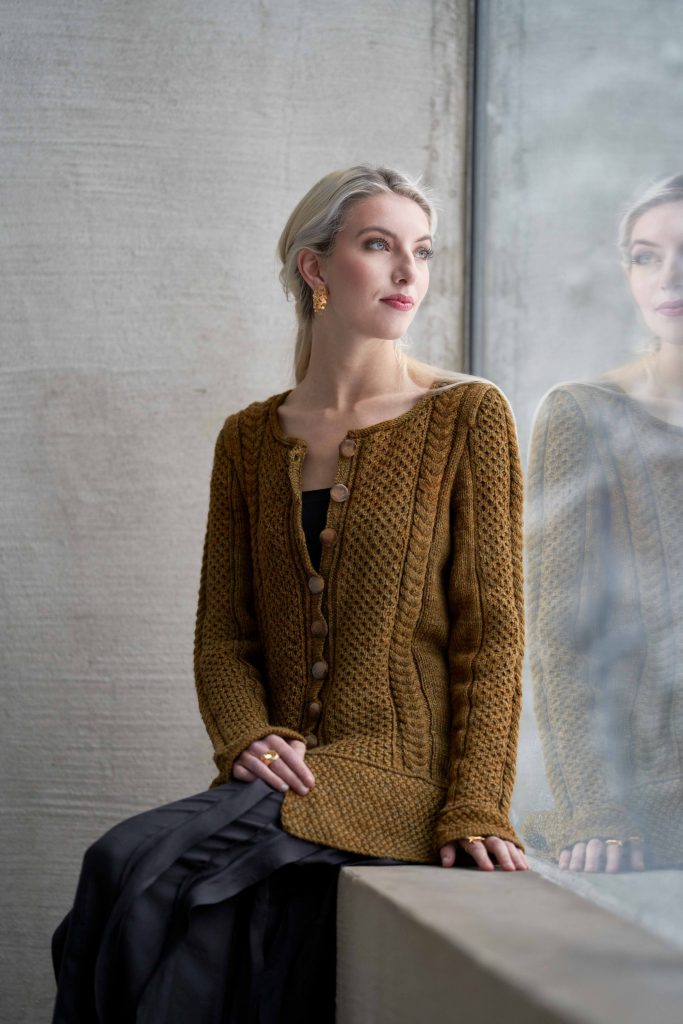 Ataraxia is knitted flat, in pieces, from bottom up, and seamed. The asymmetric lower body has extra width in each side that will be bound off before the tuck is made. Waist shaping is worked at the sides and the shoulders are shaped using short-rows. The collar is picked up and completed using an I-cord bind off.
Above is a detailed photo taken by Laura Morsman for the Pom Pom Quarterly magazine. Both the English and the Norwegian pattern is now available in my Ravelry Stores. You will also soon find the Norwegian version in addition to the English on Lovecrafts too.