I did promise to show you how Ataraxia looks on me, so here are a number of the photos Michael took last summer, at the beach in Ørje, before I sent off the sample. You will probably be as surprised that I was that is bright orange, knitted in a divine shade called Pumpkin in the SweetGeorgia Yarns Mohair Silk DK, if you have seen the magazine and the green it is photographed in there. The reason the sample is not photographed in the brilliant Pom Pom Quarterly 27 Winter 2018 issue is that the editors realised that the orange was way brighter than they had thought and it would not fit in with the other designs. So Guest Editor Norah Gaughan, together with Pom Pom co-founders Meghan Fernandes and Lydia Gluck, decided that they had to make a new sample in a more muted colour, in no time at all. Hence the replacement yarn was found in Meghan's stash: The Copper Corgi Fiber Studio, Jones Street Worsted in the gorgeous shade of Goldenrod.
SweetGeorgia Yarns Mohair Silk DK yarn is one of their luxurious yarns and made of 90% superwash Merino, 5% Superkid Mohair, 5% silk with 200 meters/218 yards per 100 gram skein using 4 mm/US 6 and 3.5 mm/US 4 needles. I can confirm that it was wonderful to work with and I loved the result. I  have a 88 cm/34.75″ bust, stands 175 cm/5.9″ tall and I am wearing the sample size S that measured 94 cm/37″ bust with 6 cm/2.25″ positive ease. Despite the same gauge on the two yarns: 21 stitches and 28 rows in stocking stitch, the second sample in the Copper Corgi yarn is heavier and resulted in a 97 cm/38.25″ bust. The cardigan is available in 5 sizes with a finished bust measurement of 91 to 132.5 cm/35.75 to 52.25″.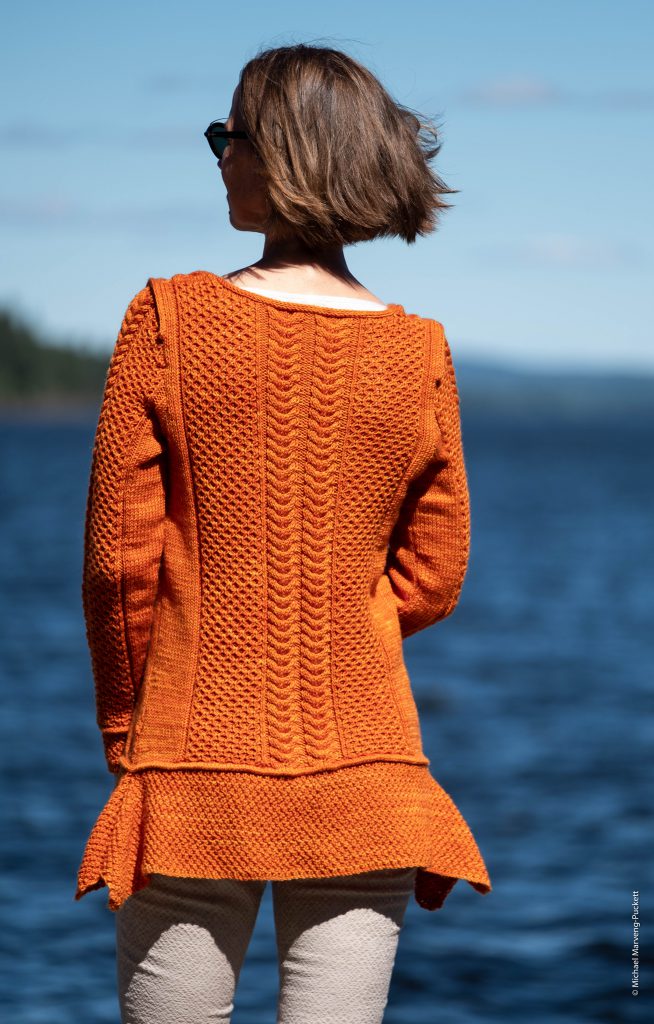 Ataraxia is knitted flat, in pieces from bottom up, and seamed. The asymmetric lower body has extra width in each side that will be bound off before the tuck is made. Waist shaping is worked at the sides and the shoulders are shaped using short-rows. The collar is picked up and completed using an i-cord cast-off. The military inspired jacket did need bespoke buttons so I contacted Norwegian jewellery designer Siri Berrefjord who made these buttons especially for it. Each button is like a piece of jewellery with immaculate texture to it. The design is based on the silver brooches for the traditional folk costume, called "bunad" in Norwegian. As you might know, if you have been following my blog for awhile, Siri is also a photographer so I will soon share her glorious pictures of the buttons on my sample.
"Ataraxia is named after one of Caroline's poems and we hope it gives you a perfect sense of calm, sheltering you from whatever storms you bravely weather. The long jacket's fitted shape is achieved through a careful arrangement of vertical texture panels and i-cord highlights. Finished with a tucked, asymmetrical peplum, Ataraxia is full of clever ideas. Linda designed this with a mythical shield-maiden in mind, and Caroline Norton reminds us of the everyday heroines battling among us."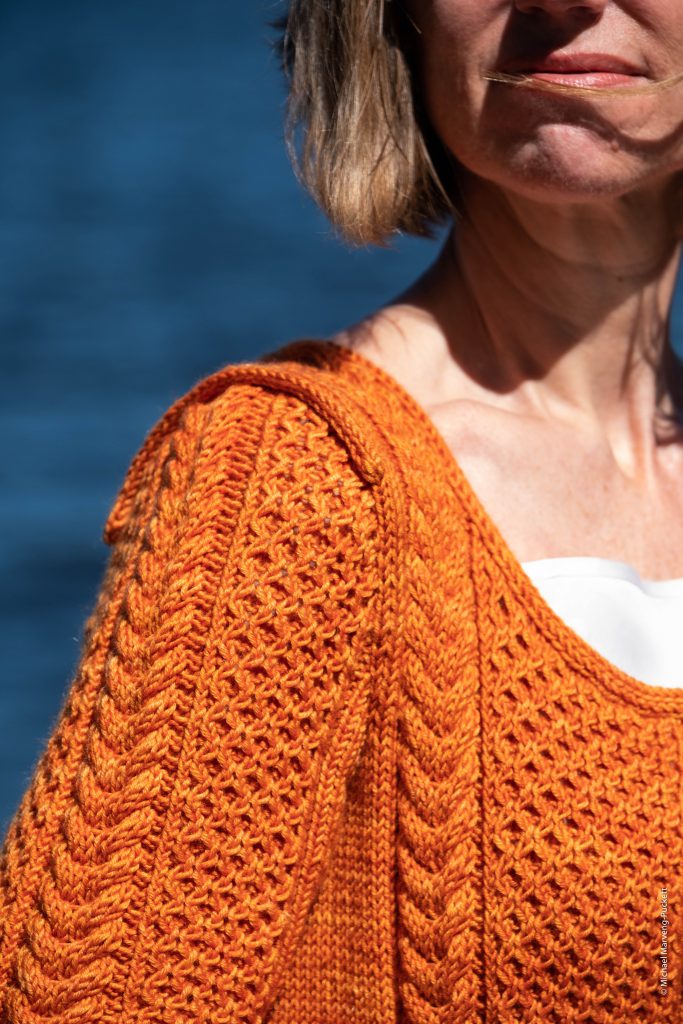 Finally here is a detail, showing the wonderful textures and the shoulder treatment I gave it. You can buy a print issue with a digital download code directly from Pom Pom or a digital issue from Ravelry or from one of their many stockists.