Siret took part in the test knit of Ena and chose to make it in another yarn from The Fibre Co. than the one I used in the sample; Cumbria Fingering as opposed to Acadia. She made size Medium and shortened it with 9 cm/3.5″. Here are some of the stunning photos Siret took of her daughter with an iPhone, close to her home in Estonia, on an island called Saaremaa. Siret told me that the beach is in the city of Kuressaare and has been given a funny name among locals "Titerand" which means "the beach for the babies". Regardless of its name it is such a perfect backdrop for the taupe coloured cardigan. Siret has knitted it in the shade Eden Valley #11.
This is what Siret writes on her ravelry project page: "Ena is wonderful cabled cardigan! I love these little cables. I was afraid of sewing sleeves. But Linda has designed sleeves that fits perfectly and there's no worries at all. Eden Valley color is green-blue. Hard to catch on photo". You can read more on her project page, you will find her as kollane on Ravelry and Siretsini on Instagram.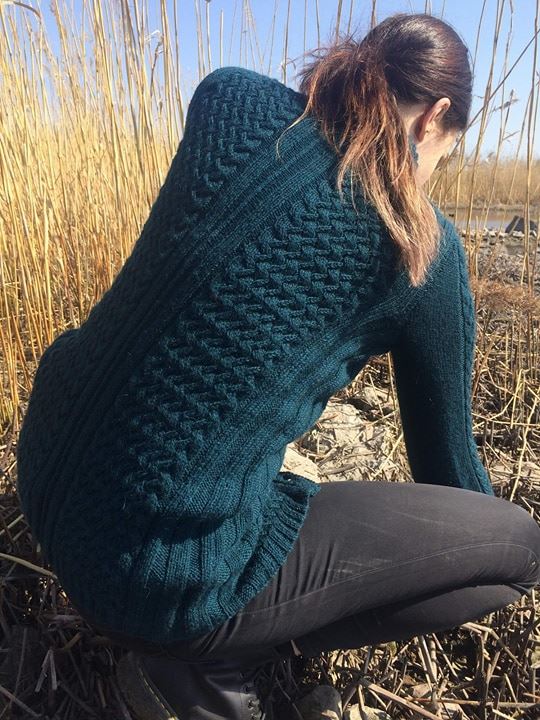 Siret reveals on her profile page on Ravelry that: "My grandmother taught me to knit when I was four. I love to knit mostly cardigans and pullovers, socks and shawls. At summers I love to crochet. I have been in Raverly for a long time but I started posting my works here from June 2017."
I love how young and cool the cardigan appears, thanks to her daughter! This was the first of my designs that Siret knit and I do hope it will not be her last. Thank you so much, Siret!
The test knit is finished and I have released the Ena pattern in English on Ravelry and Loveknitting. The Norwegian pattern will be printed in the magazine Familien at a later date. Here is my introduction to it: Ena is Celtic for fiery. As you need to be passionate about cables to make this jacket. The woven cables lean towards the left and the right hence the spine has been accentuated with a twisted stitch at the center back and along front opening. Ribbing in the sides make the jacket appear casually fitted. The collar in rib can be worn open or closed and folded over. Ena is knitted in the rustic Acadia with silk noil from The Fibre Company.
SaveSave
SaveSave
SaveSave
SaveSave
SaveSave
SaveSave
SaveSave
SaveSave
SaveSave
SaveSave
SaveSave
SaveSave
SaveSave
SaveSave
SaveSave