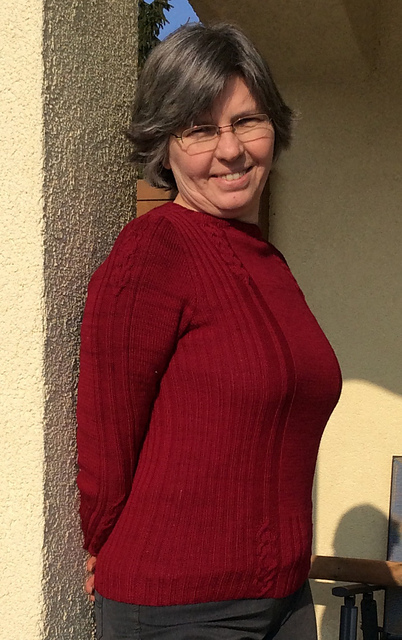 I want to show you the Melva pullover Barbara, from Vienna, knitted in the divine Wollmeise Pure 100% Merino Superwash in the hand dyed shade "Dunkle kirsche" in size Large. Barbara took part in the test knit and helped me correct and improve the pattern. I have been fortunate enough to meet Barbara both times I have been to Vienna. I have seen how she holds her needles, unlike most other knitters, since she was born with only one hand. It is impressive and so is Barbara's knitting skills, I have come to discover as she has taken part in many of my test knits. Her former Ravelry name, before she began to share the account with her mother, was "one-hand-wonder" and indeed she is! Now, you can find them both as "Klemens1".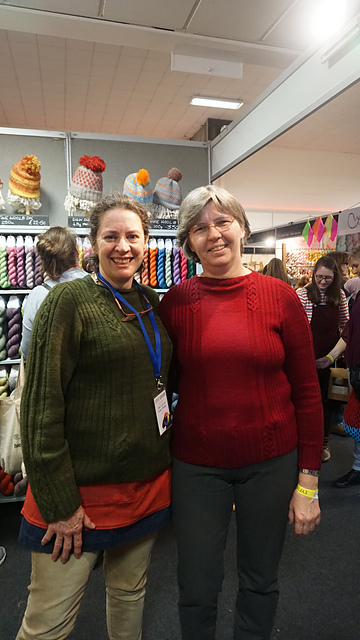 Back in March, Barbara went to the Edinburgh Yarn Festival, and she stopped by at The Little Grey Sheep stand to meet Emma who dyes her own unique British yarns. The yarn comes from Emma & her family's fine wool flocks exclusively nurtured and bred for their quality fibre. Emma is also wearing Melva, knitted by sample knitter Amanda, in the colour "Out of Africa" in size Large. Thank you so much, Barbara & Emma!
Named after Melva, Celtic for ruler, a straight sweater with fancy cables at the top and the bottom. The intricate cable is fit for a ruler. Ribbing in the side makes the sweater figure-hugging, while the stockinette stitch center panel shows off the stunning hand dyed The Little Grey Sheep, Stein Fine Wool 4ply. The sleeve mirrors the body, but it is worked flat.
The Melva pattern is available in English and in Norwegian on Ravelry and on Loveknitting.
SaveSave
SaveSave
SaveSave
SaveSave
SaveSave
SaveSave
SaveSave