Meet Barbara and her mother Dagmar, both have test knitted Vaga for me. Both choose finer yarns and added one or two repeats of the center Herringbone cable. Barbara knitted hers in Artesano Definition in the shade Denim (a discontinued yarn), while her mother worked hers in a thinner version of the original yarn used in the sample: The Fibre Co. Cumbria Fingering in Buttermere. Both worked size 2XL due to their finer gauge. Yes, you are right, Barbara has been on my blog previously, wearing her Melva, photographed at Edinburgh Yarn Festival. In fact, Barbara has test knitted many of my designs. I have been fortunate to meet both Barbara and Dagmar in Vienna, during the Vienna Wool & Design Festival back in April 2017. Barbara, unlike most other knitters, was born with only one hand. So both her knitting technique and her knitting skills are impressive. Her former Ravelry name, before she began to share the account with her mother, was "one-hand-wonder" and indeed she is! Now, you can find them both as Klemens1.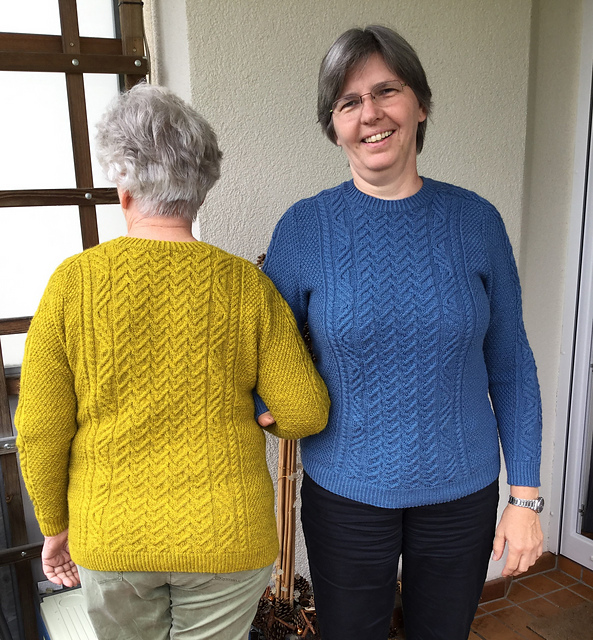 I love these happy photos taken of Barbara and Dagmar! Both sweaters are gorgeous in their colour choice and fit! Thank you so much for test knitting for me!
Here is my introduction to Vaga: Named after the Celtic Goddess of the River Wye is this pullover with cables that runs over the body and sleeves. A saddle shoulder allows the swing cable to continue to the neck with its twisted rib ending. The pullover is slightly shaped for the waist and knitted in the gorgeous The Fibre Co. Cumbria Worsted.
The English pattern is available on Ravelry and Loveknitting, while the Norwegian pattern has been published in the special magazine called "Høststrikk" published by Familien, on sale now.