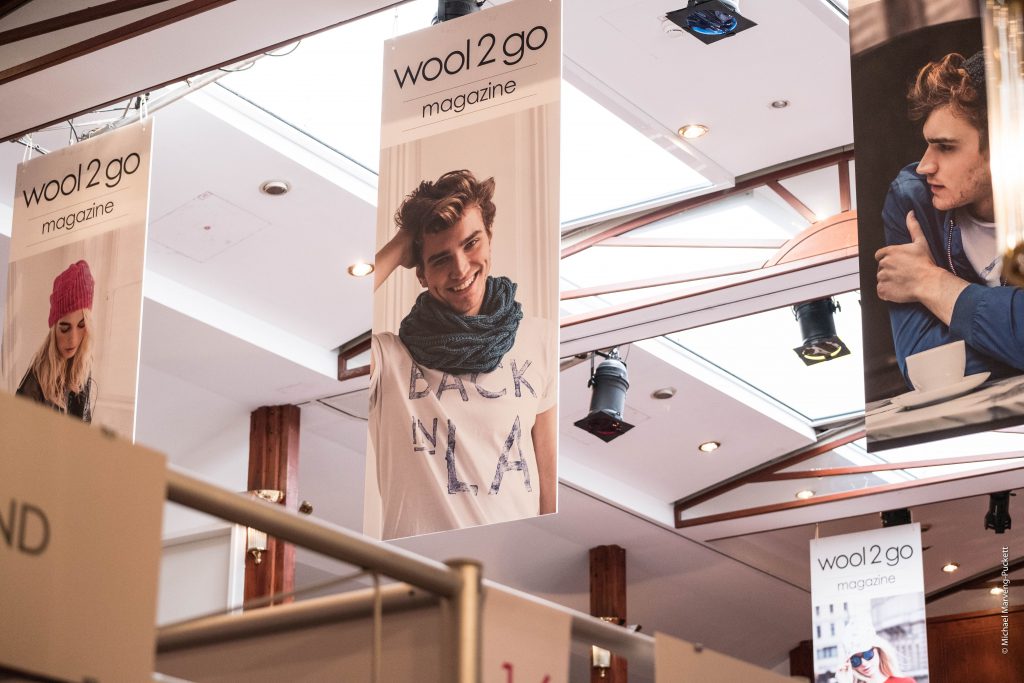 My first highlight of the Vienna Wool & Design Festival was that I met up with Nancy Marchant at the airport in Vienna on Friday afternoon. She landed half an hour before Michael and I so, Suncica suggested booking a taxi for the three of us, knowing that we would have a lot of luggage with us. It gave me a wonderful chance to get to know the Queen of Brioche Knitting. The festival had already began by the time we arrived; the first set of workshops started in the afternoon. Several of the stands were set-up, ready for the influx of knitters on Saturday, in the Market Hall  (read: the Ballroom) at the Arc Hotel Wimberger. While I was busy looking down at all the yarns on all the 23 stands, Michael looked up and captured the banners with my design Tau, published in the: Vienna Wool & Design Festival Magazine: wool 2 to go 01. Mail order is open from today.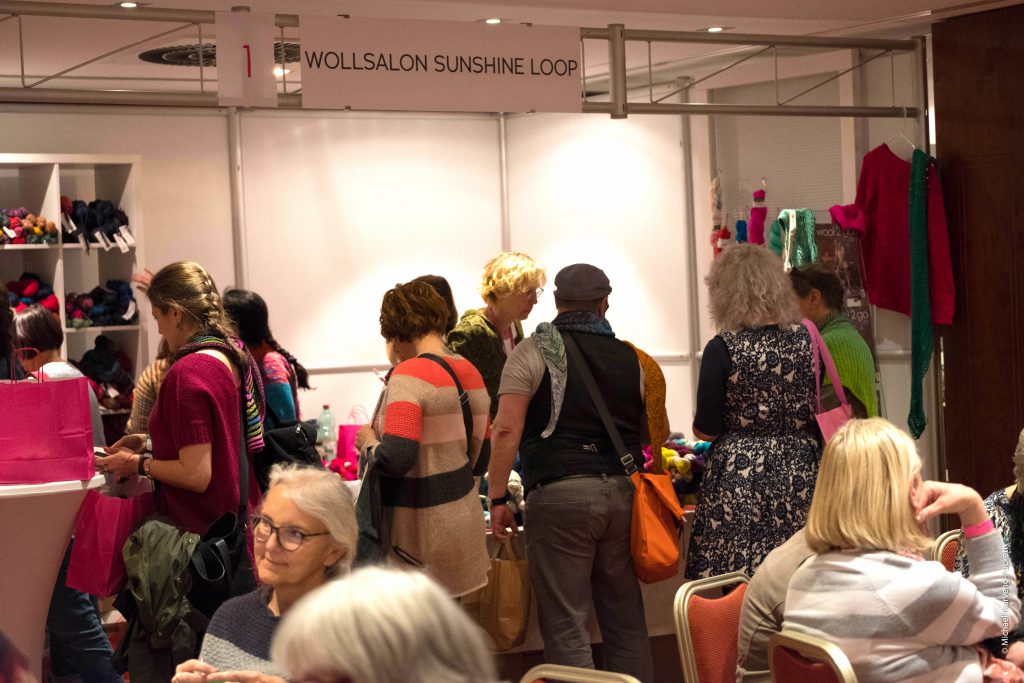 Suncica, one of the two organisers, had three different stands: The first for her current yarnshop: Wollsalon with the wonderful yarns like: Artyarns, Hedgehog Fibres, Lorna's Laces, Malabrigo and Shibui. The second for her new brands called Pop-Up Store with: The Uncommon Thread, Biscotti Yarns and Doulton Flock. The third for her new yak yarn: Myak. I must admit seeing all those brands made me craving yarn. I am sure that sound familiar to many of you! I was way too busy talking to knitters I had meet in Vienna in 2015, test knitters from my Ravelry group and friends to take photographs, so most of these are taken by my husband!
Uschi, the other organiser, told me that they early figured out that they needed a photo wall, and where better to place it than on the stage. We took advantage of it and asked Susanne, aka shannara13 on Ravelry, to join us. On the Friday we were all wearing the same bluebell shade of blue and all my designs: Uschi, aka Grinsekatz on Ravelry, is wearing Ronette, Susanne is wearing Irina Pullover, both have made adjustments to the pattern to make them their own and  I am wearing Kori.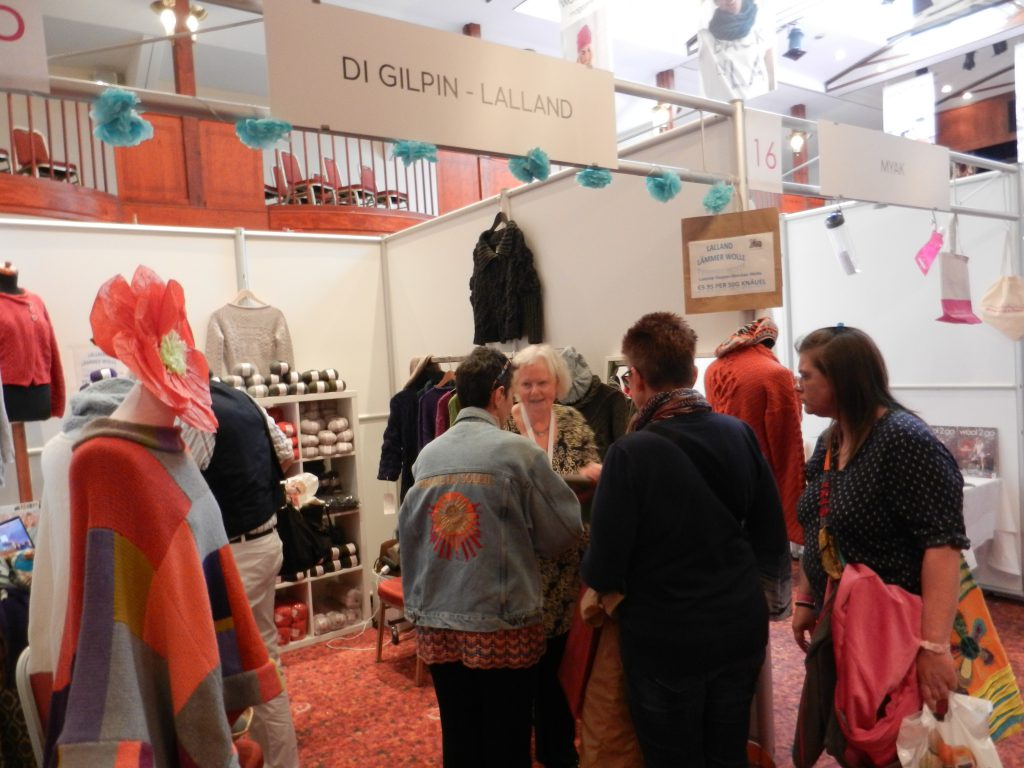 I was looking forward to seeing Scottish designer Di Gilpin again. I met her first time at the Rowan Yarns' stand at the Knitting and Stitching Show in London several years ago, while I was still working for Rowan and she was launching her first book with Rowan yarns. Now, she has her own yarn brand: Lalland Lambswool, sell finished garments and designs both for hand knitters and for haute couture. In the photo above you see Sheila, who trains all their sample knitters and assists Di. Her eye for design and especially intricate cable work stand out, just take a look at her website here: digilpin.com. And yes, I have several balls of her yarn to play with now. To be continued.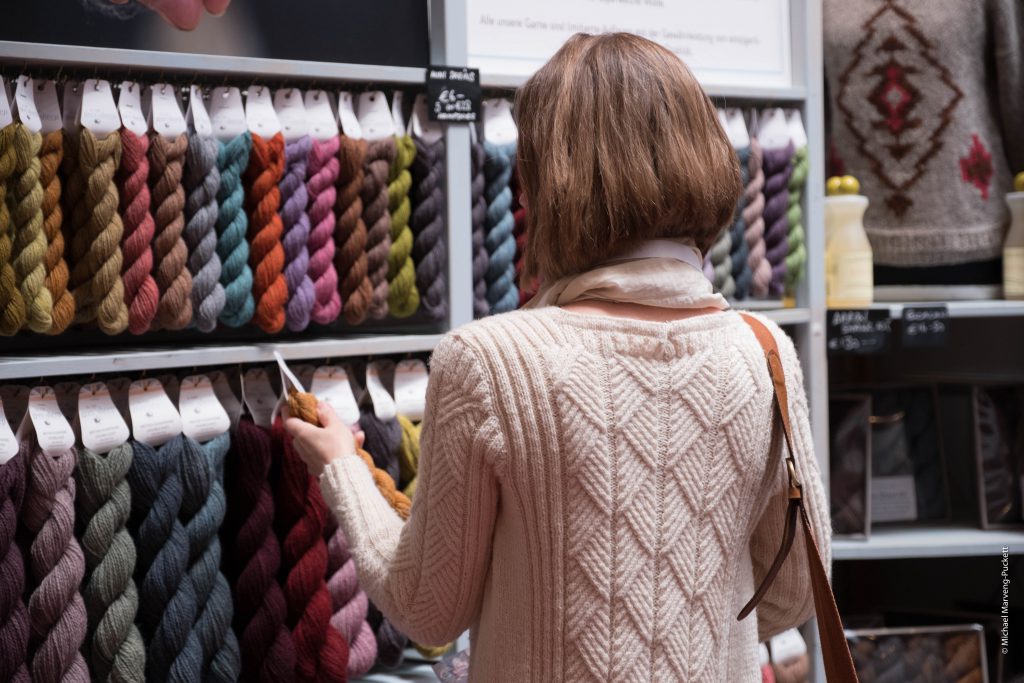 All the beautiful colours and yarns on the British The Little Grey Sheep stand blew me away. Here I am lost in colours. All you can see of me is the back of my design Helka. I first spoke their shepherdess Susie (you can see her in action in the picture hanging above the mini skeins in the photo below), before I spoke to dyer & manager Emma.
Invited to this festival was also the Polish designer Hanna Maciejewska, aka Hada Knits, who I met up with during the festival. We enjoy each others company a lot! Suncica, aka Sunce5555 on Ravelry, stopped us in our tracks asking for more autographs for the magazines. We obliged, enjoying the lime light for a short period of time.
Hanna's husband Daniel was walking around with his camera just as Michael was. Another designer who also brought her man was Isabell Kraemer, but due to our workshop schedules I was not able to talk to her until Monday morning when the six of us had a late breakfast. I am very proud of the fact that I did not buy any yarn, but I was given several skeins and balls to play with so I do not feel deprived in any way.
None of my workshops were fully booked and the small groups made them extra enjoyable since it gave us more time to get acquainted! Among the participants I spoke Norwegian to three of them to my surprise; two of them were living in Austria while the third had worked as an au-pair in Norway. The rest of the time, I spoke English and several of the Austrian participants where surprised how quickly they could recall their English vocabulary that not been used for awhile. More photos and stories are coming up next so stay tuned.