I just had to share this lovely photo Michael took of the four organisers of Barcelona Knits with the popular male model for the festival pattern: Mediterráneo Shawl by Ester Romo Alonso – aka elleplusdesign – he was photographed throughout the day. From left to right is: Anna Chao, Eva Rodríguez, the man of the day, Marta Martínez and Kiara Bonini holding up the photo of him from the festival brochure. Their enthusiasm was non-stop throughout the weekend, I can confirm, as Michael and I met them at breakfast at 7am at our hotel and then again after my second workshop at 8pm.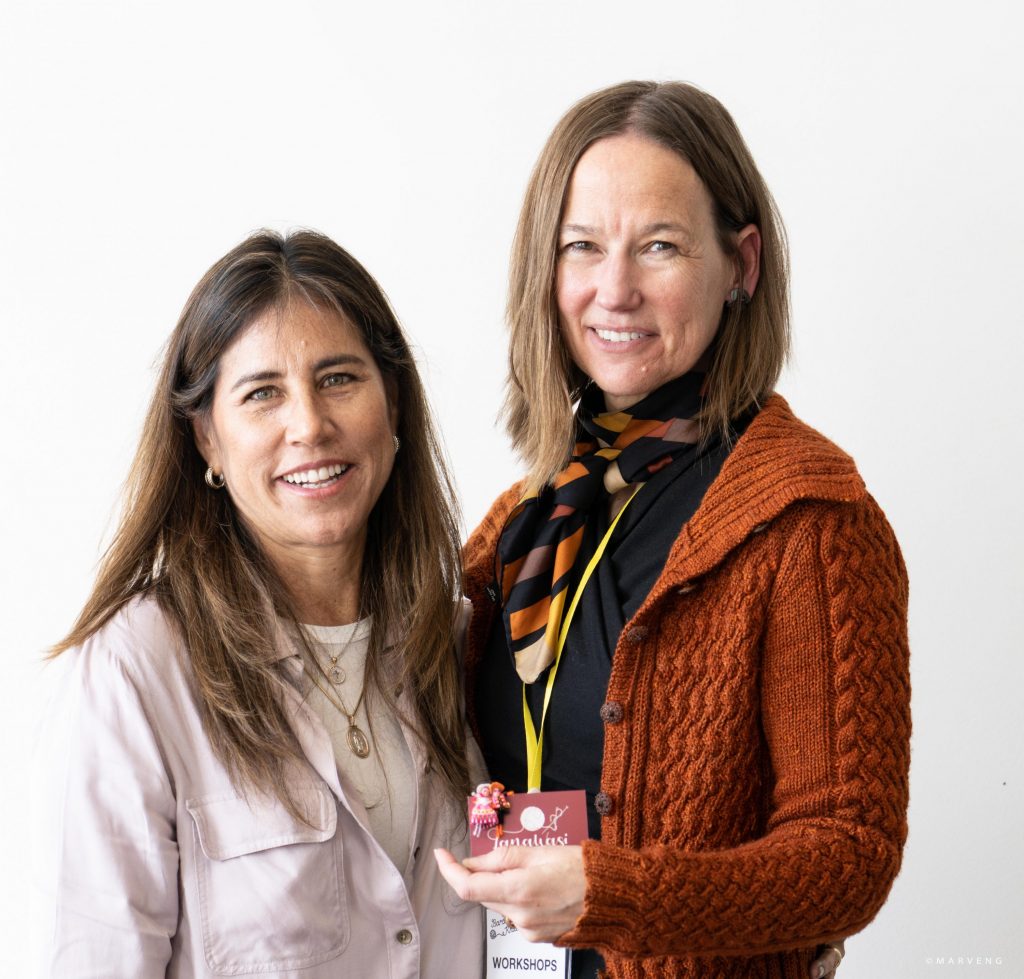 In my first workshop: Smart Knitting Techniques, I also meet Giovanna Marrese, aka LanaWasi who had travelled all the way from Peru, who brought me a couple of lovely gifts from the company she runs together with her sister-in-law in Peru. I received a handmade doll with a shawl pin and an embroidered notions pouch. Thank you, Giovanna!
The market hall was separated into two halls, and the smaller one also had a coffee shop with a view to the nearby parked yachts. Do watch Grace O'Neil, aka Babbles Travelling Yarns Podcast from Barcelona Knits where she asks knitters where they have parked their yachts, as well as detailed views of the vendors in the Market Hall: www.youtube.com.
Here is a photo I took Monday morning after the festival, where you some of the larger yachts and ferries as well as one part of the World Trade Center buildings, see the round building to the right.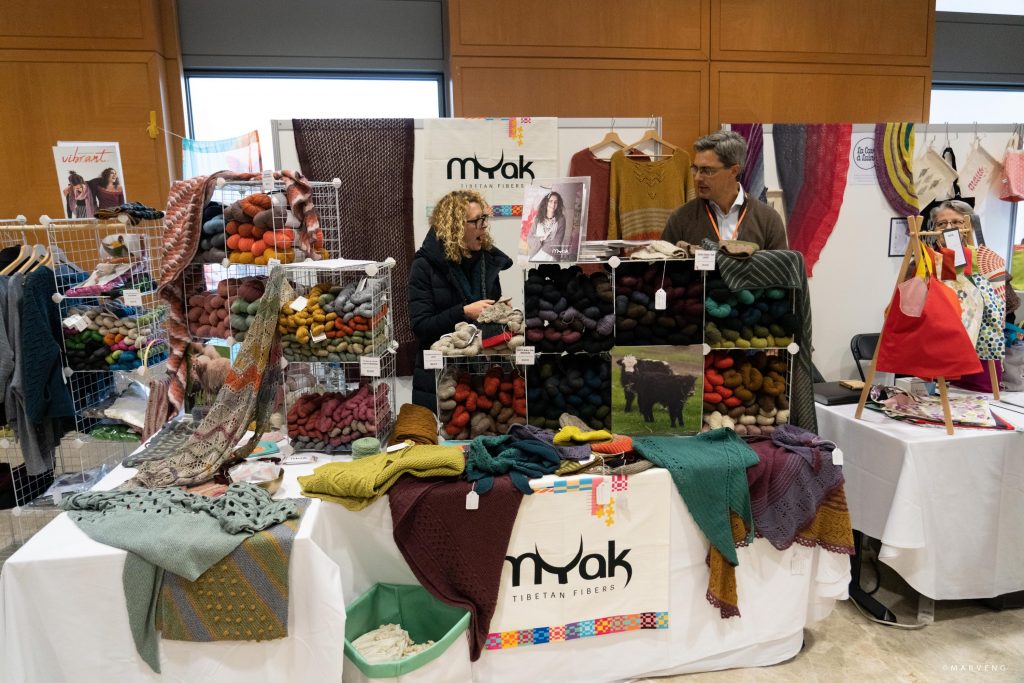 For the first time I could take a look at the yak yarns from Myak. I spoke to Andrea who is a vet and works very closely with the nomadic yak herdsmens. You can see an interview with co-founder Paola and him in the Fruityknitting Podcast Episode 56. Yes, do remember to watch episode 67, while you are at it, that is the interview with me.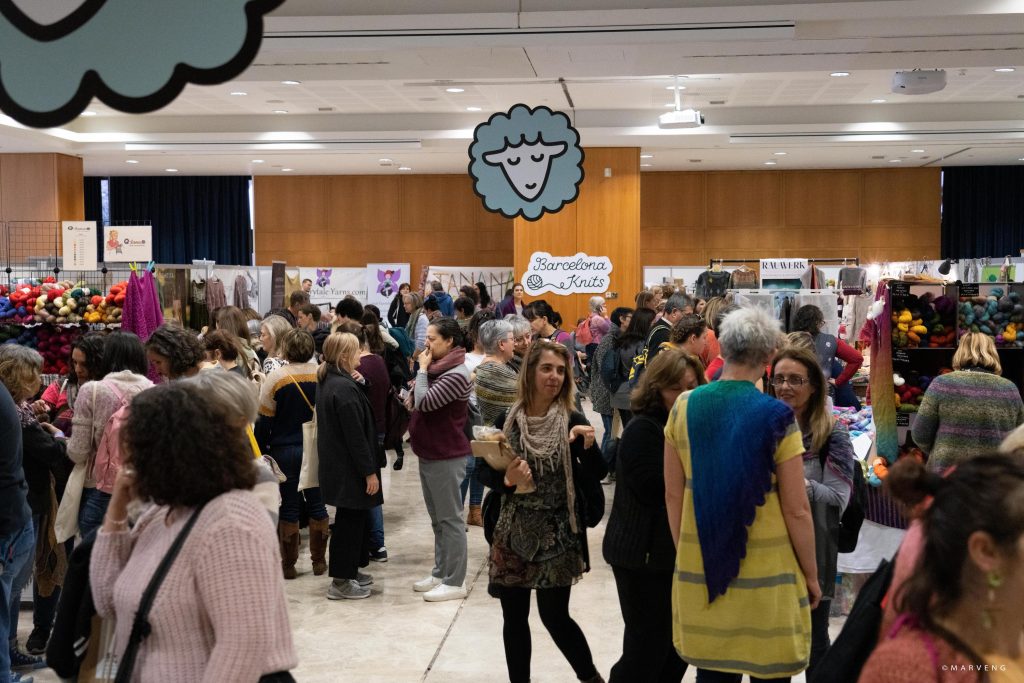 Above is a photo inside the market hall taken on the less busy Sunday.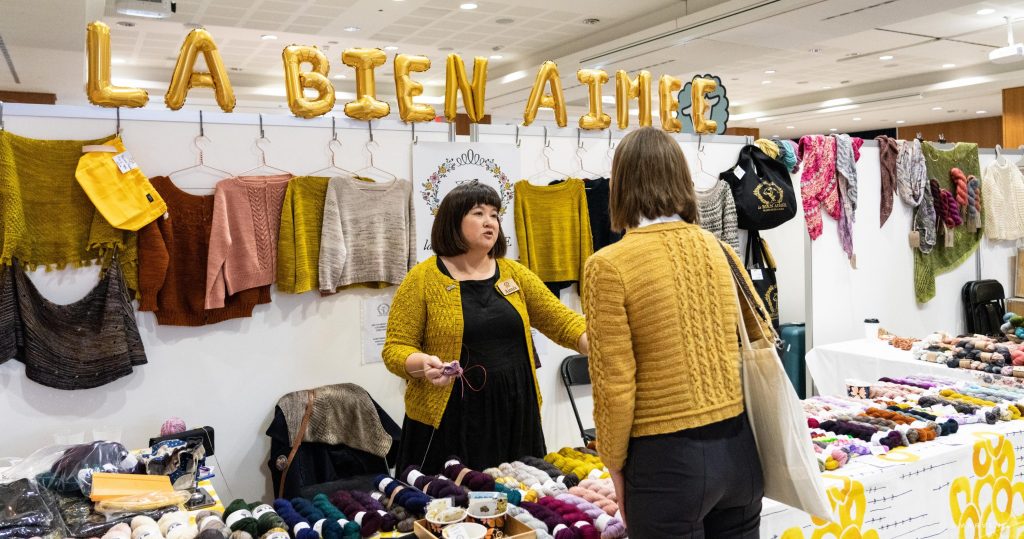 La Bien Aimee was also at Barcelona Knits, and I had the chance to present myself. I was wearing my Yellow Gold Pullover and it seemed to fit straight into her colour scheme.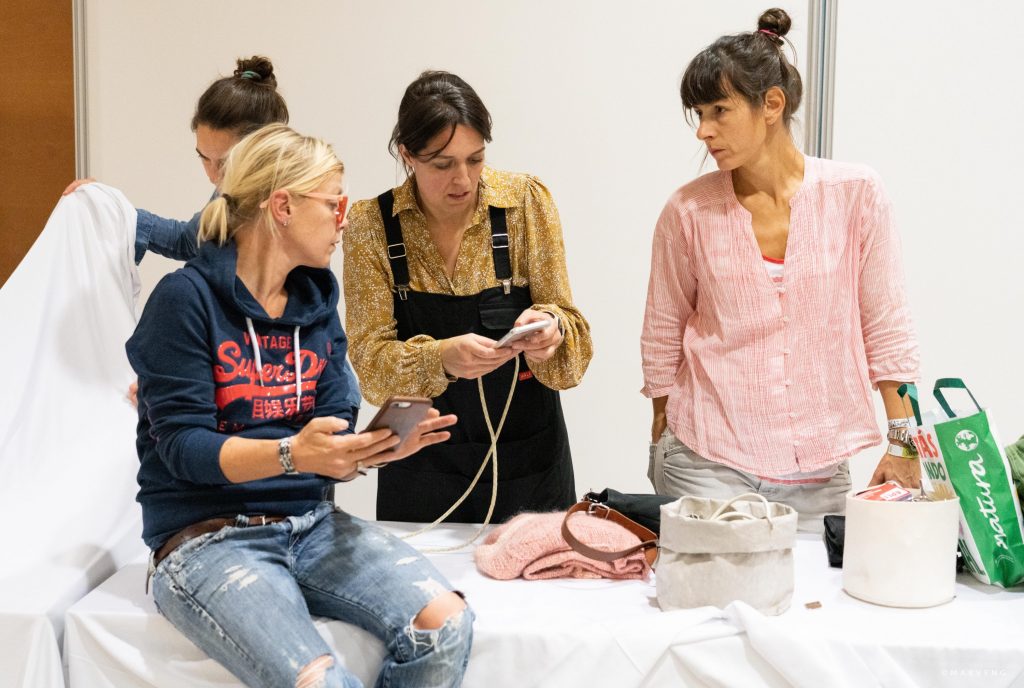 The last photo I will share with you is from after the closing of the Market Hall and of the packing down of the stalls, the Walk Collection stand in particular, where I had agreed to meet Isabell Kraemer, aka lilalu72, and her husband. Isabell had promised to help pack down their stand before we all went for dinner together. The seven of us had a lovely dinner and a fabulous time close to the Walk Collection team's Airbnb flat. It was the perfect end to a perfect weekend, really! Thank you to all the designers, vendors and knitters I met at Barcelona Knits!