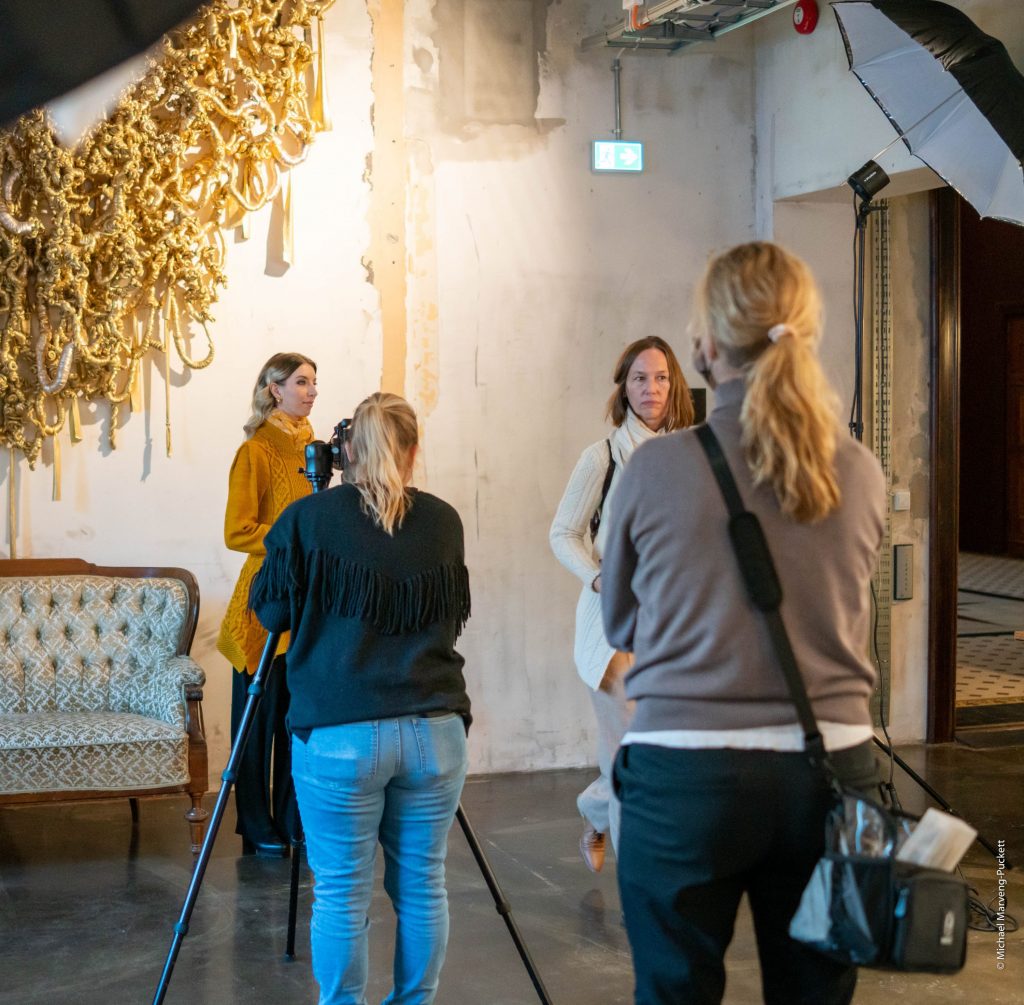 Last Friday I had another photoshoot, this time at Sentralen – the former Christiania Bank HQ, now a meeting place for culture and innovation – in Oslo city centre. The oldest of the two buildings date from 1901 and is by architect Henrik Nissen. A fascinating fact about it is that railway tracks were stacked into the walls to keep the robbers from digging their way into the building. But I digress. I was there for the photoshoot of six new designs and four old ones, that needed new photos for different reasons. My initial plan was to rent the Marble Hall, but that proved way too expensive. In the end I rented a meeting room the team could use a base camp and received a permission to photograph in the public spaces at Sentralen. The team booked was photographer Wenche Hoel-Knai, make-up & hair stylist Nina Hjertaas Bull, model Olivia Lindtein and hobby photographer & technician Michael Marveng-Puckett. Above you see us preparing to photograph the first garment the Adeline's Cardigan, first published in Interweave Knits Winter 2021.
PhotographerEivind Røhne cancelled the day before due to a cold which meant he had to be tested for Covid-19 to be certain. His test was negative, we heard later. First I contacted a photographer Eivind recommended but she was not available, then I rang Wenche Hoel-Knai, who was recommended by former editor Mary-Ann Astrup. Wenche could step in on a short notice, I am pleased to say. Above you see the new jacket & trouser set I have designed in Bendigo Woollen Mills Classic 5 Ply. If you are wondering what I am wearing, I can tell that it is Helka. Below you see me hanging up the clothes in the meeting room I had booked.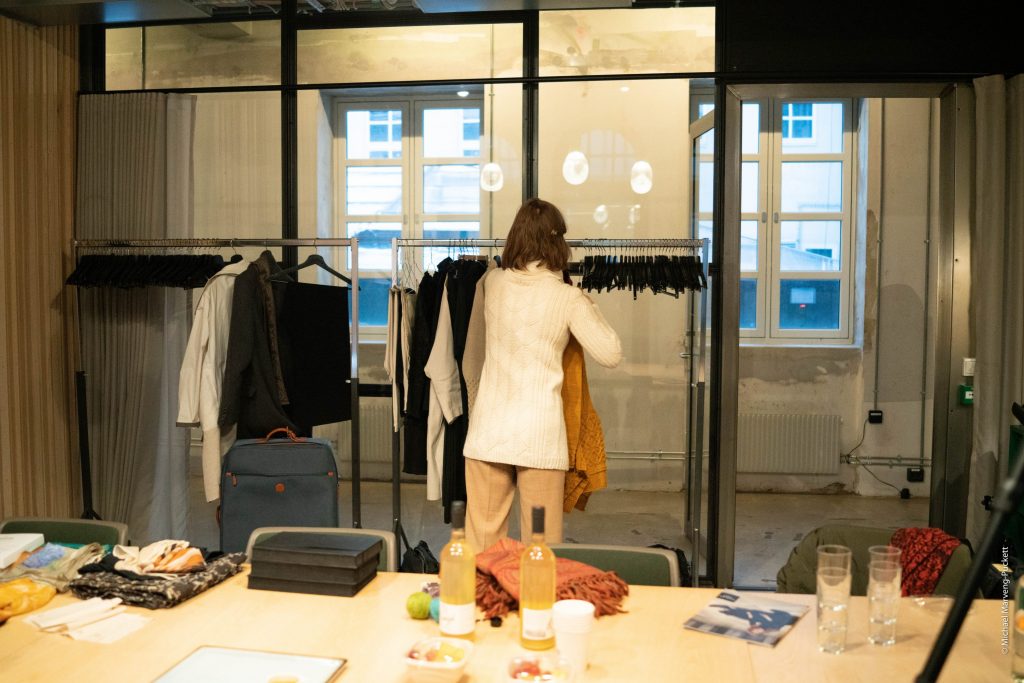 I had pre-ordered pizzas for lunch at 1 PM, giving us time to photograph a number of garments before hand, as we started at 9 AM. On my previous visit to Sentralen I had identified three possible backdrops I wanted us to use: The Marble Hallway & Stairs, the concrete staircase with orange railings and The Golden Bar.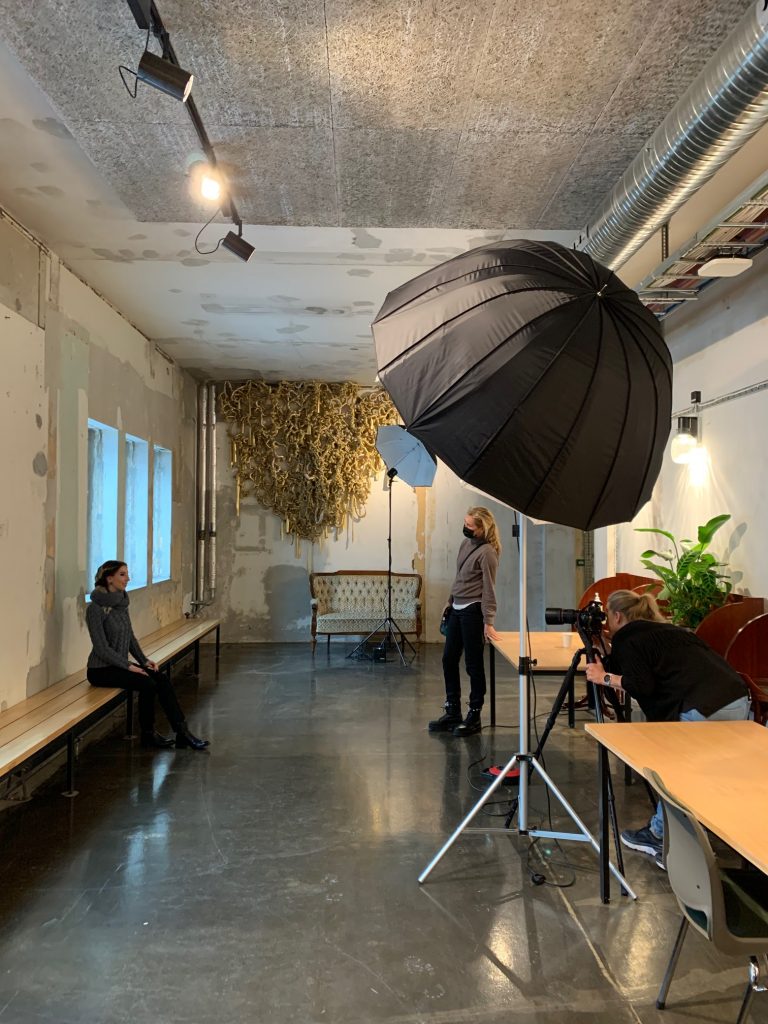 Our first venue was The Golden Bar – that did not have a bar, just seating – named after the    monumental sculpture called "Growing Gold" made in textiles by Hanne Friis. Inspired by the history of the building and the future cultural building containing values of a different kind. In short not all that glitters is gold. Olivia is wearing the Cable Round Sweater in the photo above. We photographed five of the designs in the bar, using every minute until our lunch break at 1 PM. A delicious lunch later we started again, this time in another room.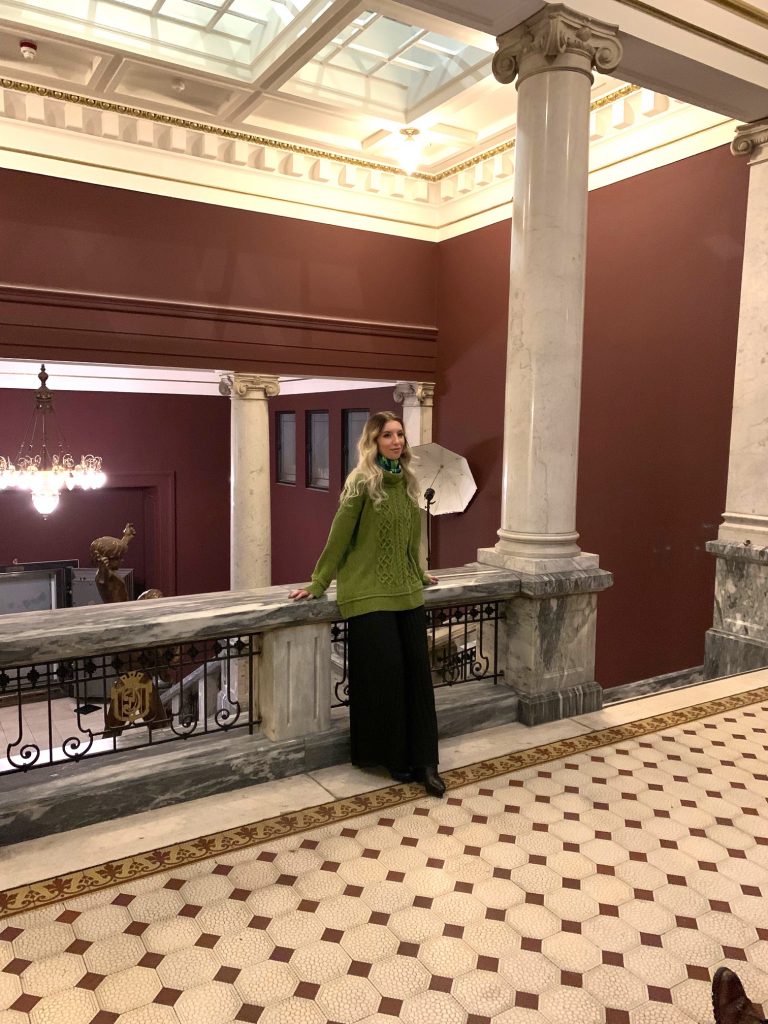 The second backdrop was the Marble Hallway and in the end we photographed the remaining five designs in this room choosing different angles. All the four Hillesvåg designs made in the yarn Ask were photographed here, above you see the oversized pullover called Jari.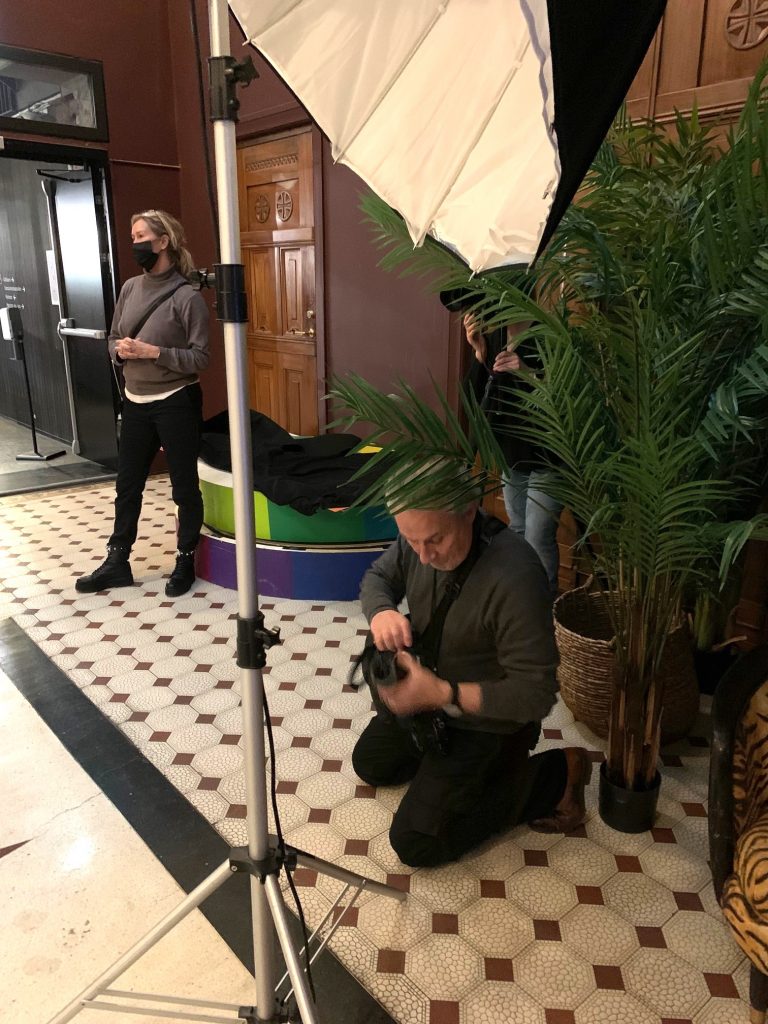 In the large room next door to this, a film was being made. Hence all the extra plants and furniture were moved around. Michael took most of these photos, above is one of the few I captured of the paparazzi Michael, planning to capture model Olivia in action. For the last two designs we moved down to the bottom staircase. As always it was a day filled with laughter and fun, while working hard to make it all work. Olivia had to stretch her neck, pretending to be a puppet, while keeping her chin low. My team did a wonderful job and I had an amazing day!