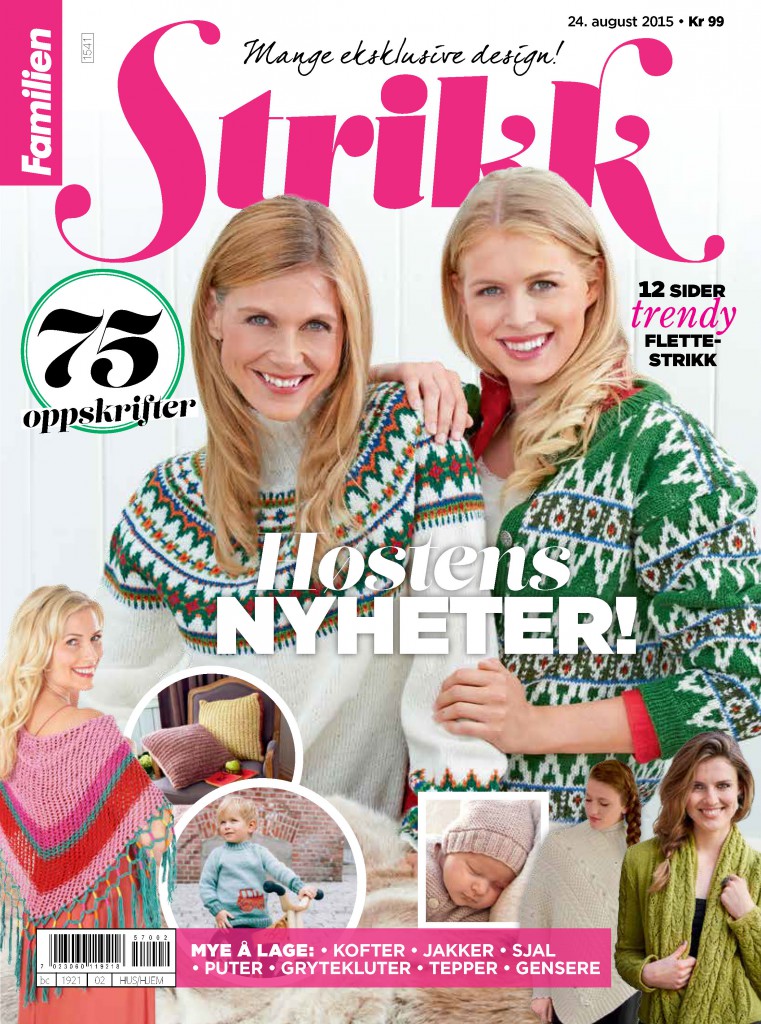 The special issue Familien Strikk is now available in print in Norway with 6 of my designs and 69 other patterns. On the cover in the right corner is my Quamara jacket with loop closure worn by gorgeous Anne Dorthe/Team Models with hair & make up by Sissel Fylling, jewelry by Kaja Gjedebo and brilliantly captured by Eivind Røhne. Ok, it is a small photo on the cover but there is a large photo on the contents page, see below.
Quamara is knitted in the lovely wool and silk mixture called Permin Zenta, and available in sizes XS to 2XL. The English pattern will be published after a test knit in my group. In the editorial Åse Myhrvold Egeland writes about how she became "bitten by the bug" or hooked on knitting in other words.
My series is called "Flott med fletter/Great with cables", and the introduction reads: "The garments Linda Marveng designs are not for new knitters but they are so magnificent. So if you are an intimidate knitter, just get started." The introduction to each pattern is mine, and first out is the Alva in one size: A feminine poncho with a deep shawl collar in a reversible diamond pattern worked only in knit and purl stitches. Close it at the front or pin both fronts together at the back with a beautiful shawlpin. Or you can throw one front across your shoulder or wear it hanging loose. If you prefer, make buttonholes along the double seed stitch edge. The wide shoulder makes it drop down so, add a pair of long wrist warmers to make the outfit complete. The set is knitted in a luscious merino called  Tropical Lane Woolissimo.
Next is Quamara, like the remaining patterns are all available in sizes XS to 2XL: A combined lace and cable stitch pattern adorn the back, sleeves, and the generous loop closure on this straight cardigan named after a beautiful elf. The loop collar can be worn loose, folded once behind the neck or twice in front or three times around the neck in a ballerina style. A fake garter stitch seam add a bit of structure to this cardigan. I knitted it in the luscious wool and silk mixture Permin Zenta.
Imra: Poetic cables framed by reverse stockinette stripes and double seed stitch, was my idea for this straight long vest. I named this piece after the Arabic Poet, Imra. A small round neck has the same I-cord treatment as the armhole, front, and bottom edges. Match with a pair of loose sleeves that can also be worn around the waist or one as a neck tie. To achieve popping cables two yarns were combined to make a rich colored tweed yarn. I used the bouncy Hifa Ask and Rowan Fine Tweed.
Mistale: The vivid lime green in the stunning pelt yarn, Norsk Pelsull,  from Hifa intoxicated me. I discovered that cross cables with round cables in the middle made a gorgeous texture. By framing the cables with a rib, the sweater becomes figure hugging and is the perfect accompaniment to your favourite jeans or trousers. It ends with a squarish narrow neckband and you can choose if you want to add the matching cowl.
Oili: Playful cables are the focus of this classic straight top, knitted in the round with each side marked by garter stitches. Narrow bands of garter stitch band frame the armholes, neckline and bottom edge. The top has a matching cowl, with cables all around. The set is knitted in a soft cotton tape yarn by Permin, called Bonnie, to make you feel like a divine woman – the meaning of the name Oili.
Sculpted Frost: A beautiful frost flower lace pattern adorns this a-line jacket. The cuffed sleeves only have a central lattice panel, while the frost flowers reign on the body. The coat is framed by a shawl collar in garter stitch divided with a tuck and finished with an I-cord bind off. A vivid lilac color was made by combing the divine mélange lace weight Du Store Alpakka, Dreamline, Soul with the beautiful light fingering comb wool Hifa Huldra Kamgarn. Together they create a stunning stitch definition as well as a slight halo.
In Norway you can find the magazine in newsagents and selected supermarkets or order it by SMS, for more details and a preview of other patterns in the magazine see: www.klikk.no. The Norwegian magazine will be available on iPad, for more details see: www.klikk.no. All patterns will be available in English after a test knit in my Ravelry group.
Today, I am off on a week's holiday to Turkey. I tend to spend a lot less time in front of the computer than I usually do, hence I will only bring my iPad and my next blog post will be on Wednesday 2nd of September! Yes, I will definitely be bringing my knitting needles and enjoy myself!