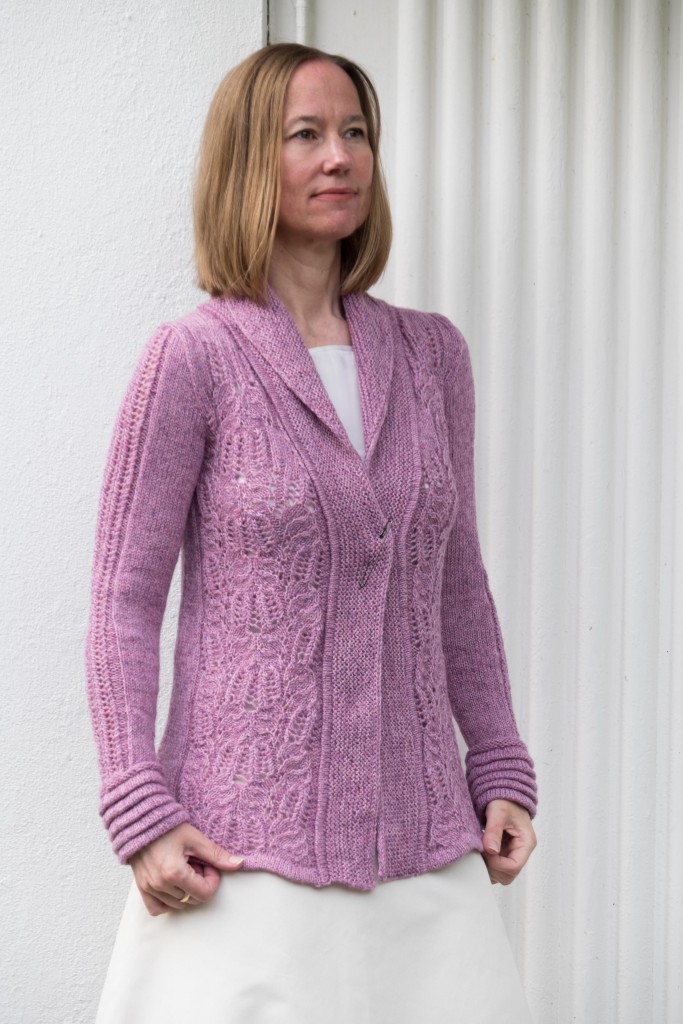 This last design in the series was only finished in the evening before the photo shoot. My vision was clear, but the knitting less so. Both the sleeves and the back was easy to plan and quick to knit, unlike the fronts which needed more calculations for the neck shaping. The beautiful frost flower lace pattern is easier to knit than it looks since it has sets of rows that are repeated throughout the pattern. It adorns the body of this a-line jacket, while the sleeves only have a part of the pattern; a central lattice panel so that the frost flowers can reign supreme. The long jacket is framed by a shawl collar in garter stitch divided by a tuck and finished by an I-cord bind off. I tried different yarn options but loved this vivid lilac, the result of combining the divine melange lace weight Du Store Alpakka, Dreamline Soul with the beautiful light fingering comb wool Hifa Huldra Kamgarn. Together they create a stunning stitch definition as well as a slight halo. The Norwegian pattern will be published in Familien Strikk at the end of August, while the English pattern will be test knitted in my Ravelry group and then published there.
The two yarns held together create a DK/8 ply weight yarn and are worked using a 4 mm/US 6 needle throughout. It will be available in sizes XS to 2XL, and in these photos by my husband, you see me wearing a size S. The body is worked flat in pieces, unlike the long sleeves which are worked in the round to the armhole. The hem and the tuck are worked with 2 sets of circular needles held together. The 3 larger sizes have been given a garter st panel on either side of the Frost Flowers, which you change to stocking stitch if you prefer.
To a hem that was too tight, I cast a larger number of stitches and decreased those extra stitches after the hem was closed using two circular needles. The stitch pattern makes it curve slightly. I decided to use garter stitch for the collar and shaped it with short rows before the I-cord bind off. With hindsight I could have made the collar even wider, since the garter stitch pattern does tend to contract.
Here is a detail of the collar. And you can see the divine color the two yarns make combined. Both the Dreamline Soul yarn by Du Store Alpakka and Huldra Kamgarn by Hifa were sponsored. The design was initially made as a design submission for Amirisu, but not accepted, see my blogpost: Design in Progress Sculpted Frost Coat. The jacket has been stunningly photographed by Eivind Røhne at Henie Onstad Kunstsenter and you can look forward to seeing those photos.