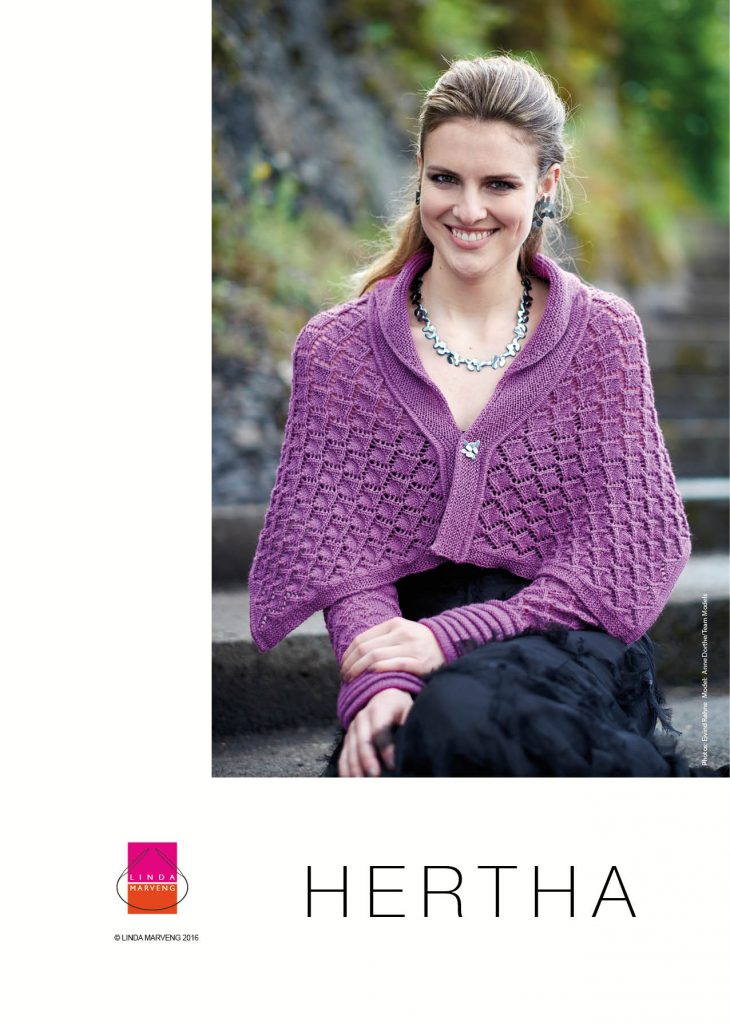 Finally, I have been able to release the last of the English patterns brilliantly photographed by Eivind Røhne at Henie Onstad Kunstsenter last Spring. Gorgeous model Anne Dorthe/Team Models is wearing the Hertha shawl with loose sleeves together with a stunning fringe skirt by Judith Bech and jewelry by Kaja Gjedebo Design. Her hair and Make up is done by Sissel Fylling. Hertha has been successfully test knitted in my Ravelry group. The pattern was first published in Norwegian in Familien Strikk last August.Hertha in old Norse means a powerful woman, ideal for this modern shawl with a shawl collar, that can be worn as a scarf around the neck, a shawl around the shoulders, or as a top; if worn upside down and pinned together with a shawl pin. A traditional lace pattern with shadow triangles in half stocking stitch and half garter stitch, knitted in the divine Jaggerspun Zephyr Lace held double.
Sizes: S/M (L/XL, 2XL)
Finished Measurements:
Shawl: Length: 110 (119, 128) cm/43.25 (46.75, 50.5)". Width excl collar: 33 (37, 41) cm/13 (14.5, 16.25)". Width incl widest collar: 51 (55, 59) cm/20 (21.75, 23.25)"
Loose sleeves: Cuff width: 25 (29, 33) cm/9.75 (11.5, 13)". Width at bottom: 22 (26, 30) cm/8.75 (10.25, 11.75)". Width at top: 32 (36, 40) cm/12.5 (14.25, 15.75)". Sleeve length incl cuff: 50 cm/19.75″
Yarn: Jaggerspun, Zephyr Lace 2/18 (50% merino, 50% tussah silk, 100 g,  1024 m/1120 yds). Sample is knitted in Mulberry. http://www.jaggeryarn.com/wholesale-yarn-lines/zephyr-wool-silk.php. Shawl: 2 (2, 2) skeins; 1563 (1624, 1685) m/1709 (1776, 1843) yds. Loose Sleeves: 2 (2, 2) skeins; 1036 (1199, 1362) m/1133 (1311, 1489) yds.
Note: Yarn is held double throughout.
Needles: 3 mm/US 2.5 circular needles (80 cm/32″) for shawl and loose sleeves. 2 sets of 3.5 mm/US 4 circular needles (80 cm/32″) for hem and tucks. Adjust needle size as needed to match gauge.
Notions: 1 m/1 yrd thin elastic cord (1.5 mm/0.059″) for loose sleeves, 2 stitch markers, stitch holders and yarn needle.
Gauge: 25 sts and 36 rows in st st using double yarn and 3.5 mm/US 4 needles measures 10 cm/4″ square. 25 sts and 40 rows in garter st using double yarn and 3 mm/US 2.5 measures 10 cm/4″ square. 24 sts and 40 rows in Shadow Triangles using double yarn and 3 mm/US 2.5 measures 10 cm/4″ square.
Notes: The loose sleeves have elastic inserted into the top hem to keep them in place. They are knitted in the round unlike the shawl. The collar on the shawl is shaped by short rows, and ends in an i-cord bind off. The hem and tucks are all knitted with 2 circular needles held parallel.