The next set of photos I will show your from our base at the Oslofjord Museum at Vollen in Asker, outside of Oslo at the end of May, is the Mulberry Silk Jacket . This is an old pattern that was first published in my Norwegian book "To rett, en vrang. Designstrikk" by Cappelen Damm in 2012. Here is Kaja Kvernbakken wearing my Mulberry Silk Jacket with a pair of pirate trousers, with make-up & hair by Sissel Fylling and jewellery by Kaja Gjedebo Design, plus ankel boots by Monica Stålvang, brilliantly photographed next to the corten steel wall by Eivind Røhne.
A short sleeve jacket for summer, made in silk, hence lovely to wear. The divine lace weight Jaipur Silk Fino from BC Garn in a moss color is my choice. The lucina shell pattern gives a delicate expression perfect for the silk yarn. The cardigan is knitted in pieces and seamed for the best fit. The frontband has both a garter stitch part and a stockinette stitch part which is left to roll.
The Mulberry Silk Jacket was photographed again since I am releasing the pattern as an individual pattern and because I wanted to sell the Norwegian pattern for reuse to the magazine Familien. I have received several requests for the pattern in English, but knew I had to revise the pattern and have my technical editor to check it as well draw a schematic drawing for it, hence it has taken a lot longer than anticipated.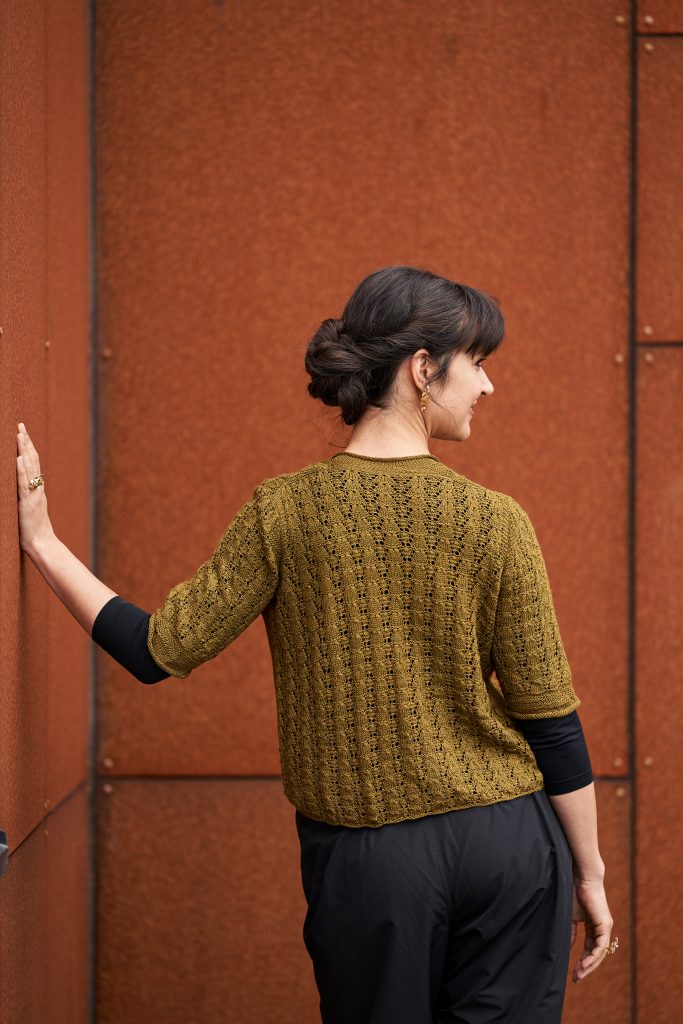 The jacket is knitted in  BC Garn, Jaipur Silk Fino made of 100% mulberry silk that comes on 50 gram skeins with 300 meters/ yards. The sample is knitted in Moss 41 using a 3 mm/US 2.5 needle and a 2.5 mm/US 1.5 needle for the front band. The gauge is 24 stitches and 36 rows in stockinette stitch using a 3 mm/US 2.5 needle measuring 10 cm/4″ square.
The sample has a 99 cm/39" bust circumference and is worn with + 13 cm/5" ease on the model. I have added a size extra large and done a few adjustments to the pattern as well as rewriting the pattern into my current pattern writing style. I loved seeing this jacket on Kaja! I am so proud to have such a fabulous team to work with! Thank you!