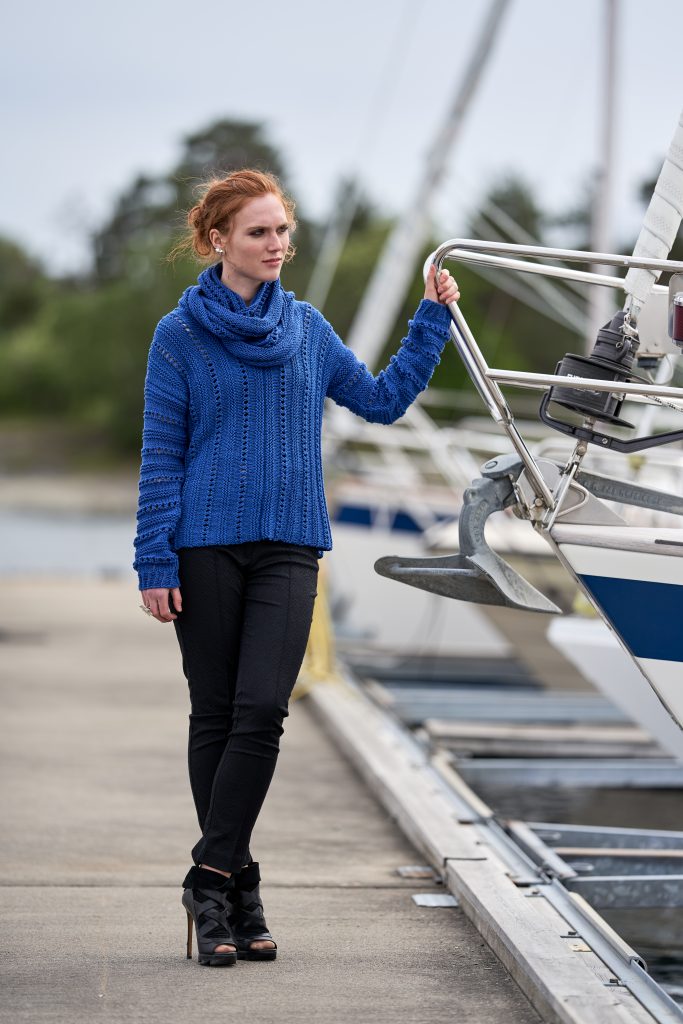 The next set of photos I will show you is of the sweater Vela with cowl. I knew I wanted model Emma Ross to wear this set with a pair of pencil trousers, with make-up & hair by Sissel Fylling and jewellery by Kaja Gjedebo Design, and that I wanted some sailboats or yachts in the background. I brief brilliant photographer Eivind Røhne, who suggested this backdrop at the marina at Vollen. We had our base at the Oslofjord Museum at Vollen in Asker, outside of Oslo, during our photoshoot at the end of May.
Sideways pullover in an eyelet pattern with a center join to enable it to hang straight like a sail or Vela – Italian for sail. Oversized body with narrow sleeves to minimize the volume. Vela ends in a round neck with ribbing. Dress it up with a cowl, that can be worn once or twice around your neck. Perfect for summer, knitted in a lovely cotton mix yarn called Hempathy from Elsebeth Lavold with a crisp stitch definition.
Pullover is knitted sideways, so work a larger size if you want a longer version. Adjust sleeve length to fit you. Each body part is knitted in two pieces and bound off using 3 needles for a center join. A circular needle is used to accommodate the large stitch number. Vela is knitted with the yarn held double throughout using a 5 mm/US 8 and a gauge of 18 sts and 20 rows in stockinette stitch measuring 10 cm/4″ square.
Em is wearing size XS/S, with a bust measurement of 120 cm/47.25″ with + 34 cm/13.5″ ease. As it is an oversized sweater I suggest the following ease: + 28-38 cm/11-15″. I have graded the sweater in two more sizes: M/L and XL/2XL, with these bust measurements: 132 and 144 cm/52 and 56.75″.
The lovely yarn was given to me by Elsebeth Lavold herself, the first 10 balls that is, when she and her husband drove past our house last summer during their summer holiday. The second bag of balls I received from agent Thomas Kvist, House of Hobbies, who distributes the yarn in Scandinavia. He was kind enough to send me 10 more balls so that I could complete the sweater and make the large cowl. The Norwegian pattern will be printed in the magazine Familien in issue number 17, on sale the 19th of August, while the English pattern is available on Ravelry and on LoveCrafts.