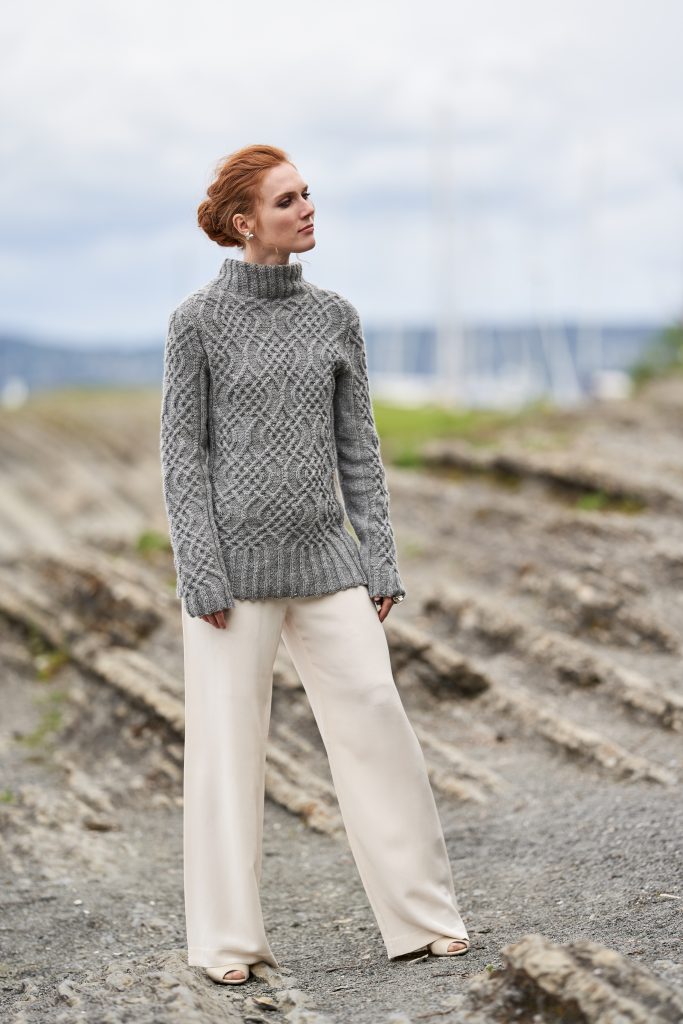 The Prescott Pullover was designed for Interweave Knits Fall 2018, or to be precise Museion was my chosen name. I held a KAL in my Ravelry group last autumn and the pullover received the nickname Mr Prescott, after the former British Deputy Prime Minister John Prescott. More than 50 knitters had the company of Mr Prescott, the sweater that is, and it was the most-knit pattern from 2018 from Interweave. It was returned in time for the photoshoot and I choose to photograph the pullover on Emma Ross wearing cream silk slacks with it. I knew I wanted the stones next to the beach at Vollen as the background to match the colour of the design. The Prescott Pullover is knitted in the stunning Acadia from the The Fibre Co. Sissel Fylling did Em's hair & make up styling, while the jewellery is by Kaja Gjedebo Design. These brilliant photos were taken by Eivind Røhne by the Oslofjord Museum in late May.
The Prescott Pullover emulates intricate iron- and stonework found on historic university buildings. This professional and sleek pullover features soft cabled bell sleeves, and the side ribbing gives it a body-hugging silhouette. The design is worked from the bottom up in pieces, and it is finished with a cozy turtleneck.
The sample shown is size Medium with a bust circumference of 99 cm/39" with + 13 cm/5" ease on Em. The Fibre Company, Acadia yarn is made of 60% merino wool, 20% baby alpaca, 20% silk and comes in 50 gram skeins with 133 meters/145 yards. The sample is knitted in Mountain Ash with a gauge of 24 sts and 30 rows in Stockinette stitch using 4 mm/US 6 needles measuring 10 cm/4" square.
The pullover is worked in pieces and seamed. A circular needle is used to accommodate the large number of stitches. The back and front stitch counts assume 104 stitches between markers for cable. The sleeve stitch counts assume 54 stitches between markers for cable. During shaping, if there are not enough stitches to work a complete cable crossing, work the stitches of the partial cable as they appear.
Finally, here is a photograph of the back. The stunning cable is designed by Devorgilla. The Norwegian pattern will be printed in Familien at a later date, while the English pattern is available on Ravelry and LoveCrafts.