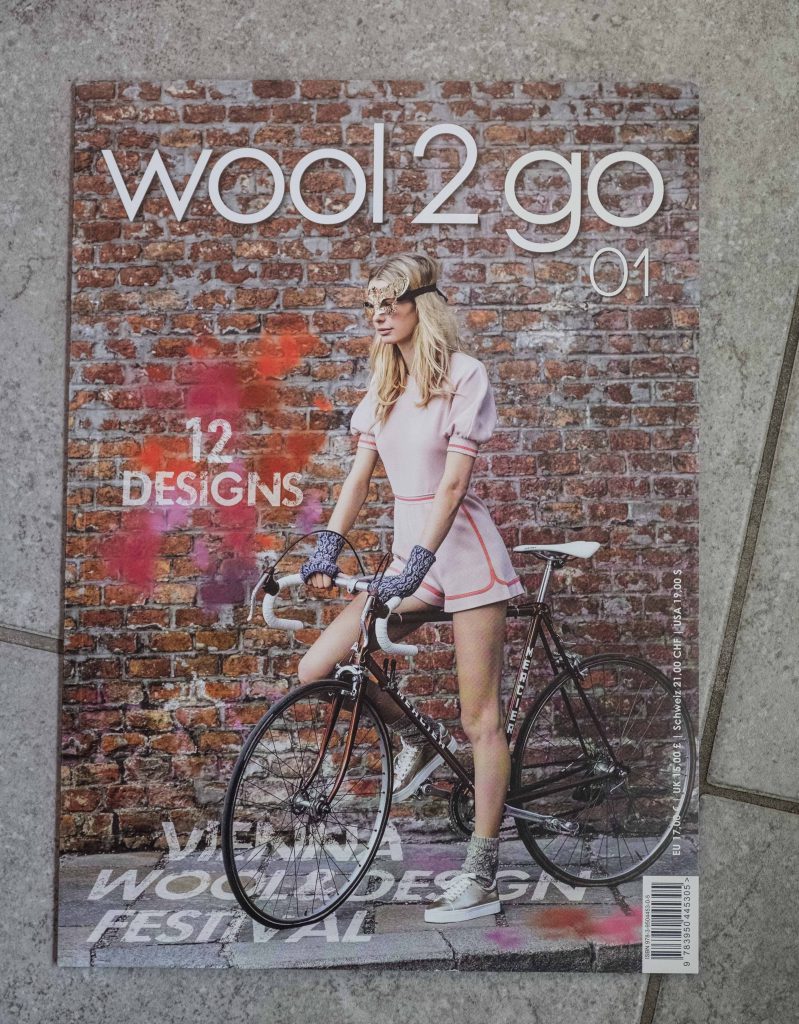 I am back in Vienna, this time for a new festival called Vienna Wool Design Festival  organised by yarn store owner, Suncica Wilhelmer and Ursula Koll. When I was invited I was also asked if I could submit a pattern to their festival magazine WOOL 2 GO and I accepted the challenge. The impressive glossy magazine, printed in German and English, contains 12 patterns by 9 participating designers: Nancy Marchant, Isabell Kraemer, Hanna Maciejewska, Valentina Cosciani, Emma Boyles, Karina Moebius, Suncica Wilhelmer and Ursula Koll. On the cover is Vienna Mitts by Nancy and I had the pleasure of meeting her at the airport, she landed half an hour before Michael and I arrived, so we shared at taxi to the Arcotel Hotel Wimberger. I have also meet the organisers, Hanna, knitters I met last time I held workshops in Vienna and had a lovely dinner with Irene Brenner.
One of the Lang Yarns I wanted to test was Yak, made of 50% yak and 50% wool, available in 50 gram balls with 130 meters/142 yards. All the colours have a black melange colour and I choose the Teal colour. I was thrilled that they choose to photograph the scarf on a handsome young man. Just to emphasise that the scarf is unisex.
The scarf is knitted using 4.5 mm/US 7 needle with a gauge of 18 stitches and 26 rows in stocking stitch to 10 cm/4″ square. It is available in one size with a width of 17 cm/6.75″ and length: 150 cm/59″. Here is my introduction to the pattern:
I was instantly captivated by this teal coloured luscious Yak yarn by Lang Yarns, especially chosen and designed for the Vienna Wool & Design Fesitval. A rope like cable worked over rib stitches gives it a sculptural feel. Naturally, I named it Tau meaning rope in Norwegian, and human being in an Eskimo language.
One of the photos of the scarf is featured on the back page together with Suncica's acknowledgements as well as exciting news that she is opening a concept yarn store in the centre of Vienna in the summer of 2017.
I am looking forward to meeting more knitters  while teaching 4 workshops here in Vienna and to the Galla Dinner later tonight!
Thank you to the team behind the magazine:
ART DIRECTORY
Nino B. Pavlek
HAARE, MAKE-UP
Sophie Kaspar