The special magazine Familien Strikk is out for sale here in Norway. I am delighted to have 4 patterns included in the magazine and a small photo of the back of the Irina Pullover on the cover. It is a very popular annual magazine, with a large number of patterns: 61 patterns from Norwegian designers, some translated patterns and some from different yarn producers. All my designs: Irina Pullover, Biondo, Embrae and Harding Cardigan were brilliantly photographed by Eivind Røhne, modelled by Silje Andresen/Team Models with hair & makeup by Sissel Fylling and jewellery by Kaja Gjedebo Design at the National Museum – Architecture in November last year. The long stunning skirt worn together with Irina Pullover and Biondo is by Judith Bech Design.
Irina Pullover (made for knit.wear Spring/Summer 2016, but the rights have reverted back to me now) Named after the beautiful Russian ballerina Irina Baronova, a fitted pullover with elegant cables swooning across it in panels with garter stitch dividers for shaping. Timeless, knitted in the round from the bottom up to the armholes then flat to soft square neckline and shoulders. The sleeves are also knitted in the round, long to adorn the hands and set-in. A divine sky blue color, and luscious texture was made by combining Rowan Rowan Felted Tweed with Rowan Kidsilk Haze.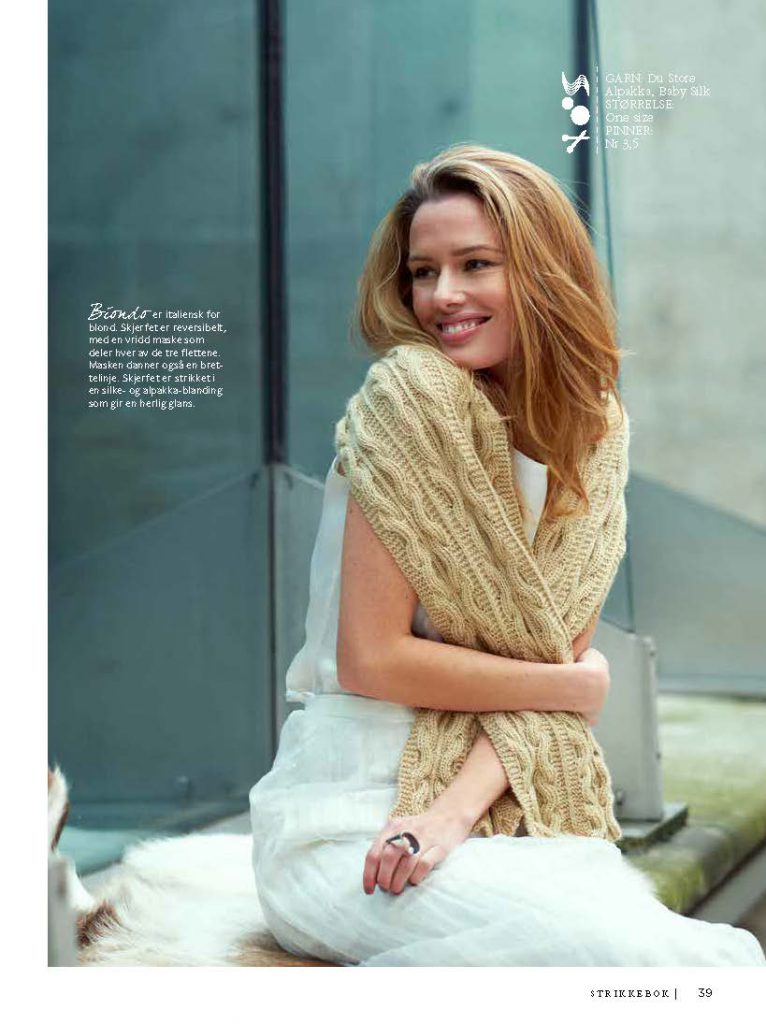 Biondo – Italian for blond – scarf is reversible with a twisted stitch as a divider between each of the three cables. The stitch also work as a folding line, hence emphasises the more relaxed alternate side. The scarf is knitted in a divine silk and alpaca mixture for that lovely feel and sheen, Du Store Alpakka Baby Silk.
Embrae, a fitted cardigan with a lace collar, is like a flowery embrace. A lacy leaf pattern adorns the sleeves and the back of the cardigan. The lattice at the center of the lace pattern continues on each side of it and covers the collar. The collar can be worn flat or overlapping and pinned together or folded. The colour Iris, in the stunning yarn; Anzula Squishy is perfect for the lace pattern. The English pattern is currently under test knitting in my Ravelry group and will be released as soon as it is over.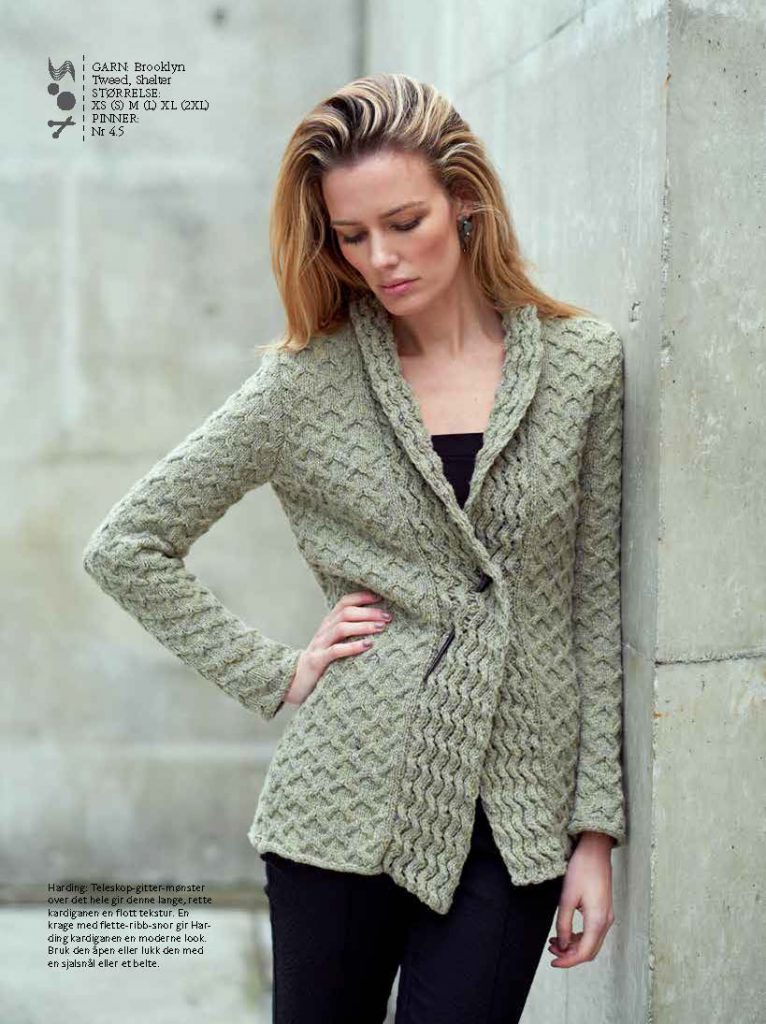 Harding Cardigan: An allover telescope lattice gives this long, straight cardigan a textural feel. A cabled rib-cord collar adds a modern look to the Harding Cardigan. Wear it open or close it with a shawl pin or belt. The English pattern was first published in Interweave Knits Summer 2016. I suggested the rustic Brooklyn Tweed Shelter and editor Meghan Babin agreed with my choice and suggested the shade Foothills.
The magazine is available at selected news agents and super markets. If you are in Norway you can also order it by SMS just write "Strikk17" in addition to your name & address to 2205 or buy a digital version for iPad, see www.klikk.no. If you live abroad you can order the Norwegian special magazine by e-mailing kari.bachke@egmont.com and then transfer payment into their bank account.
The samples and the professional photographs of all these, except for Biondo, together with Kathe Cardigan, Cablewing Sweater and Patent Poncho, will be exhibited at Strikke 2017 Festival at Hadeland Glassverk from 2. September to 29. October.
SaveSave
SaveSave
SaveSave
SaveSave
SaveSave
SaveSave
SaveSave
SaveSave
SaveSave
SaveSave