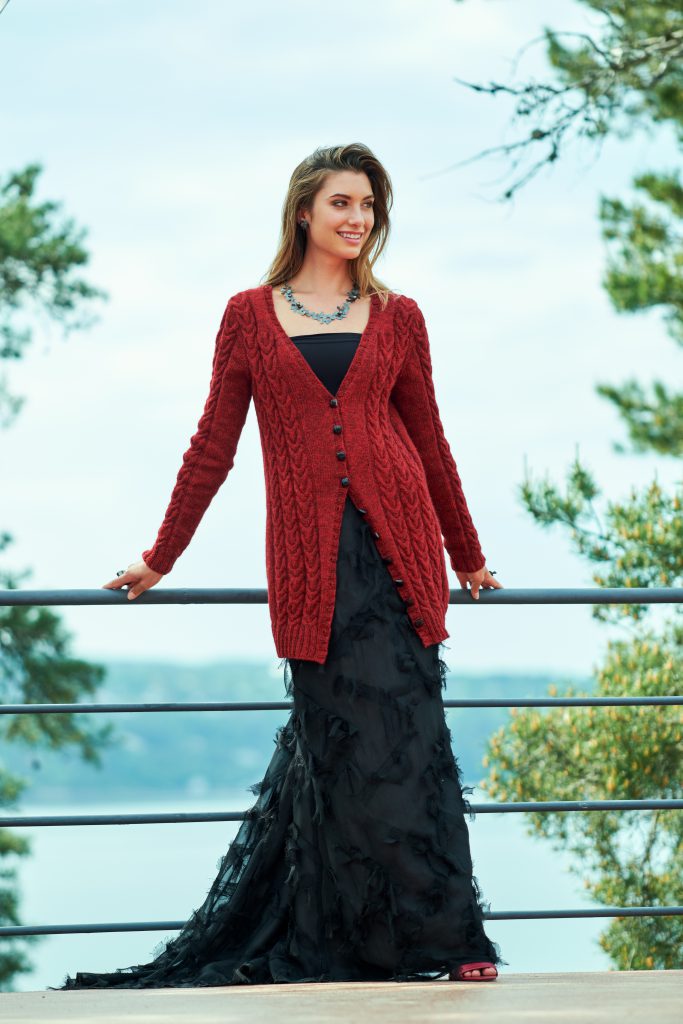 I am thrilled to show you the brilliant photos taken by Eivind Røhne of Alexandria Eissinger/Nordic Model Agency, with hair & make up by Jens J. Wiker and jewellery by Kaja Gjedebo Design, wearing the Wilma Lind Jacket at Ingierstrand Bad in late May. First let me tell you that Wilma Lind is a fictitious Police Inspector in Oslo. Author Hanne Kristin Rohde had the real job for many years, before she began writing crime and holding talks in business management skills. Hanne Kristin is also one of the presenters in a series called Åsted Norge/Crime Scene Norway (she is wearing the jacket at TV2's autumn launch of season 4 in the video on Facebook). Our collaboration started last autumn and if you have not seen Hanne Kristin wearing the jacket yet, you will very soon.
A long a-line jacket with cables covering the back, and moving cables on the front. Instead of a shawl collar the jacket was given a deep v-neck and a loose shawl to use as a collar. The body is worked in pieces while the sleeves are worked in the round after the rib to the underarm. It is knitted in the in the lustrous pelt yarn with a mohair feel, Sølje from Hillesvåg Ullvarefabrikk.
The sample is beautifully knitted in size S on 3 mm/US 2.5 needles by Nadia Bresky, aka 77stricknadel on Ravelry. Hanne Kristin wanted one more jacket knitted up and placed a call for a sample knitter on her blog. Turbo knitter Grete Jenssen, aka ma9 on Ravelry was also prepared to take part, so two more colours were chosen and size Medium this time around: First in white to symbolise blank sheets in the new lambswool quality from Hillesvåg Ullvarefabrikk called Vilje, then in soft turquoise to symbolise the capturing of the universe in Sølje.
Sølje comes in 30 beautiful colours, all with the natural blackness from the Norwegian Pelssau/Pelt Sheep wool. Each 100 gram skein has 350 meters/383 yards and is made of 100% pelt wool. The jacket is knitted with a gauge of 24 stitches and 34 rows in Stockinette stitch measures 10 cm/4″ square and comes in sizes XS to 2XL with a bust circumference of 84 to 126 cm/33 to 49.5″. Alex is wearing size S with 8 cm/3.25″ positive ease. You can see me wearing it here with zero ease.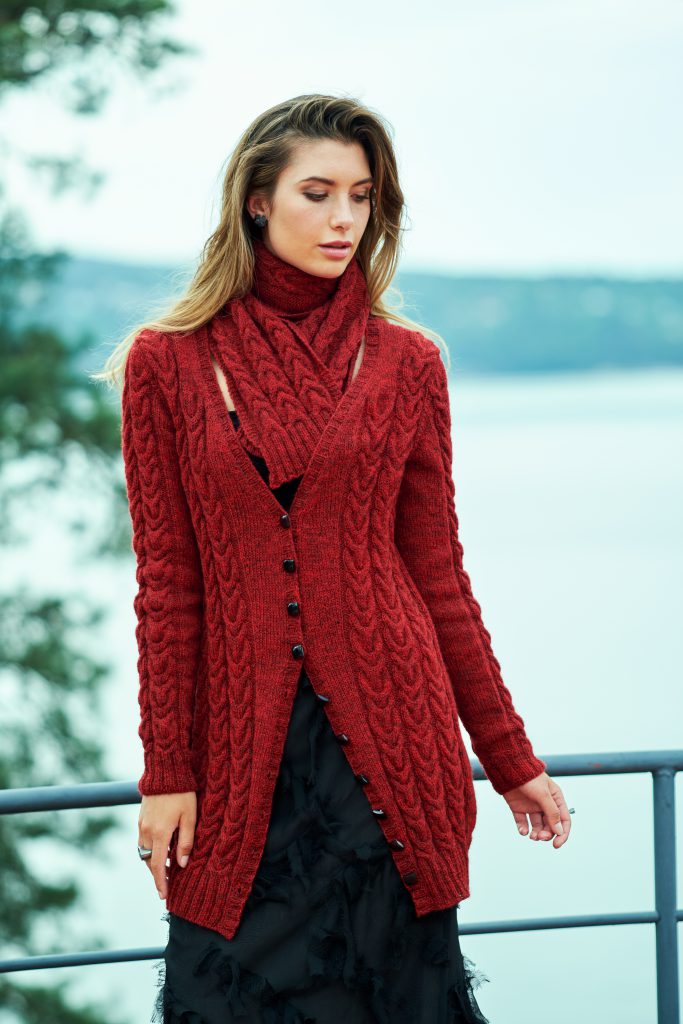 The weather changed dramatically and it turned humid as dark clouds appeared. So the lighting became very green compared to the sunny blue sky earlier in the day. I chose to style the jacket with Judith Bech's long fringe skirt in black. Yes, it is a favourite that keeps appearing in my photoshoots. The dramatic train and texture of it makes it magical.
I chose luxurious vintage buttons in lacquer in black and made ten buttonholes. My buttons are from Perlehuset and measures 15 mm/0.52″. You can easily adjust the number of buttonholes to suit you.
The shawl can be worn as a shawl collar, or a scarf or as a shawl on its own. It ends in a rib just like the jacket, and has shaping in between the three cables.
The Norwegian pattern will be sold digitally on hannekristinrohde.no from 1. September, while the English pattern – which has been test knitted will be available shortly on Ravelry and on Loveknitting. Stay tuned to see it worn by Hanne Kristin in all three colours.
SaveSave
SaveSave
SaveSave
SaveSave
SaveSave
SaveSave
SaveSave
SaveSave
SaveSave
SaveSave
SaveSave
SaveSave
SaveSave
SaveSave
SaveSave
SaveSave
SaveSave