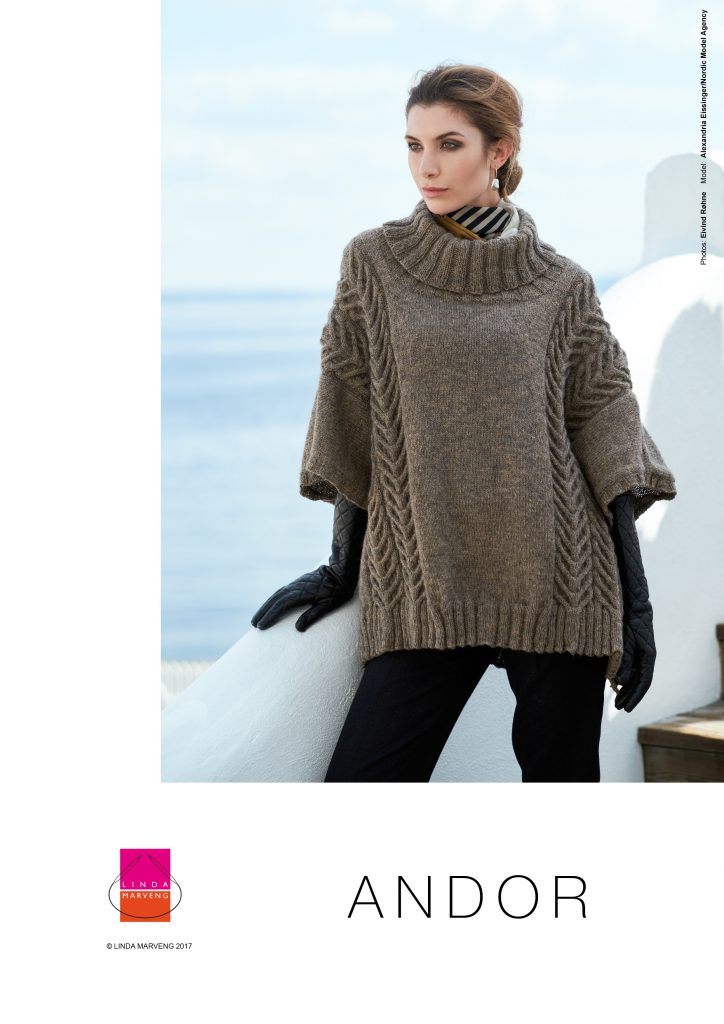 A dream has come true, I can offer a pattern of mine translated into Japanese. Actually, Andor is the first of three patterns translated, it was designed for Hillesvåg Ullvarefabrikk and knitted in their divine Tinde Pelsull/Pelt wool. This Japanese story began two years ago, when I met Nancy Marchant for the first time at the airport in Vienna, where we met up to attend the Vienna Wool & Design Festival. Nancy had just been to Japan to meet with her publisher and translator of her last book: Leafy Brioche. Her translator is Tomoko Nishimura, and now she is also my translator. Tomoku also translates patterns for Marianne & Helga Isager and interprets for Arne & Carlos whenever they tour Japan. So I am in the very best company!
Tomoku went to the Edinburgh Yarn Festival last year and the first knitter she met was no other than my sample knitter Kristin Nygård, aka Quiltefeen on Ravelry. The world can seem awfully small at times. Above you see them both inside the EYF. Tomoku is wearing a pullover that her mother made for her a long time ago, since she is no longer around, Tomoku thought it was nice to wear it at EYF. Kristin is wearing a very popular traditional Norwegian sweater called Marius knitted in Drops Baby Merino and a Mad Blood Shawl by Mary-Anne Mace, aka The Lace Eater knitted in The Plucky Knitter Single, with an awful lot of beads attached. Thank you Kristin for the photo, and Tomoku for the translation!
We did several rounds of proof reading and tested out different fonts before Tomoku gave the all clear signal. So here it is the Japanese introduction to my pattern:
両サイドの肩の幅広い部分に装飾性の高いケー ブル模様をあしらった流行りのオーバーサイズ ポンチョです。中央のメリヤス編みからはハイネックの襟が続きます。またサイドバンドはボ タンで閉じることもできます。全体を2つのパ ーツに分けて編み、肩下がりと襟ぐりを編みます。Andor は北欧で鷲を意味する言葉であり、このポンチョはその翼長を彷彿させます。
And here is the text in English: A trendy oversized poncho defined by its pairs of ornamental cables on each wide shoulder part. The stockinette center part is crowned by a high neck collar. The poncho has side bands that can be closed with buttons. It is knitted flat in two parts with shoulder and neck shaping. Andor is the Norse element for Eagle and its wingspan appropriate for this poncho.
Andor is also available in Norwegian, you can download all three languages from my Ravelry store.