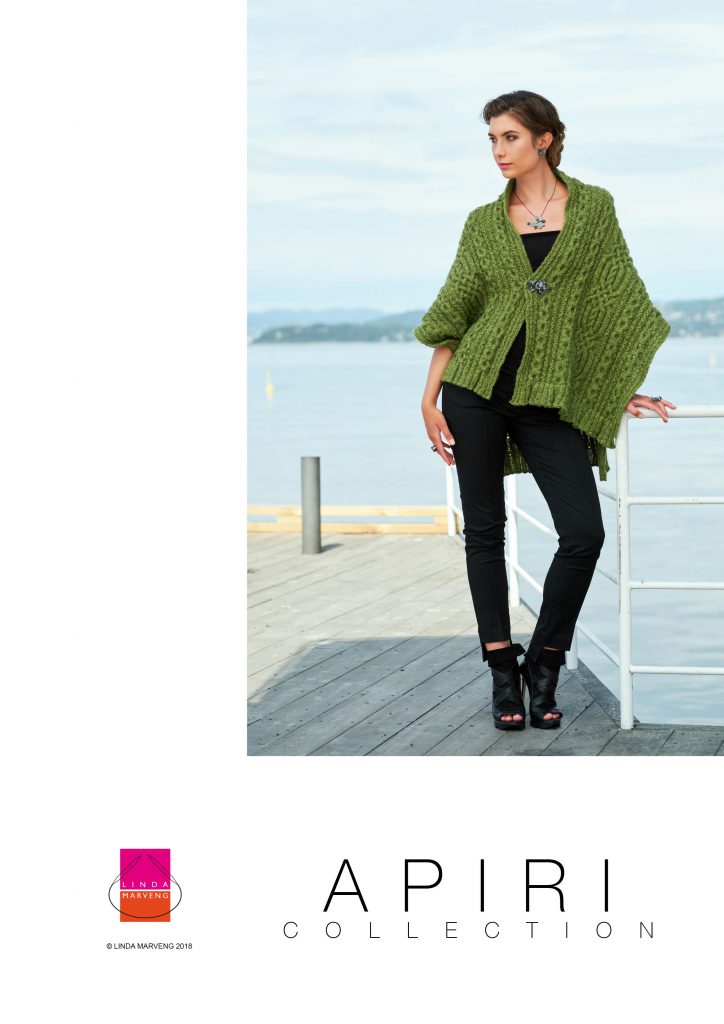 Apiri Collection is my third E-book, made after I received several requests for gathering these four patterns on Ravelry. First out is the English version, the Norwegian version will be added shortly. Apiri is a collection of knitting designs made in collaboration with Hillesvåg Ullvarefabrikk in their gorgeous pelt wool yarns called Tinde and Sølje. The names of the garments are inspired by the Eskimo-Aleut languages. Apiri means "to ask" and seamed perfect since two of the designs are garments that can be worn in different ways and hence change their character and silhouette completely. On the cover is the Wa shawl, which means "here it is" as it can be transformed into a vest or a wrap. The divine lime colour, and casual elegance that model Alexandria Eissinger wears the shawl made it the cover shoot.
The collection has four designs; the poncho Iglu, the shawl Wa, the cardigan Suli and the pullover Aki. Iglu is oversized and available in one size, just like Wa, while the more fitted garments; Suli and Aki are available in six sizes.
The Ingierstrand Bad Restaurant, on the outskirts of Oslo is a functionalistic building with a view of the Bunnefjord. It is an icon in Norwegian modern architectural history and a popular place to celebrate weddings. As a background we choose the diving tower on the nearby beach and the quay, where the ferry from Oslo used to dock. Photographer Eivind Røhne was chosen to capture the brilliant moments of model Alexandria Eissinger, with hair & make up by Jens J. Wiker, as well as statement jewelry by Kaja Gjedebo Design.
I wish to thank this amazing team for their co-operation, as well as tchnical editor Corrina Ferguson, sample knitters; Airin Hansen & Kristin Nygård, my test knitters – for improving the patterns – and last but not least, my husband, whose support and technical aid I could not have done without.
SaveSave
SaveSave
SaveSave
SaveSave