I am thrilled to show you the professional photos taken by Eivind Røhne of gorgeous model Alexandria Eissinger, with hair & make up by Jens J. Wiker and jewellery by Kaja Gjedebo Design, wearing Aki, at Ingierstrand Bad, late in May. Aki, is part of the collection I have made in collaboration with Hillesvåg Ullvarefabrikk. The Norwegian yarn kits will be launched at Oslo Design Fair at Lillestrøm 30. August to 2. September. Round cables, reminiscent of antic coins hence the name Aki; Eskimo for value, adorn this a-line pullover with vents at the bottom. The pullover is crowned with a double collar with cables and garter stitches. The body is worked in two parts, while the sleeves are knitted in the round, all parts with garter stitch in the sides. Aki is knitted in a soft heather pink in the luscious Sølje from Hillesvåg Ullvarefabrikk.
Sølje is a pelt yarn that comes in 100 gram skeins with 350 meters/383 yards and has a gauge of 24 stitches and 32 rows using a 3 mm/US 2.5 needle to 10 cm/4″ square. I am wearing size Small but it will be available in sizes XS to 2XL with a bust circumference of 84 to 126 cm/33 to 49.5″. The front and back are worked back and forth, while the sleeves are worked in the round. The rib on the body is not seamed at the bottom to create vents. The double collar is picked up and knitted in the round, allowing the cables to continue. The interfacing part of the collar is knitted in stockinette stitch.
I have been fantasising of using a diving tower in a series of photos, but for the second time around it did not work out. This time it was closed off for maintenance work, while the weather ruined it the first time around several years back at Hvalstrand Bad. Instead Eivind suggested we include it in the background with the view towards Oslo. I choose to style Aki with pencil pants and high sculptural shoes by Danish designer Camilla Skovgaard.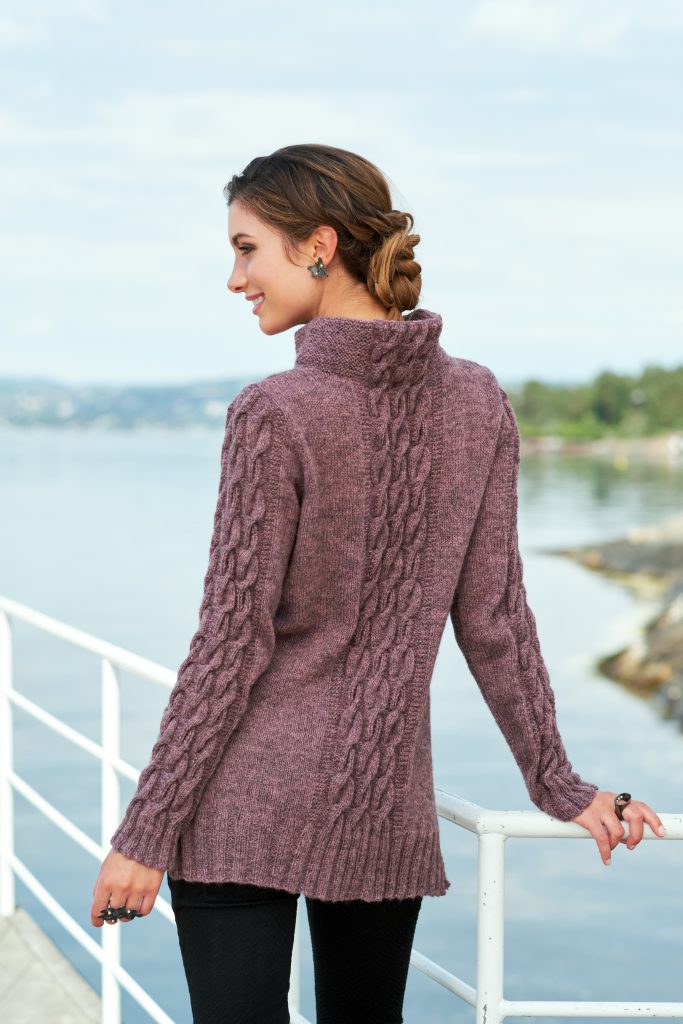 Yes, I do tend to choose a number of photos where Alex is looking dreamingly down. Their sensuality draw me in and make me focus on the pullover, at least I imagine it does. I also try to select photos with different arm positions to reveal more of the garment. The English pattern will be test knitted in my Ravelry group, it is scheduled to start 2nd of October and will be released approximately 6 weeks later. Do join us. In the meantime you can look forward to seeing more designs worn by gorgeous model Alexandria Eissinger as well as 2 designs made for The Fibre Company. Stay tuned, enjoy the summer and keep knitting!
SaveSave
SaveSave
SaveSave
SaveSave
SaveSave
SaveSave
SaveSave
SaveSave