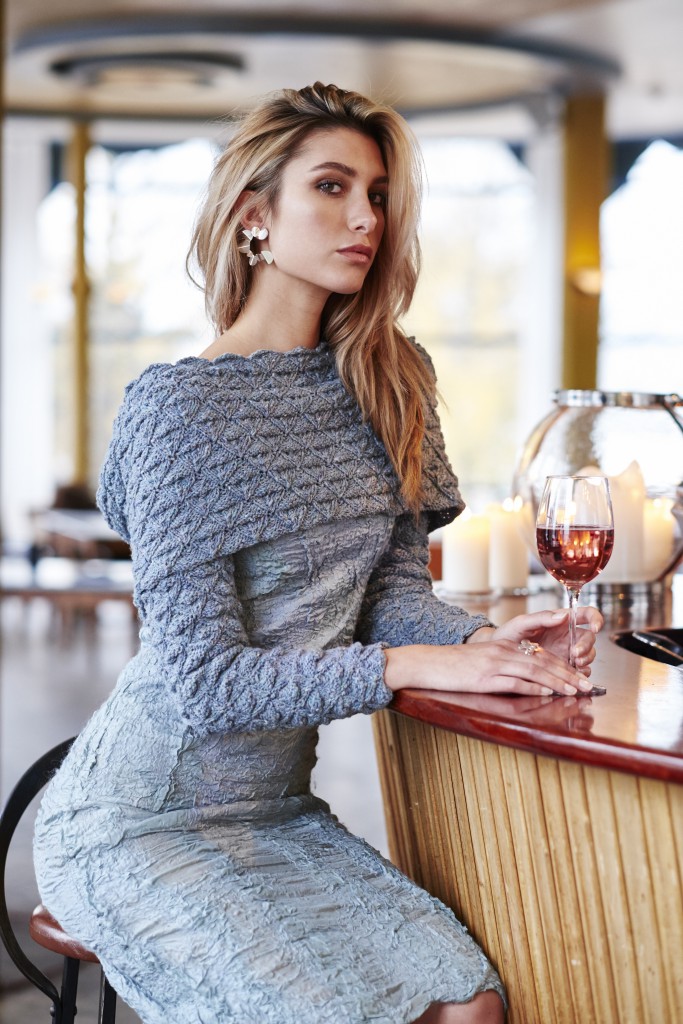 No more Made by Me magazines will be made, but as one magazine exits another one enters. Welcome, Familien Trend! Hence my series due to be published in Made by Me out on the 2nd. of February will instead be published in Familien Trend out on the 23rd. of February. Despite this change all my 10 designs will be published in Familien Trend, I am relieved to tell you even though it means a longer wait. So today I will share a few more sneak peaks from the unbelievable photo shoot we had at Hvalstrand Bad before I begin to present each design separately. One of the sights that totally blew me away was seeing the gorgeous Alexandria Eissinger at Pholk; beautiful hair and make-up by Sissel Fylling; wearing Judith Bech's wonderful felted wool dress in aqua with my matching Atika design; Kaja Gjedebo's stunning Paper & Scissors silver earrings and Monica Stålvang's amazing Elena shoes in blue; all brilliantly captured by photographer Eivind Røhne. The shoes did not fit in the picture and were photographed separately, see below. Atika consists of a loop with matching loose sleeves, all knitted in the round with Du Store Alpakka, Dreamline Soul, a lace weight alpaca mix, held together with Pickles Merino Tweed, a fingering/4 ply using a 4 mm/US 6.
Here is the continuation of the photo and a close up of the Elena Blue shoes by Monica Stålvang. The aqua colors were initially hard to match without choosing baby yarns hence I begin to choose deeper colors, due to the natural distance between garment and shoes. By mixing a melange alpaca color and a tweed yarn in a similar shade, the tone turned towards grey and the yarn created had a marvelous stitch definition.
Hennika, a delicate cropped lace jacket with a scarf collar, knitted in Ask by Hifa, a sport weight/5 ply, worn over Judith Bech's stunning light blue halterneck dress with a high waist with layers of tulle on top of silk (see Facebook)  together with Elisabetta blue flat shoes. To create more volume around the neck, I folded the scarf collar in half before I pinned it together with a shawl pin. It is knitted separately and sewn on afterwards. The sleeves are knitted in the round, while the fronts and back is knitted flat, all using a 3.5 mm/US 4 needle. The solid but worn parquet flooring tiles created a stunning contrast to the blue tulle of the dress, we all agreed before testing with a chair for Alexandria to sit on. The chair worked well for showing the sleeve and the back. More photos will come, project by project while we are waiting for the new Familien Trend magazine to hit the shelves.