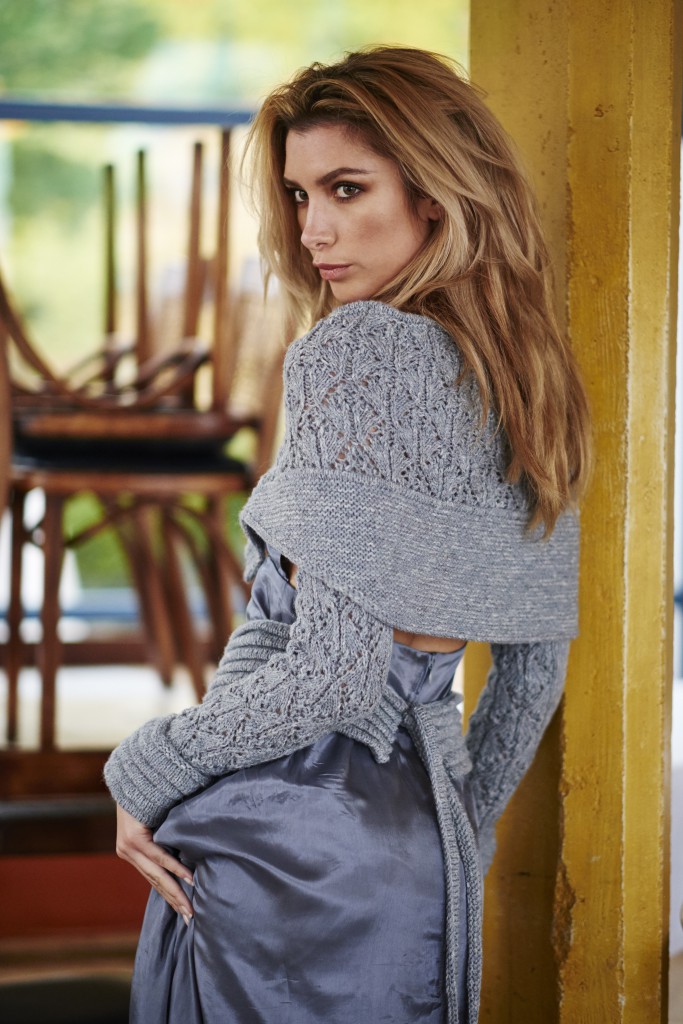 I am thrilled to share some of the wonderful photos Eivind Røhne took of gorgeous model Alexandria Eissinger at Pholk, brilliant hair and make-up by Sissel Fylling for the Spring/Summer issue of Made by Me. The colors chosen for the series are based on Monica Stålvang's Spring/Summer 2015 collection in blue, turquoise, grey, taupe and black. The divine handprinted grey long halterneck silk dress was made especially by dress designer Judith Bech for this series (see Facebook). I just had to name my design Bech after it and created a shawl with a collar that can be worn with it down as above, or up around the shoulders or around the neck, together with loose sleeves – held up by elastic encased in a hem and a belt made of tucks. Yes, more photos will come. Bech is knitted in Huldra Kamgarn by Hifa, a pure light fingering/3 ply wool held together with Dreamline Soul by Du Store Alpakka, an lace weight alpaca mixture, using 4 mm/US 6.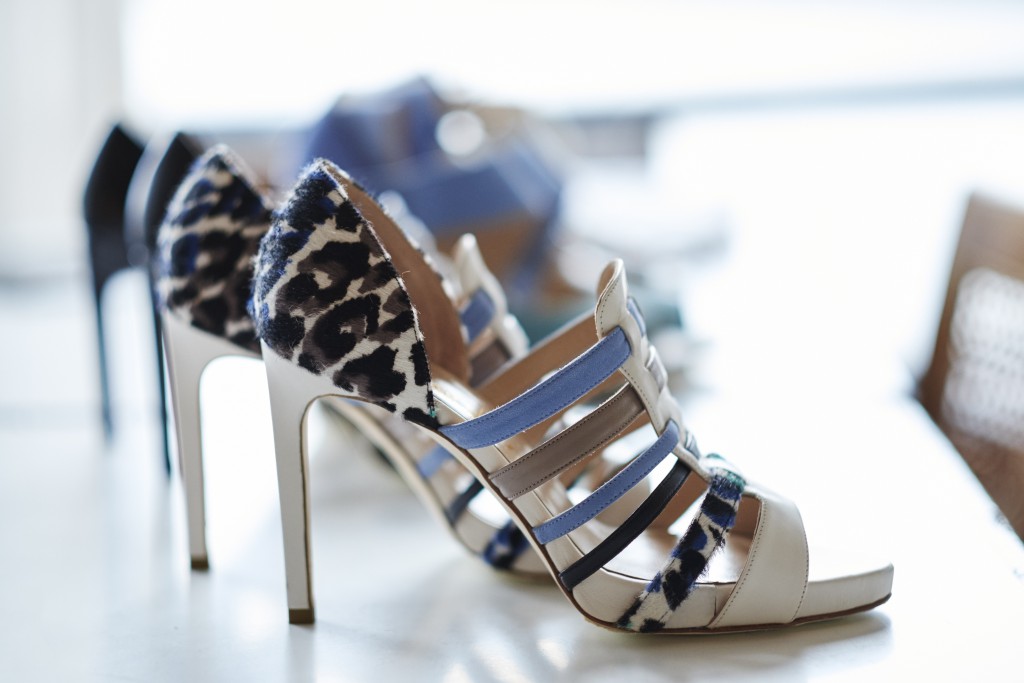 Above are some of Monica's marvelous shoes, in front: Emanuela print made of printed pony skin; actually calf skin (a misnomer that comes from 1960's fashion trends). Yes, Monica did used to live in Milan and produces her shoes there. You will find her shoes in selected stores in Norway, see Stockists and in her onlineshop here but you need to wait a bit longer for the Spring/Summer collection to be available but there are so many other shoes and boots to add to your wish list: shop.monica-stalvang.com.
This fitted cable jacket is named Gyda from Norse mythology, meaning God is Gorgeous, and is knitted in Ask by Hifa, a sport weight/5-ply pure wool using 3.5 mm/US 4. It has a deep v-neck with 3 bespoke buttons (size small) made by jewelry designer Siri Berrefjord in layers of color matching the melange yarn color. The beautiful ring Alexandria is wearing is made of silver and designed by Kaja Gjedebo. The faux suede dress was chosen after Judith wore it to our planning meeting in July with editor Mary-Ann Astrup at Made by Me, just as my Jakke i kryss/Jacket in Cross was. I brought a large selection of swatches made based on Monica's color charts, and from seeing photos of Judith's dresses (and the few I remembered from the time she was a member of the Designerkollektivet), Judith brought a huge bag filled with dresses, and Monica came with her drawings. 10 dresses were selected together with 11 swatches and the four of us  discussed garment options (read: Not only jackets, Linda) and photo shoot locations (read: Preferably Mediterranean, and why do we not join Monica for her one of her meetings in Milan?). In other words a lot of laughter, and a fabulous day! To be continued.