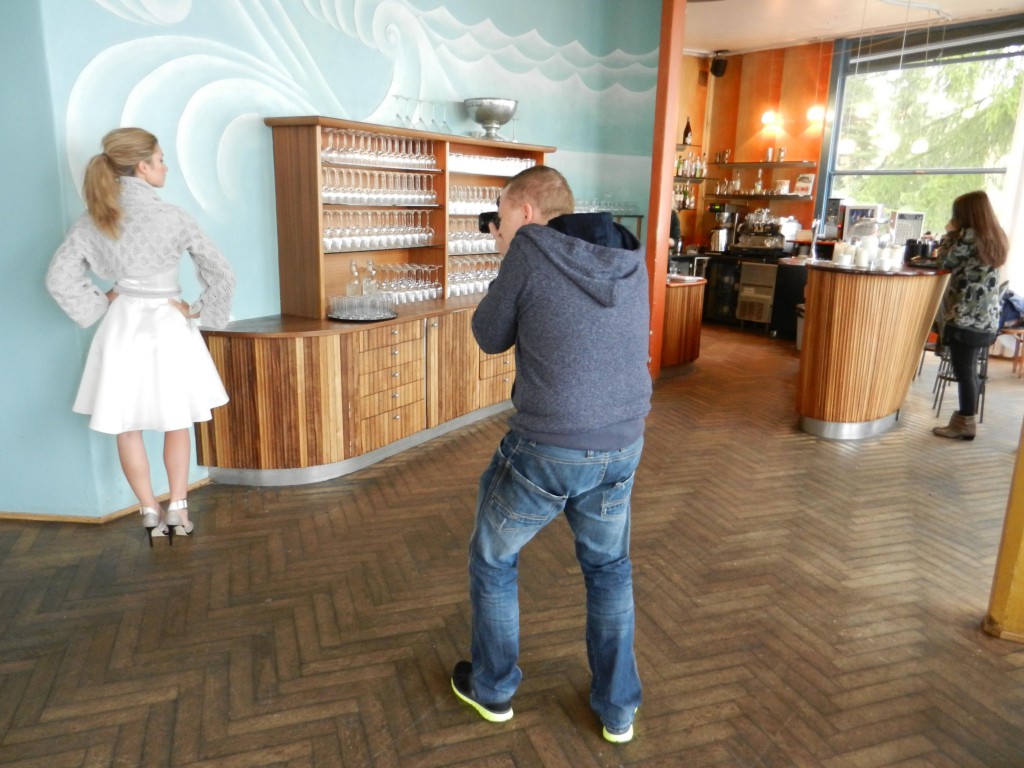 The time has finally come to begin to reveal more of the fantastic photoshoot we had at Hvalstrand Bad last October, since the Norwegian Made by Me magazine is out on Monday the 2nd of February. The idea of collaborating further with shoe designer Monica Stålvang, whose shoes are like eye candy to me, and dress designer Judith Bech, whose beautiful dresses I love, came to me last June. Monica needed no persuasion, and Judith (whom I had only meet once) said a resounding yes to my utter delight, just as editor Mary-Ann Astrup did. Judith insisted we pick hair and make-up stylist Sissel Fylling, just as Mary-Ann suggested photographer Eivind Røhne, and we eagerly obliged. We needed a model with a European shoe size 37/UK 4/US 6, so that the sample collection would fit, and I was thrilled to find Alexandria Eissinger at Pholk, never mind that she was in Copenhagen, and not Oslo! Two days beforehand, Monica and I had a quick review of knitted garments, shoes and dresses in her shop but gave up choosing shoes until we saw it on Alexandria. Monica, on the mobile in the photo above, also suggested borrowing silver jewelry from Kaja Gjedebo as an option to the pieces we had from Siri Berrefjord, whom as usual has made brilliant bespoke buttons.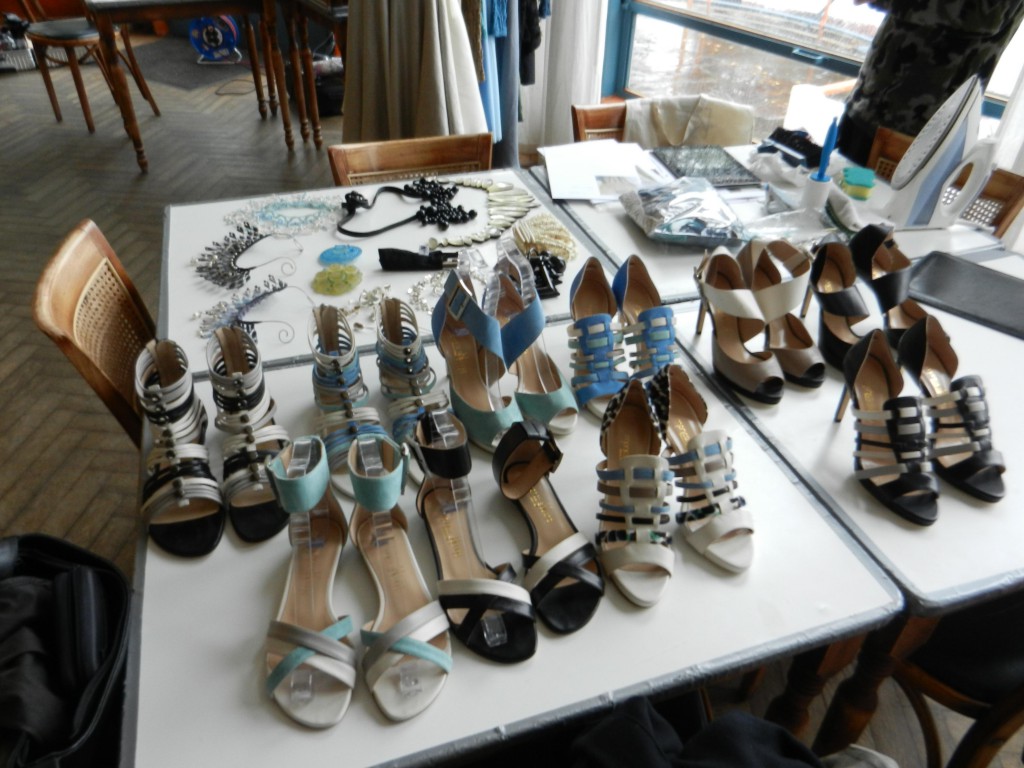 Here is the table with the magnificent shoes, jewelry as well as essential tools like iron, broom and sponge, all kept handy. In the back ground the rail with dresses and knitted garments. Monica thankfully brought the whole collection and assisted in choosing both shoes and jewelry for each of the 10 outfits. Sissel and Mary-Ann were also asked for opinions on the selection. Only 1 of the dresses was rejected since the color clashed with the color of the knitted jacket, and the black dress was used twice. We believed even Judith would have agreed, but unfortunately she could not be there since the birth of her first grandchild was imminent.
While Eivind, Mary-Ann and my husband – the photo assistant – looked at possible photo angles, Sissel prepared Alexandria's hair styling and make up, Monica taped shoe soles and I ironed dresses. Above, Sissel in a well know posture, checking the make up and hair. I actually have Sissel popping in and out of nearly all my photos, taken in between when I was not assisting Alexandria in picking dresses, or standing behind Eivind checking his view or straightening out folds. It was me that insisted on covering all angles: front, back and side as well as different ways of wearing the garments until our time starting running out on the last garment since we had to leave no later than 4 pm in order for the manager to close up. So as much as I would like to have more photos of each garment, reality kicked in, and I knew there was a limit. The photo shoot was exhausting, but also so much fun and utter brilliant!