Familien Kreativ is a new Norwegian magazine, which replaces Familien Håndarbeid, released on Monday 14. March with 4 of my Designs to my delight: Helka the long cardigan you can see the back of on the cover, Shinju the shawl, Elora the bolero and Adoe the jacket. Even though the picture on the cover is small, the coverage I have received inside is fantastic. I will show you the 6 pages that show off my designs with the brilliant photos by Eivind Røhne of stunning model Alexandria Eissinger with hair and make up by Sissel Fylling, jewelry by Kaja Gjedebo Design and dresses by Judith Bech Design.
The heading says "Ready for a Party", and continues; "Romantic and beautiful garments that add the finishing touch to the outfits for both bride and guests." The introduction to Elora is mine: A beautiful reversible lace pattern adorns this bolero with a slightly longer scarf collar you can fold and pin as you desire. Garter stitches make up the edges of the bolero and divide the stitch pattern from the stocking stitch sides. Named after the giving of the laurel; the crown of victory and ideal for this garment made in a wool and cashmere mixture by Mondial. The bolero is worn by Alexandria Eissinger over the wedding gown "Secret", designed by Judith Bech.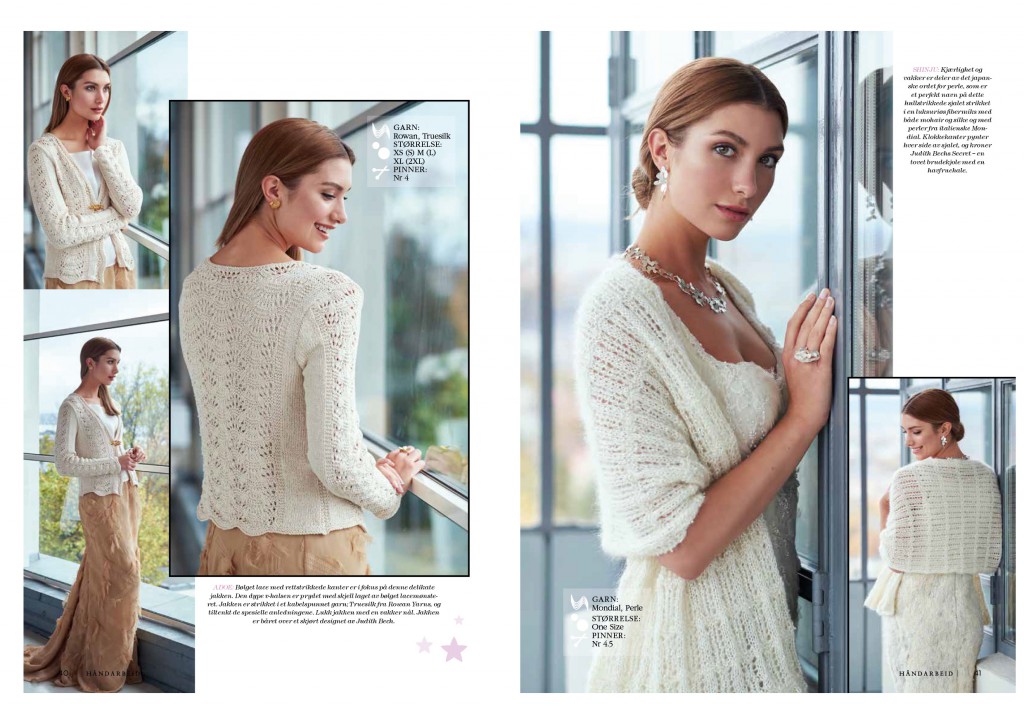 Adoe: Wavy lace with garter stitch edging is the focus of this delicate jacket. The deep v-neck is adorned with scallops made by the wavy lace pattern. It is knitted in the stunning chainette yarn; Truesilk by Rowan Yarns, and intended for those special times. Adoe means time, and it seemed entirely appropriate. Close the jacket with a beautiful brooch. The jacket is worn with a skirt designed by Judith Bech.
Shinju: Love, affection and beautiful are all parts of the Japanese word for pearl and was perfect for this lacy shawl knitted in a luxurious fiber mix with both mohair and silk with beads attached on an Italian yarn from Mondial called Perle. Ruffled bell borders grace each end of the shawl and highlight Judith Bech's Secret; a divine felted wedding dress with a mermaid tail.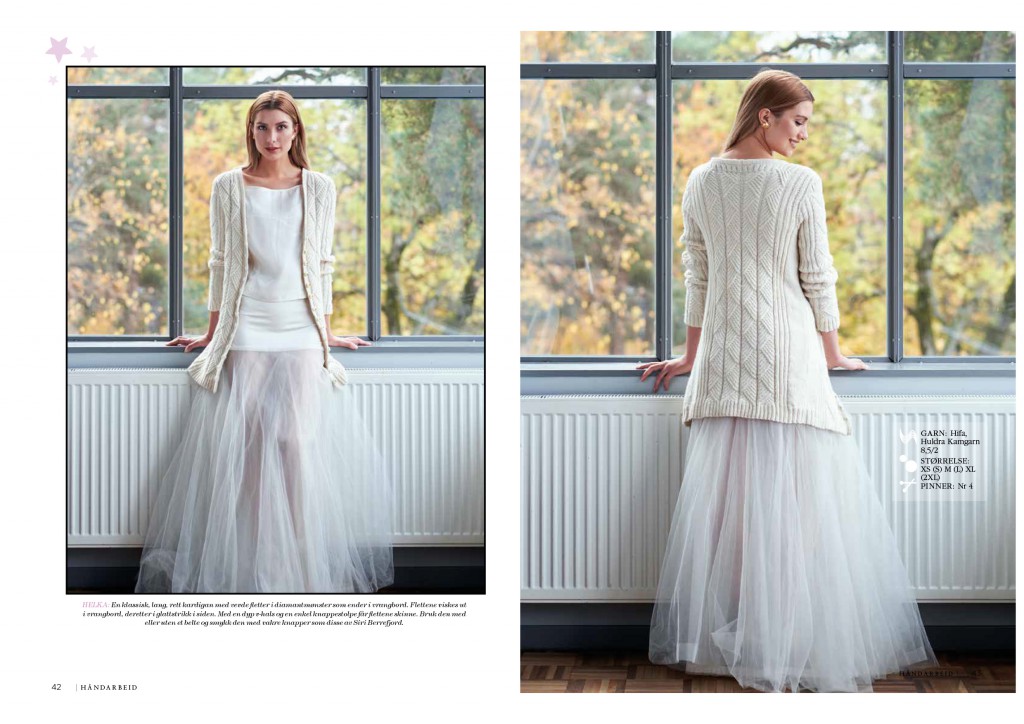 Helka: A long straight classical jacket with woven cables in a diamond pattern that ends in a rib. The cables are erased into a rib, then into stockinette stitch in the sides. Named after Helka the prosperous one, it has a deep v-neck and a double button band, leaving all the glory to the cables. Use it with a belt or adorn it with beautiful buttons like these jewelry ones by Siri Berrefjord.
The magazine is available at newsagents, selected supermarkets and by SMS – Kreativ16 til 2205 – if you are in Norway. If you are abroad you can order the Norwegian magazine by e-mailing customer services: kari.bachke@egmont.com. Thank you to Familien for accepting my designs. You can also find my designs presented by former editor of Made By Me editor Mary-Ann Astrup on the blog "Tusenideer" by Egmont Publishing: http://tusenideer.no/familien-kreativ-for-deg-som-elsker-lage-ting-selv/