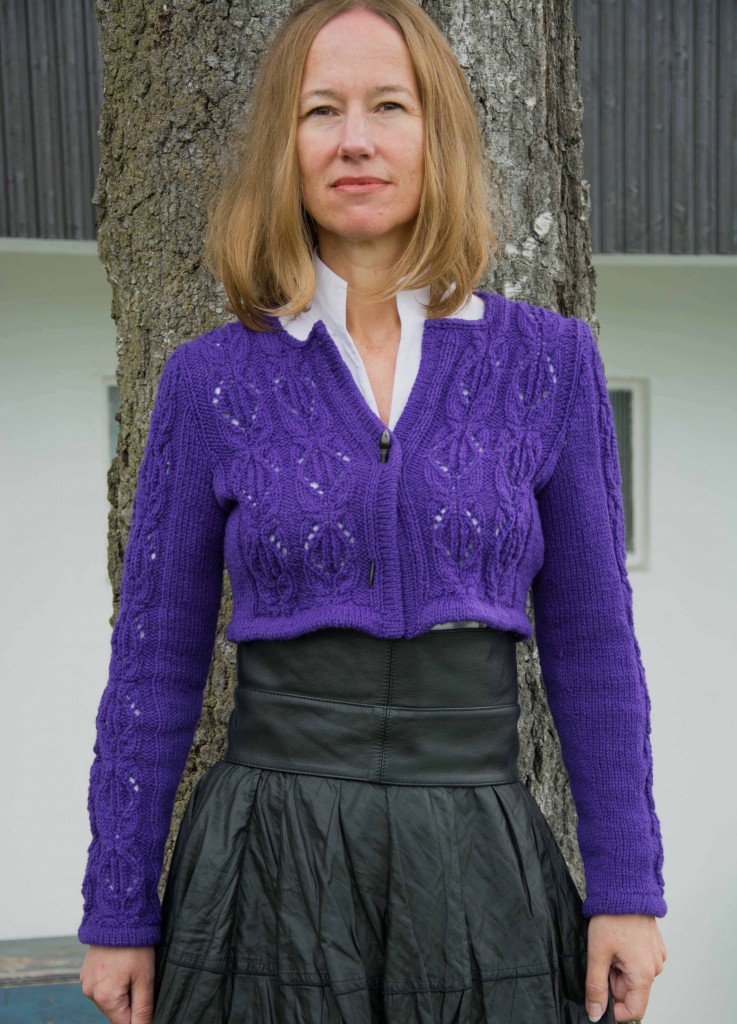 Fairly new that is, since it was recently published in the Norwegian magazine, Made By Me in their autumn issue 2/2014. But I am keen to show a few more views of it and how the cummerbund works with the bolero. I fell for the lace and cable stitch pattern when I was designing the wrist warmers and cowl for the book submission to "Strikkesidas Favoritter". Hence I wanted to design a larger garment with it using the bouncy Embla- Hifa 3, a pure wool, in a dark blue purple and a 4 mm/US 6 needle; Delicate lyres made by lace and cables stitches used in panels surrounded by stocking stitch makes this bolero perfect to use on top of a wide dress or skirt on a cold day. Lyre Bolero is fitted and begins just above the waist with increases to the bust. Worked in parts to add stabilizing seams, but with long sleeves worked in the round. A stunning cummerbund made of tucks adds length and elegance. Test knit of the English pattern will take place in my Ravelry Group, date to be confirmed, before it will be released in my Ravelry store.
The bolero is worked flat in pieces, while the sleeves are worked in the round. Discontinue the Lyre Pattern and continue in stockinette stitch when decreasing. The cummerbund can easily be adjusted to your waist measurement by adding or detracting stitches to the numbers given; the tucks are made to meet but not overlap. The ties are added on the width of the last hem.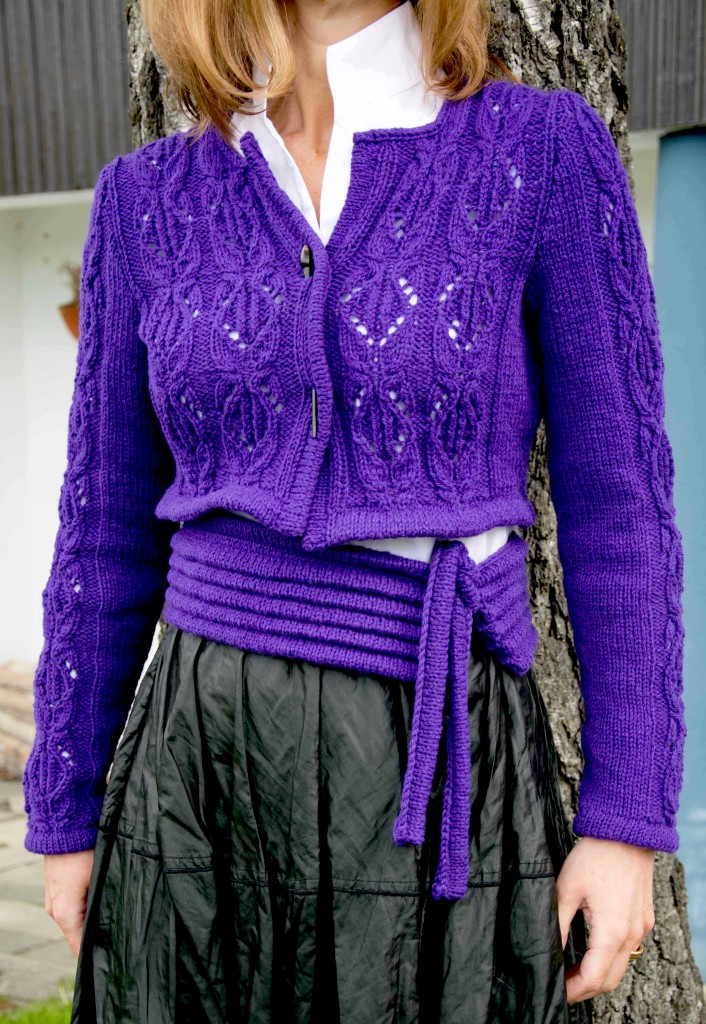 I decided to only add an I-cord bind off around the neck since I wanted to leave space for a shirt collar and possibly a silk scarf commonly used with national costumes here in Norway. While I picked up stitches along each front to make an identical hem. No buttonholes were made since I imagined using either a shawl pin or a magnificent brooch or two to hold it together.
As you can see the cummerbund changes the bolero into a jacket seen from the back especially. My idea was to wear it with the bolero on one occasion and without it on others when you prefer to use a leather or woven belt instead.
Below is the jacket, styled with re-design shirt and table cloth as skirt by Kristin Elise Halkjelsvik, aka Makeløs/Remarkable worn by model Pia Cecilie/Team Models, hair & make up by Janne Skarpeid Hermansen and photographed by Eivind Røhne for Made by Me. Do notice how cleverly Kristin styled the belt around the neck. It fits so well with my love of using accessories how you like them best!