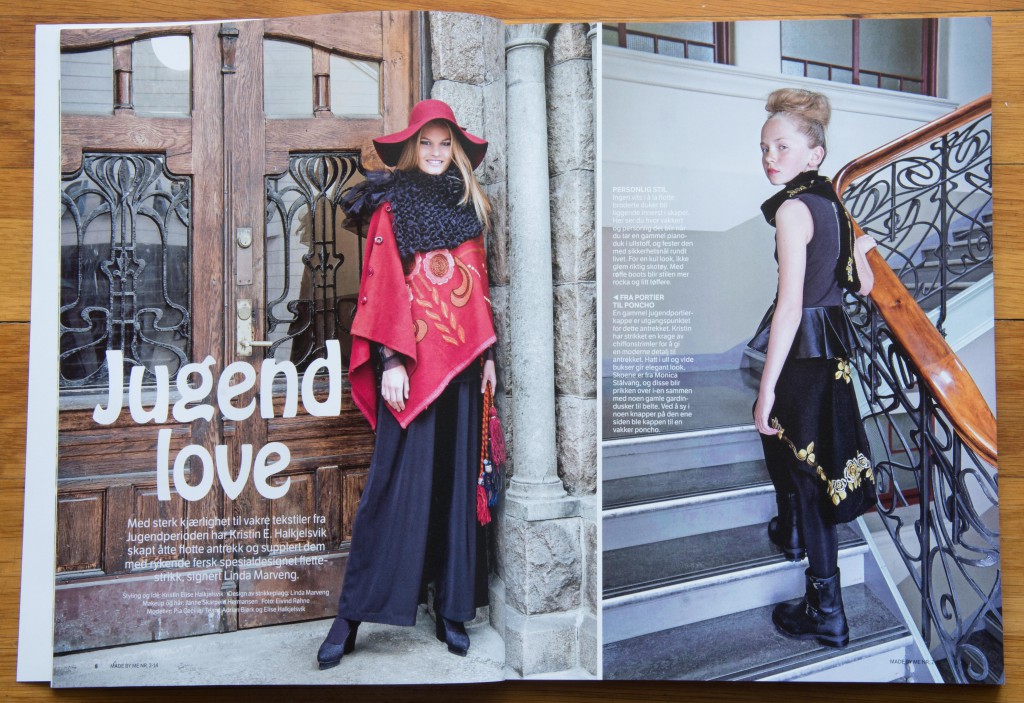 Our Jugend Love series is released. This has been a magnificent co-operation between Makeløs/Remarkable Re-design stylist Kristin Elise Halkjelsvik and myself together with shoe designer Monica Stålvang and jewelry designer Siri Berrefjord for the Norwegian crafts magazine Made By Me. Editor Mary-Ann Astrup skillfully selected the rest of the team essential for the photo shoot at the Bjørnulfgården in Fredrikstad: Brilliant Photographer Eivind Røhne, stunning Model Pia Cecilie/Team Models and talented Make-up & Hair Stylist Janne Skarpeid Hermansen. In addition Kristin had asked her beautiful daughter Elise and handsome friend Adrian Bjørk to model some of her re-design pieces. Kristin's preference of the Jugend period, especially its elaborate hand-made textiles, was the starting point, and fitted well with the intricate stitch patterns I favor. Truly remarkable is the way she drapes an embroidered table cloth into a skirt or dress or poncho, and accessorize it with contrasting fabrics preferably in bright clear colors. I had two designs I had already started that fitted well into this series: Icelandic Jacket and Cable Round Sweater, in addition I created two new ones: Lattice Back Jacket and Lyre Bolero. The article introduction actually begins four pages earlier with an interview of Kristin covering four pages, and then in these pages; four of her re-designed outfits.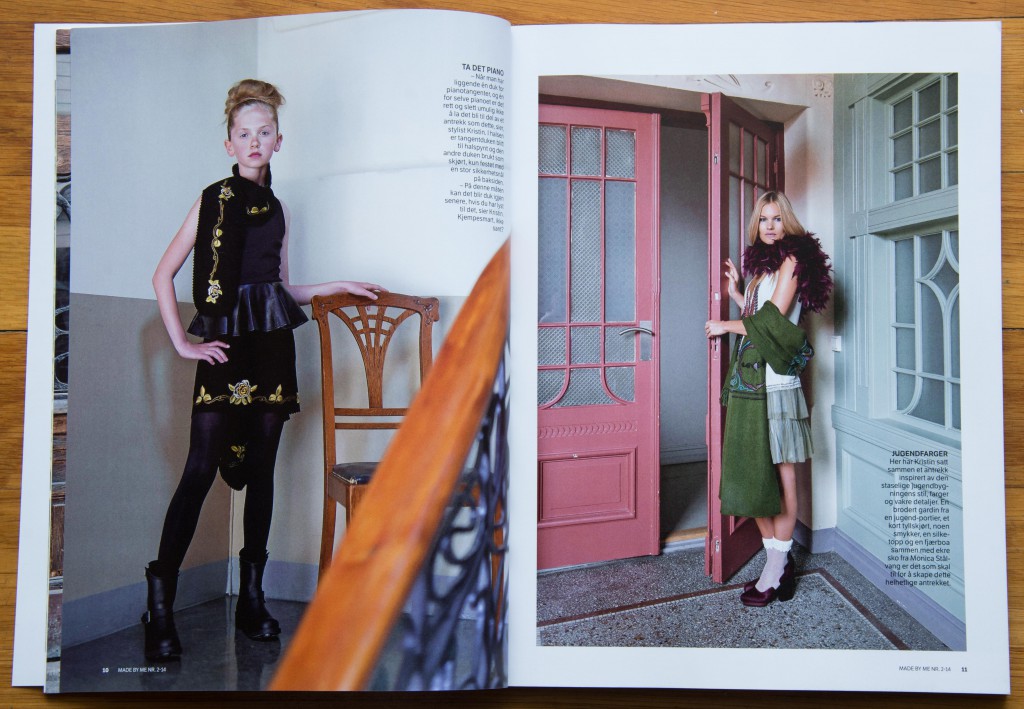 Curtains, bell pulls, or a series of table clothes like these to the left; where one is made for the piano keys and the other for the piano itself. The latter one is skilfully used as a skirt. We occupied the stair case all day – thankfully it was not too busy – and were fortunate enough to borrow the keeper's office as a changing and storage room to fill with Kristin's suitcases and bags.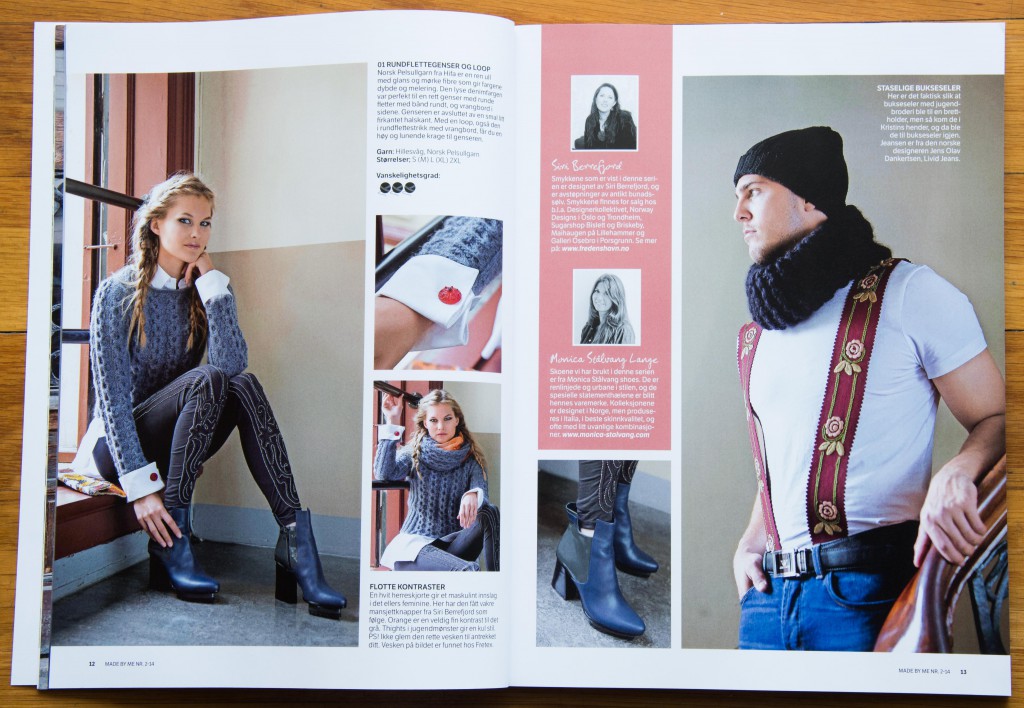 My Cable Round Sweater has interlocking cables framed by a rib in the side. The ribbing makes the straight sweater pull in and appear fitted. With a crew neck and a double stockinette band, I felt it need a long cowl you can wear twice around your neck. It is knitted in Norsk Pelsull/Norwegian Pelt wool by Hifa in a divine melange light denim color using a 3.5 mm/US 4. Styled with a masculine white shirt and trousers with a studded jugend motif. As a contrast an orange chiffon scarf, and stunning cuff links by Siri Berrefjord were added to the outfit. The to-die-for Carmen Boots in petrol are by Monica Stålvang. Both designers are briefly presented with a photograph on the page. Notice that Adrian is wearing bell pulls as braces. I will release the English pattern after a test knit in my Ravelry Group, date to be confirmed. I am delighted to share that this sweater has made it to the blogsphere; Knitigating Circumstances by Kelly Dawn see her post: Pattern Radar August 2014.
The Lattice Back Jacket worn over a beautiful dress; is actually a large table cloth pinned together with the fringes making a stunning back drop. Meters and meters of tulle tied into a bow around the neck, adds glamor to the outfit. Adorning the front and the sleeves is a series of small cables, while the back has a large intricate cable panel. Like a vintage jacket it is very fitted, and the body pieces are knitted flat while the sleeves are knitted in the round in a gorgeous melange purple in Ask-Hifa 2 using a 3 mm/US 2.5. The English pattern will be released after the test knit, which has just started in my group on Ravelry, is completed. Next is the Lyre Bolero with its accompanying cummerbund, which also can be used as a cowl worn twice around the neck according to Kristin. The bolero is cropped and the body is knitted flat in pieces, while the sleeves are knitted in the round in the bouncy Embla-Hifa 3 using a 4 mm/US 6 needle. I made the cummerbund to add length to the bolero, which I imagined to worn with a beautiful skirt like this made of a table cloth with a black tulle petticoat beneath. The bolero is closed with magnificent jugend brooches from Siri Berrefjord. I will release the English pattern after a test knit, date to be confirmed.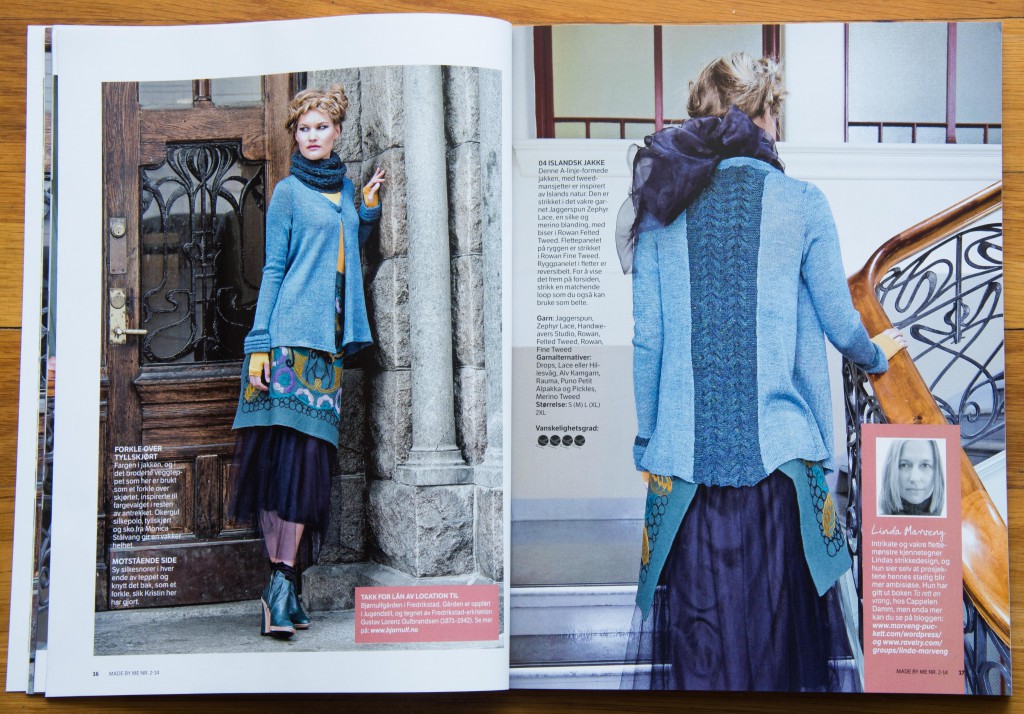 Last but not least is my Icelandic Jacket worn with a table cloth as a skirt, a tulle petticoat and gorgeous green Bettina Boots by Monica Stålvang. It is knitted in Jaggerspun Zephyr Lace in Juniper with cuffs in Rowan Felted Tweed and Rowan Fine Tweed, the latter is also used in the back panel and cowl, all using a 3 mm/US 2.5 needle. The sleeves are knitted in the round while the remaining 3 panels are knitted flat. The cowl is identical to the back panel just longer. Kristin also demonstrated how to use the cowl as a belt, merely by using a shawl pin to adjust it to the waist measurement. Only one bespoke button by Siri Berrefjord made it to the photoshoot (due to slow mail service), but you can see it with the planned three on the pattern page. I plan to have the Icelandic Jacket test knit in October after the Conic Coat, then released in English.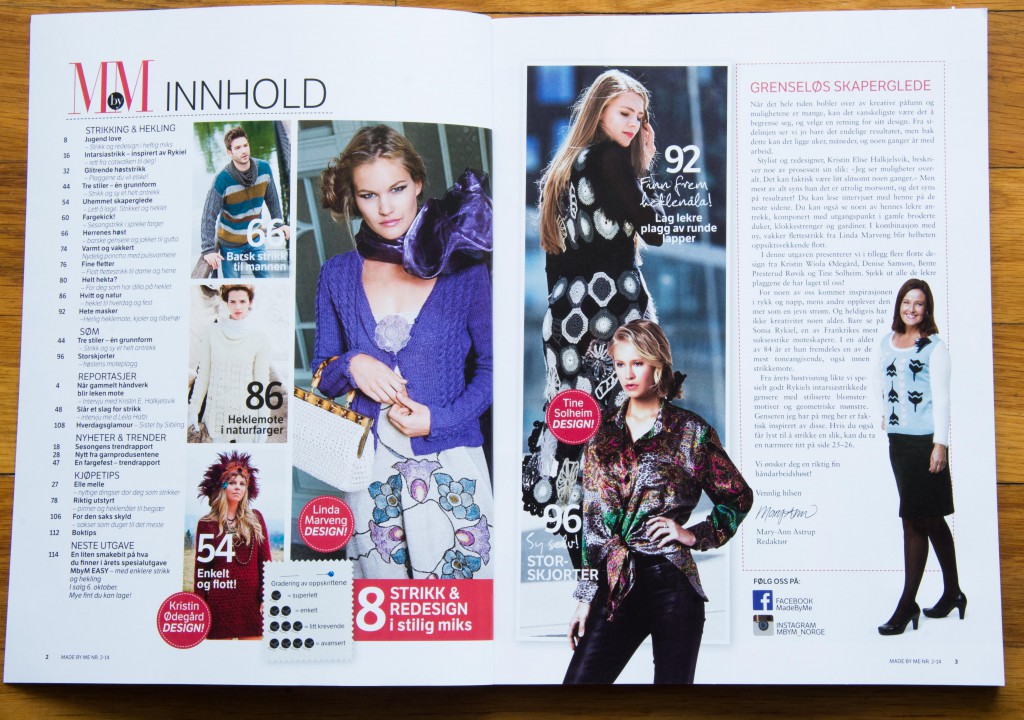 My Lattice Back Jacket also feature on the contents page, where editor Mary-Ann Astrup writes under the heading:  "Boundless Creative Enthusiasm" referring to stylist and re-designer Kristin Elise Halkjelsvik: "You can also see some of her gorgeous outfits, composed around old embroidered table cloths, bell pulls and curtains. In combination with new beautiful cable knits from Linda Marveng, the unity becomes sensational." The magazine is available from newsagents like Narvesen and selected supermarkets or online here: Familiens lille butikk.
It was an amazing photo shoot and co-operation, which we have decided to do again. In the mean time, I am already working on the next series of designs for Made By Me with Monica Stålvang and a dress designer this time. More to follow.