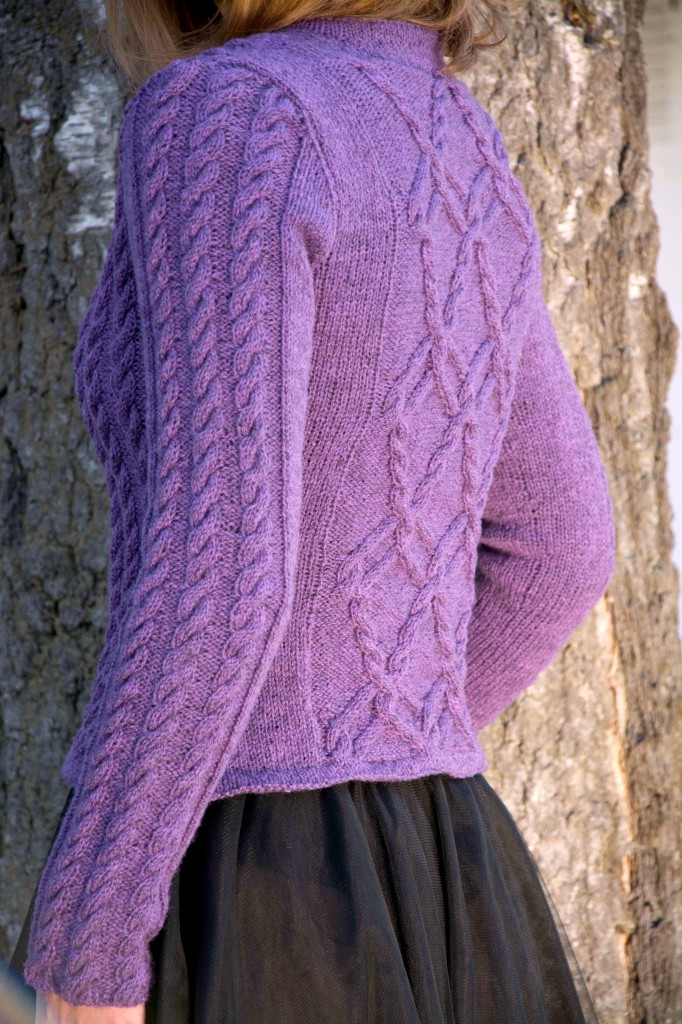 I was captivated by an amazing cable panel in one of Barbara Walkers' treasuries of stitch patterns, and knew I wanted it in a divine but not too dark a colour, so I chose melange purple in one of my favorite yarns: Ask-Hifa 2 using a 3.5 mm/US 4. Both Made By Me editor Mary-Ann Astrup and Makeløs/Remarkable stylist Kristin Elise Halkjelsvik, approved of my color choice for this jacket in our series of Jugend style designs. The cable panel fitted easily onto the back, but not on each front, unless I made a sweater instead of jacket, but the design itself wanted to be a jacket so I had to ponder for awhile how to adorn the fronts and then the sleeves. The solution became obvious after studying the chart for a time; a set of three straight cables, identical to the moving central one in the chart. I knew it would give a classic look to the fronts hence it became a fitted vintage style jacket with a v-neck and eleven small buttons. Of course, I wanted Siri Berrefjord's bespoke buttons (read: like an addiction) but realized that they needed to be small, hence would not show off their supreme quality. The Lattice Back Jacket pattern is available in Norwegian in Made By Me 2/2014, see the previous post, while the English version is currently being test knitted in my group on Ravelry and will be released on its completion.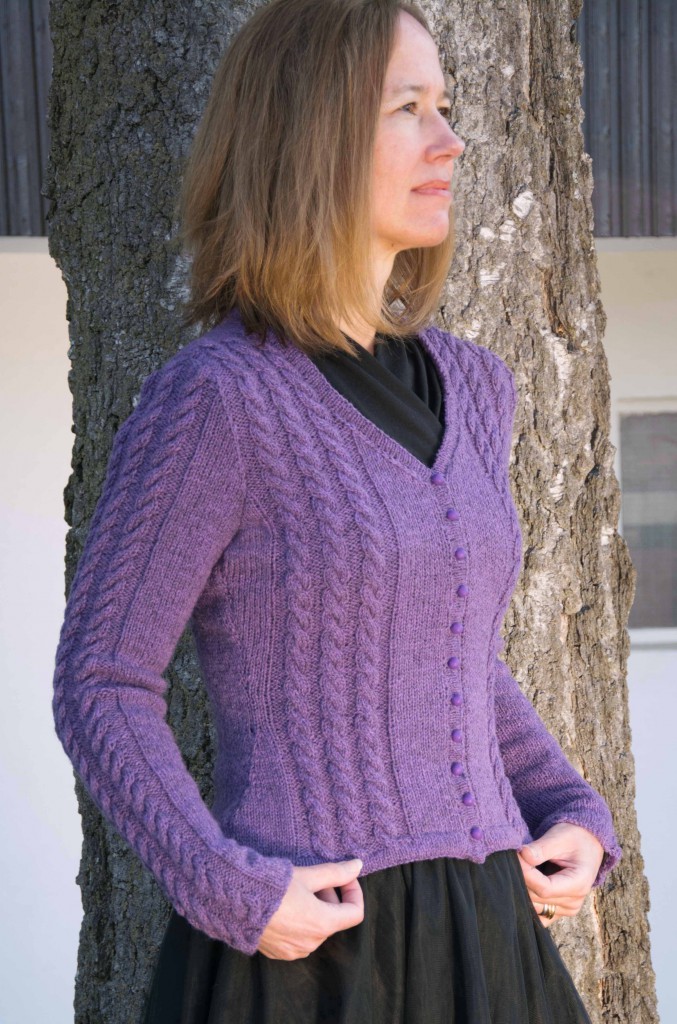 What kind of edging do I want? I opted for a double hem, which I love, and then increase stitches for each cable in a set-up row, work using a smaller sized needle; a 3 mm/US 2.5 in this case. I do not always work this type of hem with 2 circular needles held together (see my blogpost with a video for hem & tuck making here: Knitting Techniques Videos) and use 1 as a stitch holder until it is complete because it does tend to roll a bit hence not stay as flat as I like it. Therefore I often prefer to attach it on the wrong side by hand, stitch by stitch at the end, that is my kind of embroidery.
The jacket is shaped for the waist in the sides in stockinette stitch. Just as the increases on the sleeves are made in stockinette stitch. I have made each front is 1 cm wider than 1/2 the back circumference, to achieve symmetry, usual in typical vintage garments. I was advised by the test knitters of my Tyrol Jacket, which has the same shape, to add under notes: "This jacket is like vintage jackets very fitted, please compare your waist measurements to the size you need and adjust if necessary, to make sure it will fit." I initially made the jacket in sizes S (M, L, XL, 2XL) but since I received a few messages requesting an XS size, I have added it to the test knit. I am still looking for test knitters for size 2XL, so if you are interested send me a message on Ravelry.
The buttons are made by husband in Fimo Soft modelling clay, they are shaped and a part of a paper clip is bended into a loop inserted into the ball, and then hardened in the oven. I had showed him Siri's buttons, and this is his attempt. As you can see there is no pattern, and no layers of painted colors, only two colors mixed trying to achieve the right shade of purple. So the result is quite different from what both my husband and I had in mind, but it works very well. To add a bit of glamor to it, Kristin accessorized it with a brilliant brooch made by Siri, added meters and meters of chiffon fabric to make a large scarf bow and chose one of her pastel colored embroidered table cloths as a dress. It looked stunning on model Pia Cecilie/Team Models as the brilliant photographer Eivind Røhne captured on our photo shoot in Fredrikstad.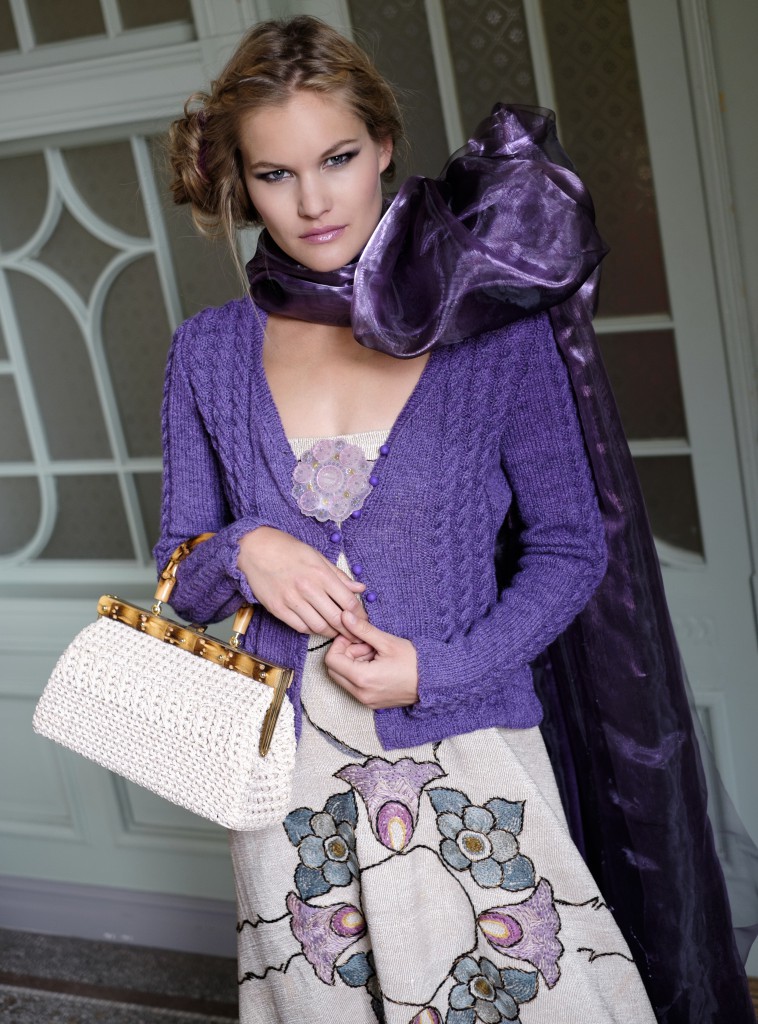 The Lattice Back Jacket is currently being test knitted in my Ravelry group and the English pattern will be released on its completion. One knitter has chosen to add a zip instead of buttons to make it less vintage looking, while another has chosen to knit the hem in a contrast color. I cannot wait to see the finished jackets and with the incredible knitting speed a few are sporting it will not be long!