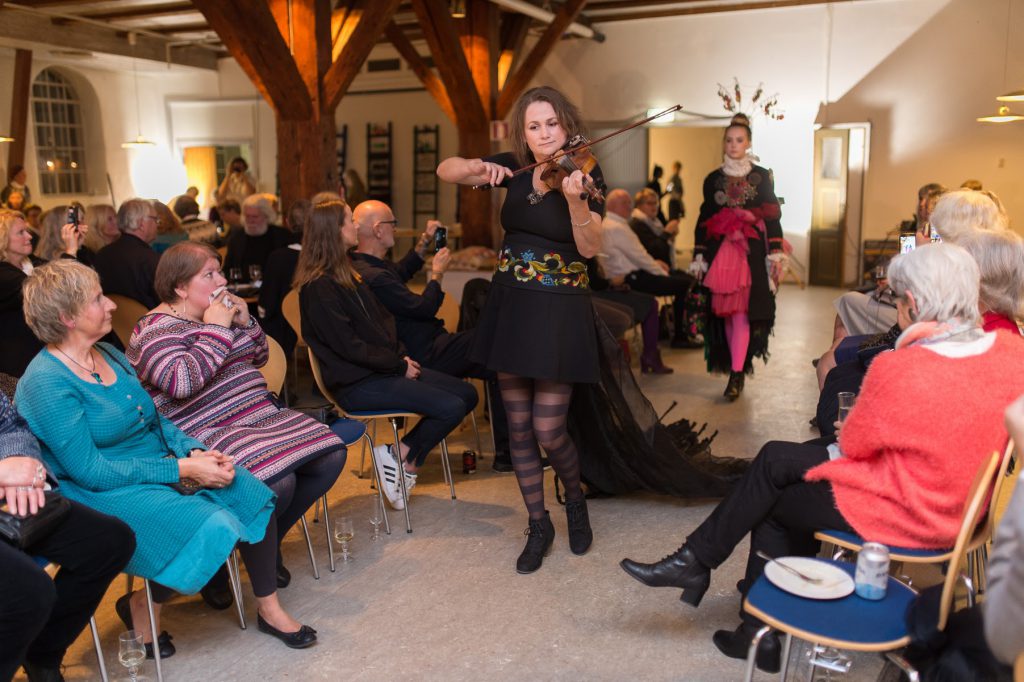 Makeløs/Remarkable re-design stylist Kristin Elise Halkjelsvik was in charge of the catwalk with a mix of new & old handcraft designs and jewellery to make numerous unique as well as colourful inspirational outfits, at the party night on the Strikkefestival/Knitting festival in Fredrikstad. Kristin combines new & old knitwear with embroidered table cloths, bell pulls and lengths of tulle fabric. With knitwear from Tone Loeng, Vanja Blix Langsrud, Sidsel Høivik, Kristin Holte, Nina Granlund Sæther, Annemor Sundbø and myself, together with jewellery from Siri Berrefjord and Gry Marie Grindbakken, in addition to a co-operation with local hairdressers Adam og Eva, Kristin made outfits that takes your breath away. The logistics with 14 models, 5 dressers to aid the models, a violinist to open the show, a sound technician and 25 outfits with accessories down to shoes, takes a lot of time, space (both head space and literal space to hang all the outfits) plus energy. Thankfully Kristin seems to have an endless supply of energy, unlike most people I know.
First out is the Setesdal Lovely outfit with brooches by Siri Berrefjord and bridal crown by Gry Marie Grindbakken. The coat has embroidered cuffs and neck and is worn with hand made lace cuffs & lace collar, in addition to layers of tulle skirts and fabric for a belt. All these crisp photos are taken by Geir Arnesen, and I am ever so grateful to be allowed to use them here. Thank you, Geir!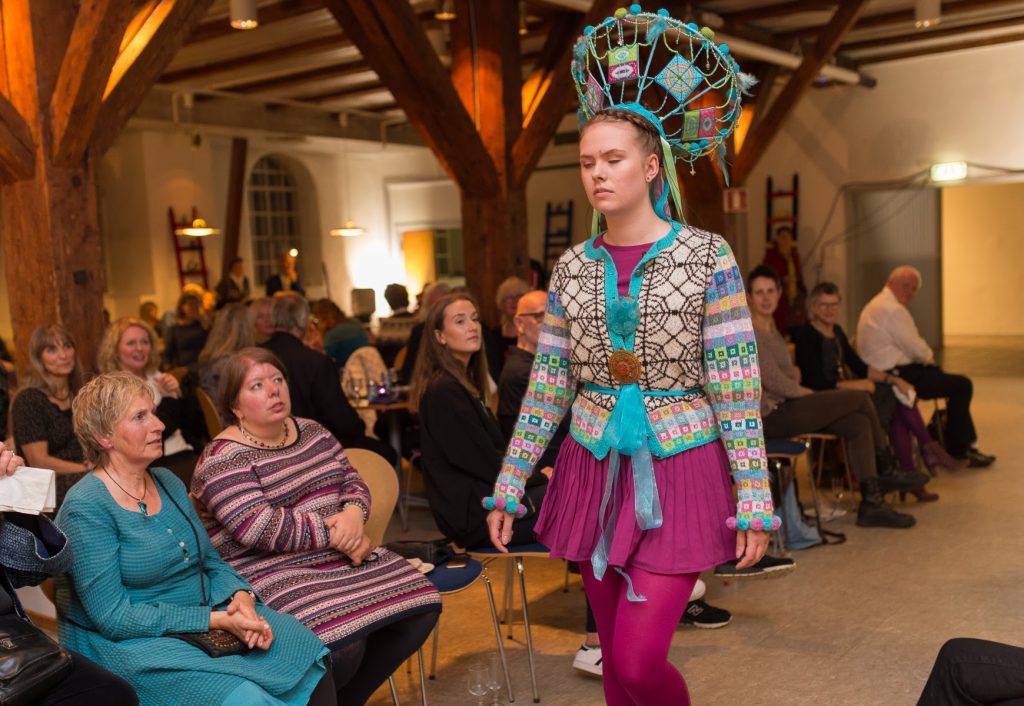 Here is another bridal crown, this one is by Kristin Holte and so is the knitted jacket. The brooches are by Siri Berrefjord. We enjoyed the colourful explosion to our senses, and I really wanted a pair of opera binoculars to take in more of the details. But since I stayed over with Kristin and her family I was lucky to have a sneak peek the day before.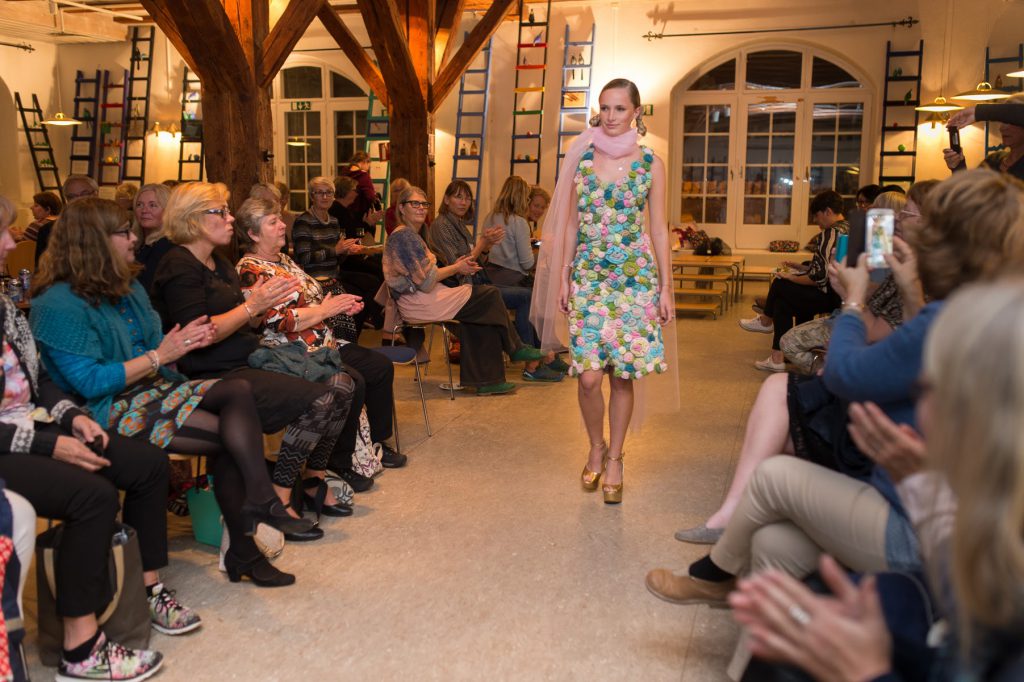 This dress is part of Kristin Holte's wedding outfit, usually worn with the cardigan and crown above. All the knitted flowers makes it heavy but also so sculptural.
My Lattice Back Jacket worn over one of Kristin's many beautiful table cloths. Siri was present and pinned on her own brooches as she saw fit, just as Kristin had suggested.
This kofte is by Vanja Blix Langsrud, aka vanjastrikk, a new design called Blanda Drops. It is worn by Elise, Kristin's daughter and now experienced model with a professional attitude.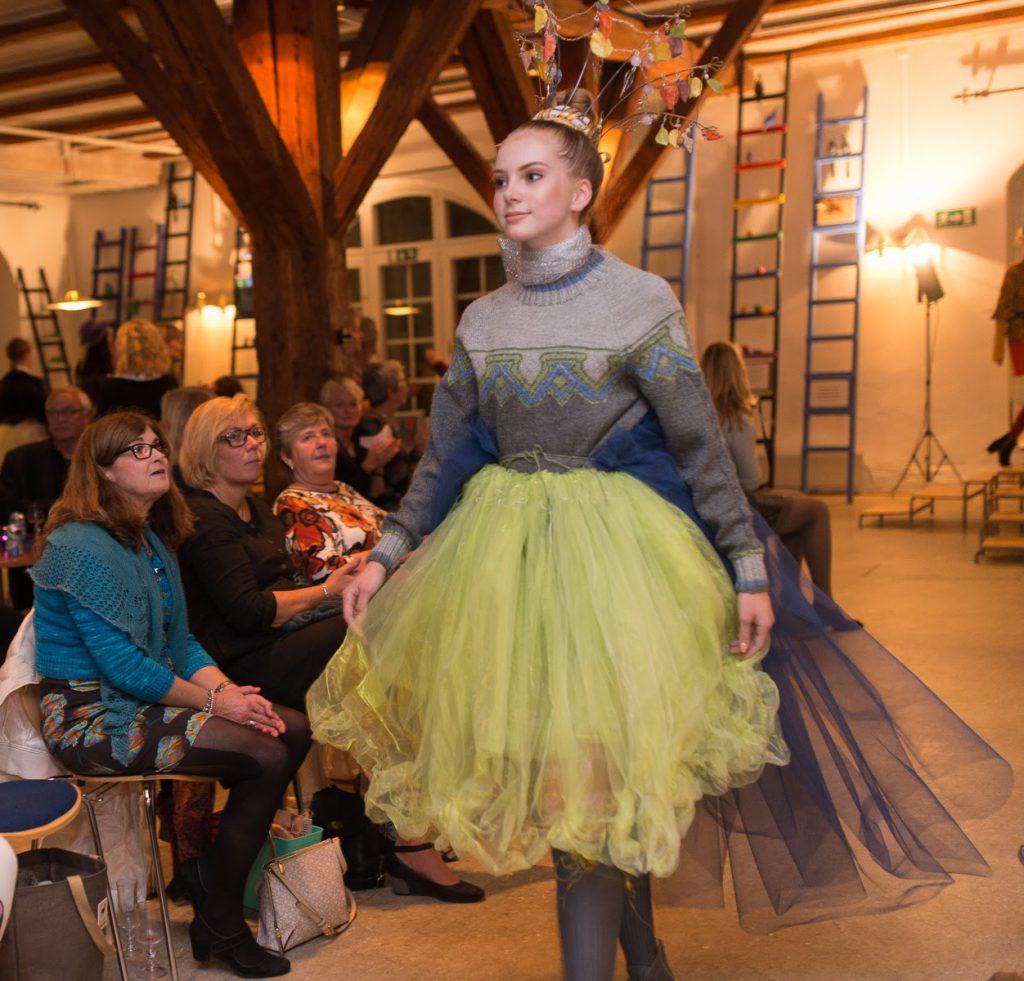 Last but not least is the winner of the competition for the Fredrikstad Genseren 2017 by Marianne Solbrække, styled as only Kristin knows how to with layers of tulle skirts in matching colours. The catwalk went too quickly for us knitters who wanted more, but it was the highlight of the party evening that began with an introduction by the knitting organisers (read: knitting motors), music by a band, a buffet with delcious finger food, the mayor announcing the winner of the Fredrikstad pullover contest, chatting and not to forget knitting! I was not giving my knitting enough attention, so I ended up unraveling what I had done. I was fortunate to catch a lift with designer Sidsel Høivik who live close to me. Hence the weekend ended just as it had began with talk about knitting.