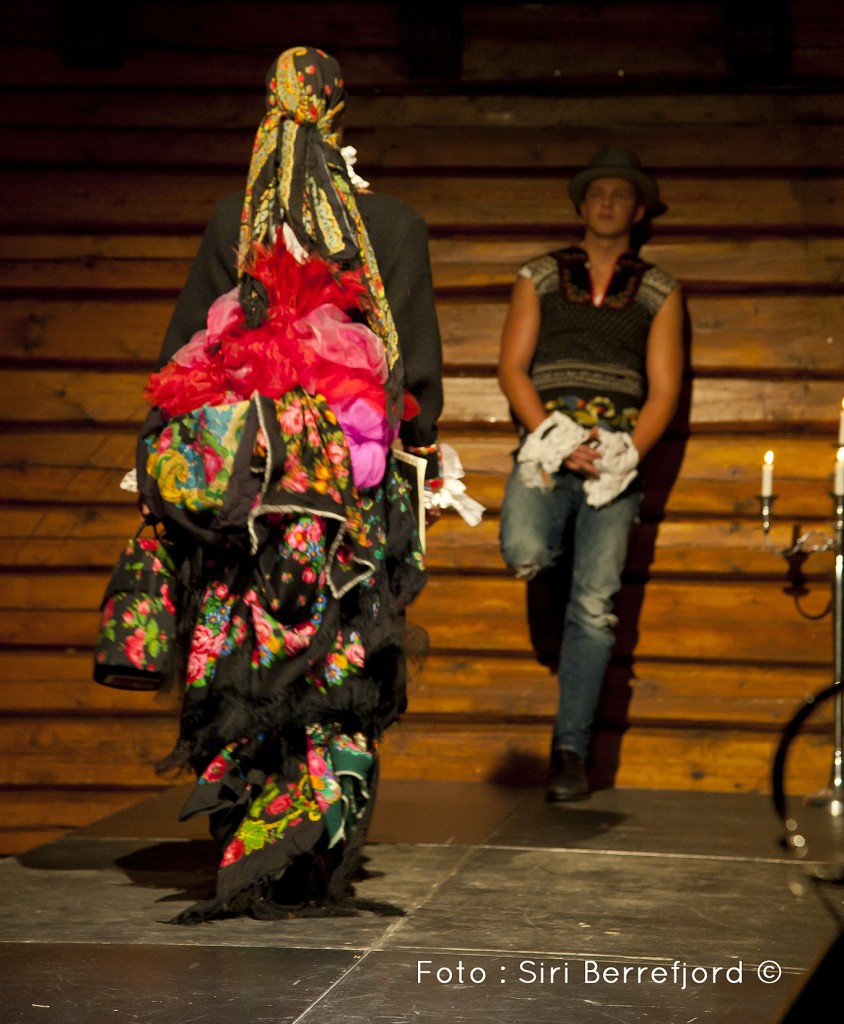 I went to a Redesign Fashion Show by Makeløs/Remarkable – yes, it was and she is – stylist Kristin Elise Halkjelsvik organized by Ullensaker Husflidslag/Craft association at Jessheim in February, and I am finally ready to blog about it. Thankfully, jewelry designer and photographer Siri Berrefjord, see Fredenshavn, was there capturing the event and so was Made by Me editor Mary-Ann Astrup. I was not merely attending, but together with designer Kristin Wiola Ødegård and Sidsel Janne Høivik, I contributed with one knitted garment; the Aran Bolero. The intricate cables would go well together with Makeløs' love of the Jugendstil – or Art Nouveau if you prefer – in my opinion. During the evening she shared her passion for all handicrafts and re-design. It is not essential that you know how to sew, to make an old stunning embroidered tablecloth into a poncho or a skirt, as long as you know how to use a stapler or use safety pins creativly, is Kristin's motto. Above is a well-known, intricate outfit by Makeløs that has been the window display at the popular bead and buttonshop, Perlehuset/Beading House in Oslo. It is equally astonishing from the front with its lace decorations, belt, embroidery and colorful brooch by Siri, see below. It is the first time I am working with Makeløs, and we have planned further collaborations, I am pleased to announce.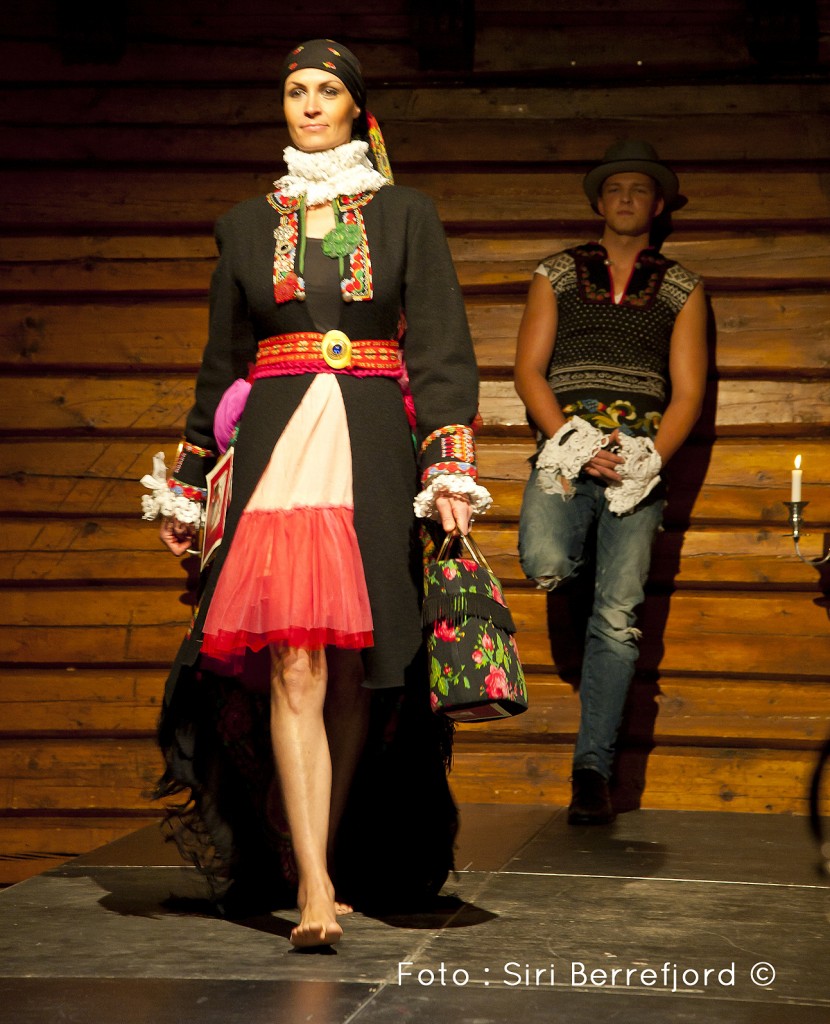 In a crowd with several hundred women, the male model was incredibly popular and stayed in his position for quite awhile, to everyone's delight. Below is one of Makeløs' tablecloths, with a cut hole that is covered up with a flower pot when it is used on the table, otherwise worn as a poncho, with a chiffon scarf around the neck together with jeans.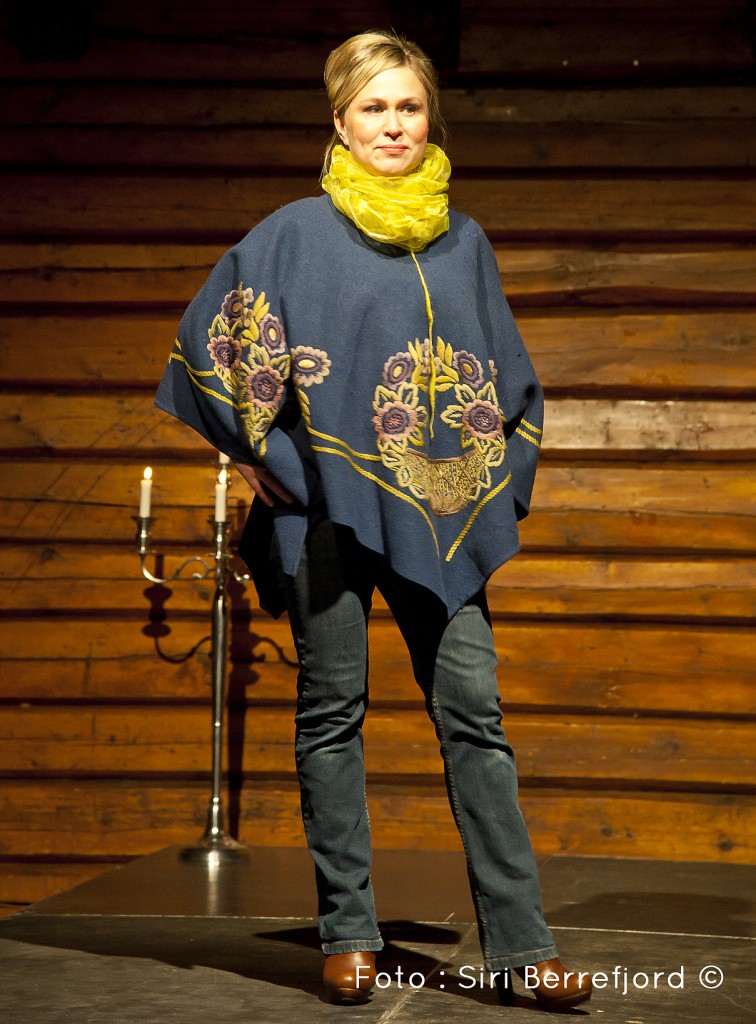 I had no idea how she would style my Aran Bolero, but knew it would be very different from my way. A skin coloured top with a chiffon ruffle at the bottom and with short petticoat for a hot and sexy look. Our two design worlds collide in this match of styling, according to one of my test knitters, and I could not agree more. Makeløs had planned to use a vintage embroidered bell pull as a belt, but did not get as far in time for the catwalk.
Another favorite outfit is this colorful embroidered wall hanging Makeløs has used a skirt below. She calls the outfit the "housewife's comfort", and has literally written it on the fancy underpants which is clearly visible in the gap of the ends of the wall hanging at the back. You will find a lot more photos at her Facebook page, look for Makeløs, and from her exhibition at Bakketunet.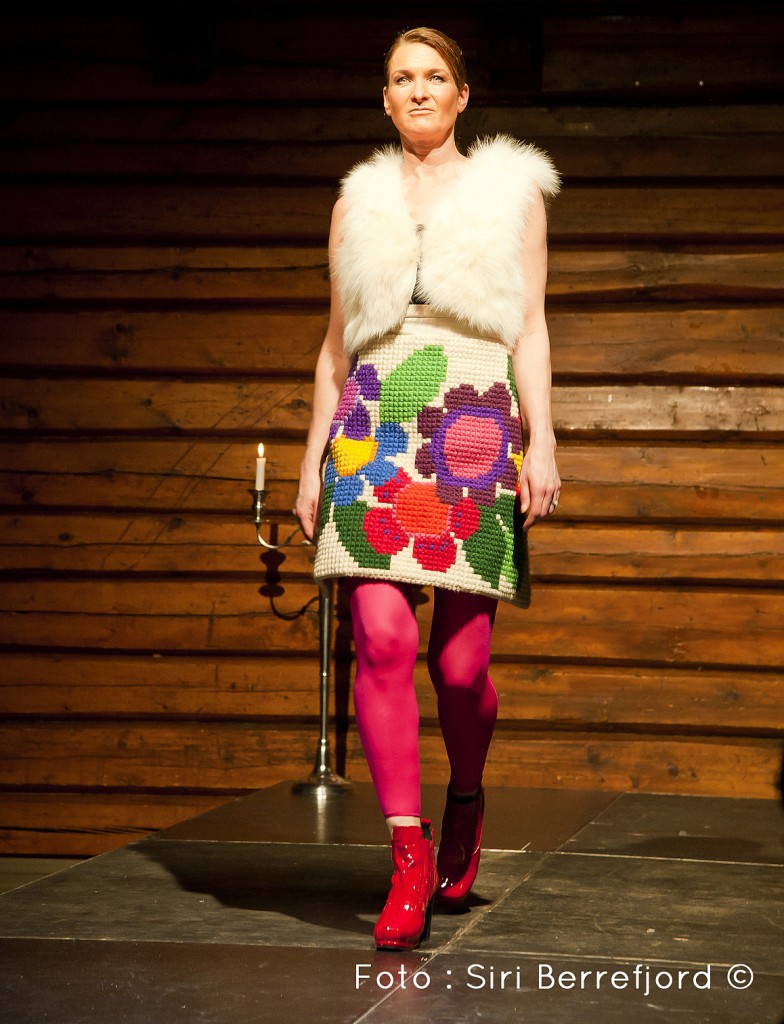 I love her vision, use of color and Jugendstil inspiration and look forward to our next co-operation…