I am delighted to have four of my latest patterns published in the Norwegian special issue magazine called Håndarbeid/Handicraft by Familien/The Family. I designed two of them last summer; Regal Purple Jacket and Lace Ridge Top both with a cowl to complement the design, both knitted in the beautiful Perle/Pearl mercerized cotton yarn by Hillesvåg Ullvarefabrikk, see ull.no. The Tyrol Jacket, here on the cover, was initially sent as design submission to Twist Collective but only made it as far as their short list, while the Nora Sweater was hibernating until last autumn's photo shoot, and I was not certain whether they would be accepted by Familien. I believe Kim Müller's brilliant photos of the stunning dancer Francesca Golfetto modeling the garments made the offer hard to resist, and I was thrilled when the editor wanted to use the photos of all four designs in a separate issue. Two of the designs; Regal Purple Jacket and Tyrol Jacket are available in English to download. The remaining two will be available after test knitting in my Ravelry group, do join if you would like to.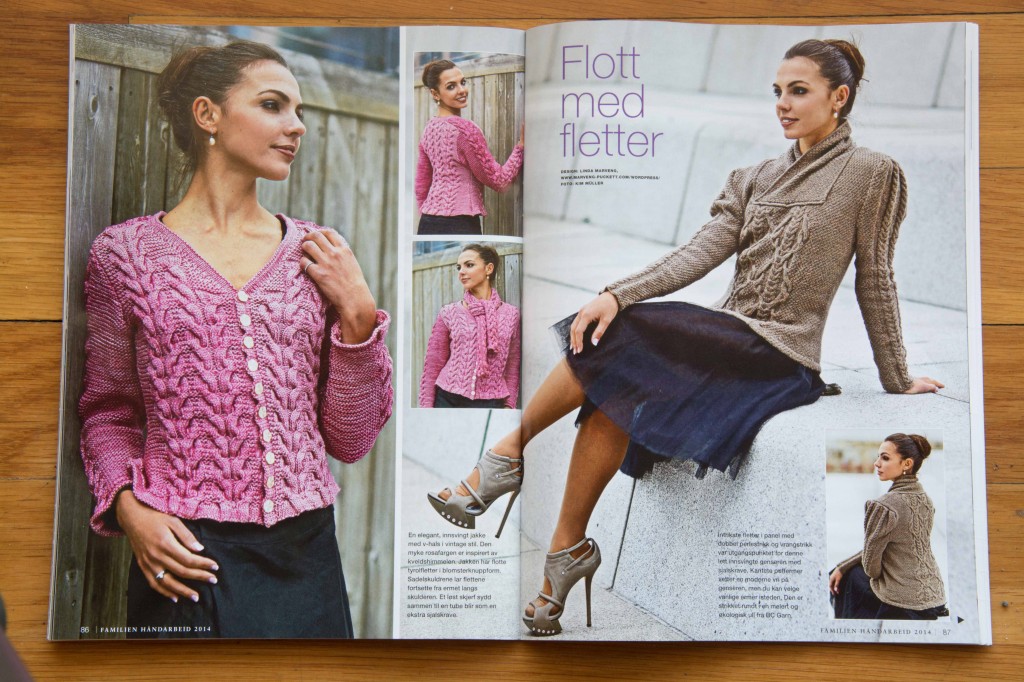 The heading "Flott med fletter" translates to "Gorgeous with Cables". The Madeline Tosh dk yarn,  the Tyrol Jacket is knitted in, is not easily available in Norway but can be ordered online or replaced by e.g Sandnes Garn, Merinoull or Garnstudio Drops Merino Extra Fine. The BC Garn Semilla Fino 4 ply/fingering yarn the Nora Sweater is knitted in, can be replaced by Rauma, Røros Lamullgarn.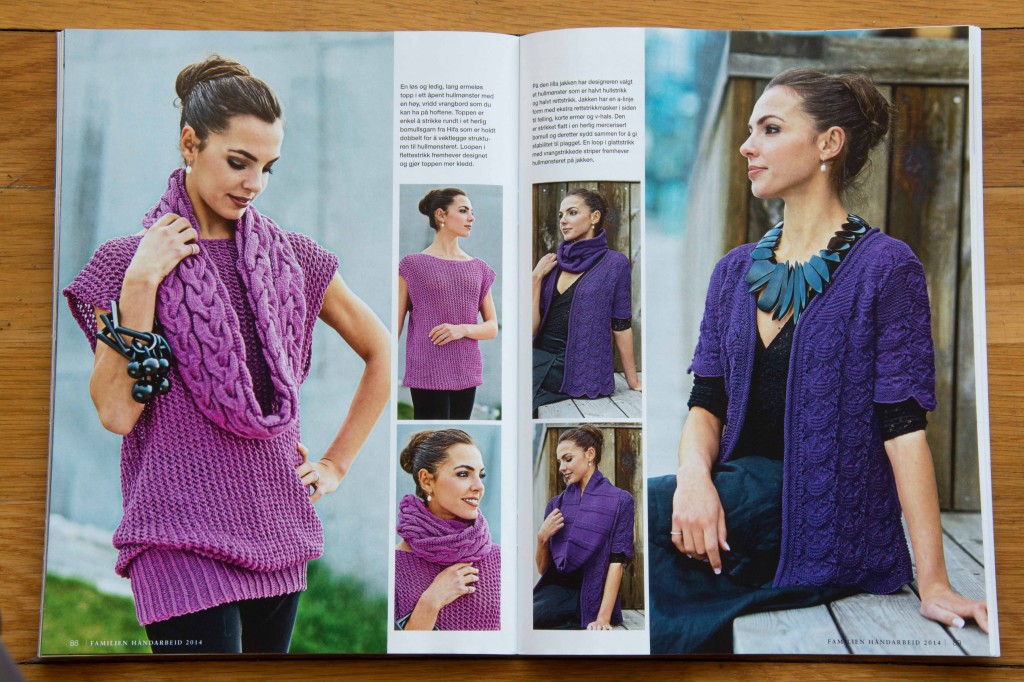 One of my favorite summer yarns is the mercerized 4-ply/fingering cotton Perle/Pearl from Hillesvåg Ullvarefabrikk, which comes in 62 gorgeous colors on 200 g cones, see ull.no. I used it in Mørk fiolett/Dark violet in the Regal Purple Jacket and Røsslyng/Heather held double in the Lace Ridge Top. As a matter of fact I would like to knit the cable cowl in a large selection of marvelous colors for the summer!