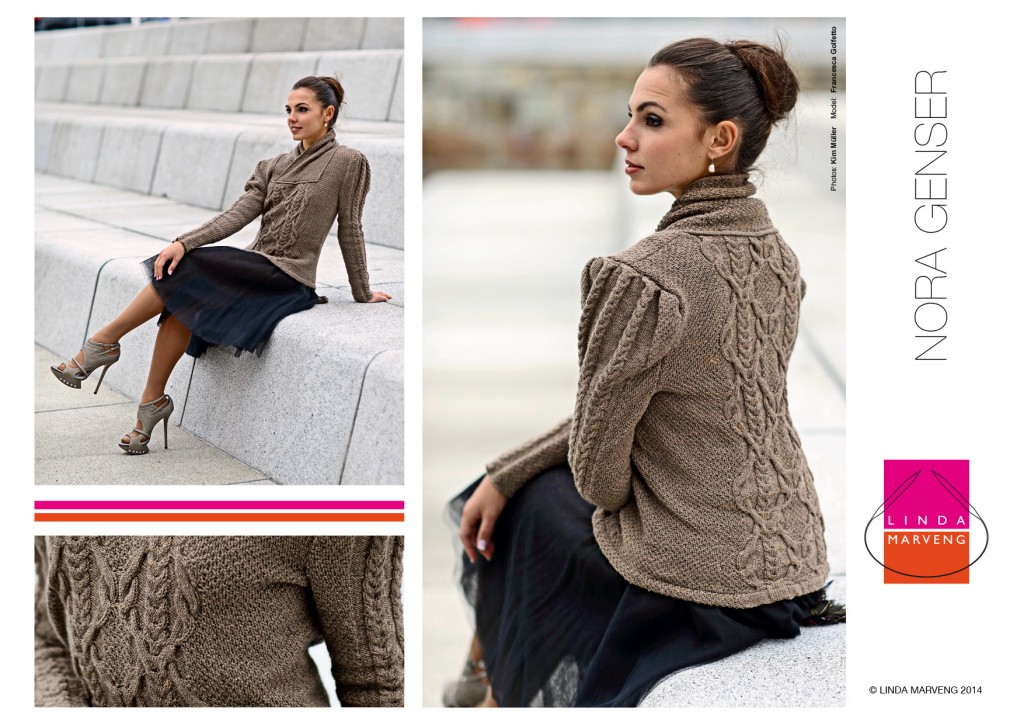 I have just released 4 of my patterns in Norwegian: Nora Sweater/Nora Genser, Tyrol Jacket/Tyrol Jakke, Regal Purple Jacket/Kongelig Lilla Jakke and Lace Ridge Top/Hullkant Topp on Ravelry and on Loveknitting (shortly). All were first published in Norwegian in Familien Håndarbeid, a special edition in March 2014. Beautifully modeled on dancer Francesca Golfetto and brilliantly photographed by Kim Müller. The patterns have been tech edited and test knitted prior to their release on Ravelry, and they all include detailed schematics, video links and charts. The Nora Sweater, available in sizes S to XL, is knitted in BC Garn, Semilla Fino an ecological 4-ply/fingering yarn using 3 mm/US 2.5, can be knitted with puffed sleeves or with set-in sleeves. It is knitted in the round to the armhole, then flat to the end.
A mélange taupe in a delicate fingering weight yarn was chosen for this slightly fitted stylish cable sweater with a shawl collar. I chose a Missoni shaped puffed sleeve for a modern twist but you can chose a set in sleeve option if you prefer. A voluptuous small cable encased by side cables, reverse stocking stitch and double seed stitch was the beginning of this design.
The Tyrol Jacket, available in sizes S to XXL, is knitted flat in two different dyelots of the stunning hand dyed Tosh DK – a pure merino – using a 4 mm/US 6 needles: Inspired by the mélange soft pink color – not unlike the evening sky – and adorable Tyrol cables with their flower-bud shapes, I have designed an elegantly fitted jacket with a V-neck. The saddle sleeves allow the cables to flow all along the shoulder. A loose scarf with cables sewn into a tube works as a second shawl collar and adds textured volume.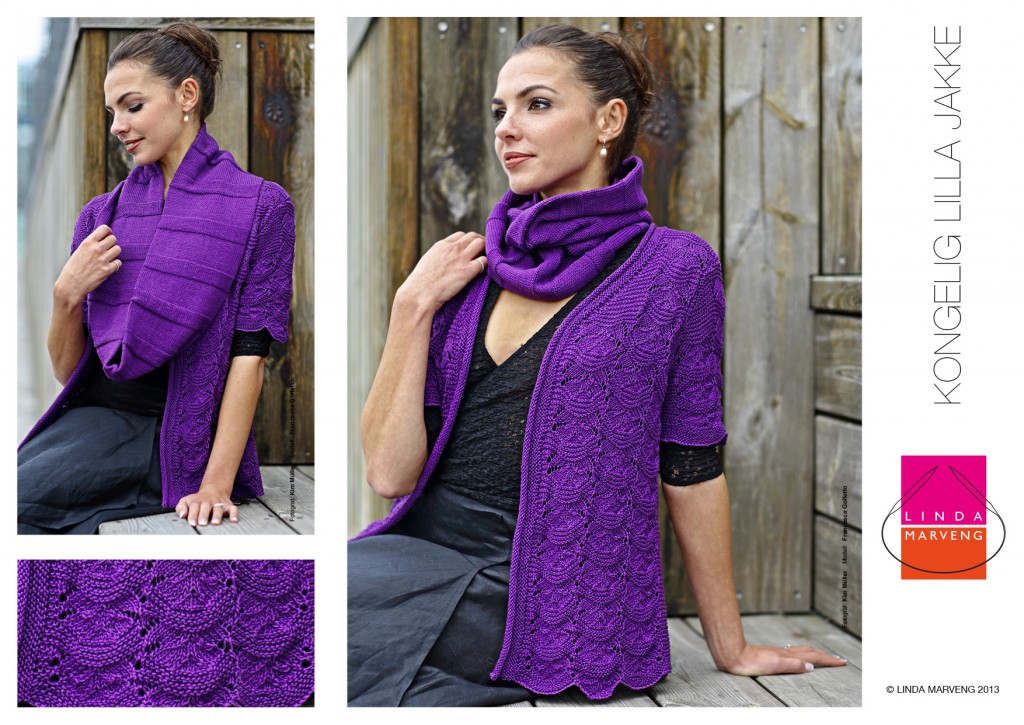 The Regal Purple Jacket, available in sizes S to 3XL, is knitted flat in the lovely Hifa Perle using a 3 mm/US 2.5 needles: This vibrant rich purple is regal to me. I choose a lace pattern called Flower Wave, which is half lace and half garter stitch, hence easy to memorize. The Regal Purple Jacket has an A-line shape with added garter stitches in the side for decreasing, short sleeves and a V-neck with a garter stitch then stocking stitch band. It is knitted flat, in a divine 4 ply/fingering cotton called Perle from Hifa, and then sewn together to give stability to the garment. Optional 3/4 length or long sleeves patterns are included in addition to a stripy stocking stitch cowl, knitted in the round and grafted together, to accentuate the lace pattern.
The Lace Ridge Top, available in sizes S to XXL, is knitted in the same Hifa Perle held double using a 4 mm/US 6: A casual, stretchy long sleeveless top in an open lace ridge pattern, with a boat neck and a high twisted rib over the hips. The top is easy to knit in the round. It is worked in a divine mercerized cotton from Hifa, called Perle which is held double to emphasize the structure of the lace pattern. The cable cowl accentuates the design and gives the top a more dressy look.