Anne Dorthe/Team Models looked absolutely stunning in my OXO cabled sweater; Mistale, with hair & make up by talented Sissel Fylling, Benedetta boots by Monica Stålvang and jewelry by Kaja Gjedebo, brilliantly captured by Eivind Røhne at Henie Onstad Kunstsenter. It was former editor of Made by Me, Mary-Ann Astrup's idea to use the stone clad columns as a backdrop for a series of photographs. The location worked astonishingly well! Mistale – both the sweater and the cowl – is knitted in Hifa Norsk Pelsull in a gorgeous vivid lime green color using 3.5 mm/US 4 needles. The Norwegian pattern will be published in the special issue Familien Strikk out on Monday 24th August, while the English pattern will be test knitted in my group on Ravelry before its release.
The vivid lime green in the stunning pelt yarn – Norsk Pelsull – from Hifa intoxicated me. I discovered that cross cables with round cables in the middle made a gorgeous texture. By framing the cables with a rib, the sweater becomes figure hugging and is the perfect accompaniment to your favorite jeans or trousers. It ends with a squarish narrow neckband and you can choose if you want to add the matching cowl.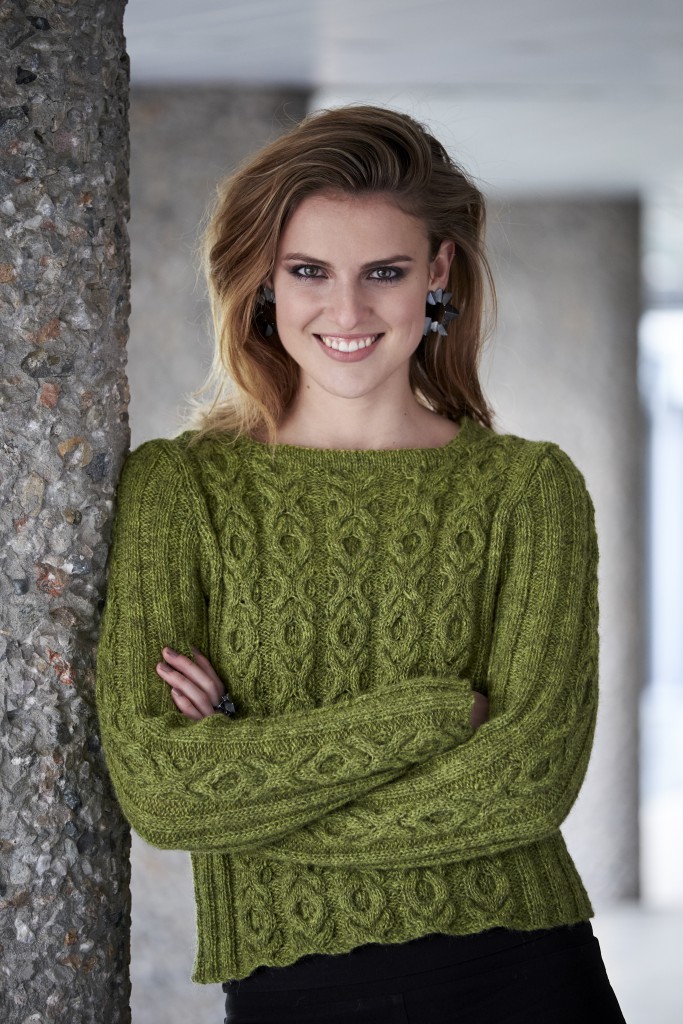 The Sweater, both the sleeves and the body are worked in the round to the armhole and then worked back and forth in rows. The cowl is worked in the round as a long tube, and then the ends are joined together. You can wear it hanging loose as in the top photo or twice around the neck, showing off the rib on the backside of it. The earrings with the matching geometric shape are the statement Karakoram and the ring is called Hekla both in oxidized silver designed by Kaja Gjedebo.
Mistale is available in sizes XS to 2XL with a bust circumference of 89 to 129.5 cm/35 to 51″. Its predecessor Cable Round Sweater has less positive ease on the body and more on the sleeves, Mistale has been improved thanks to the response from my test knitters. I have scheduled all the autumn and winter test knits in my Ravelry group, so come on over and join us. The yarn has been kindly sponsored by Hifa.