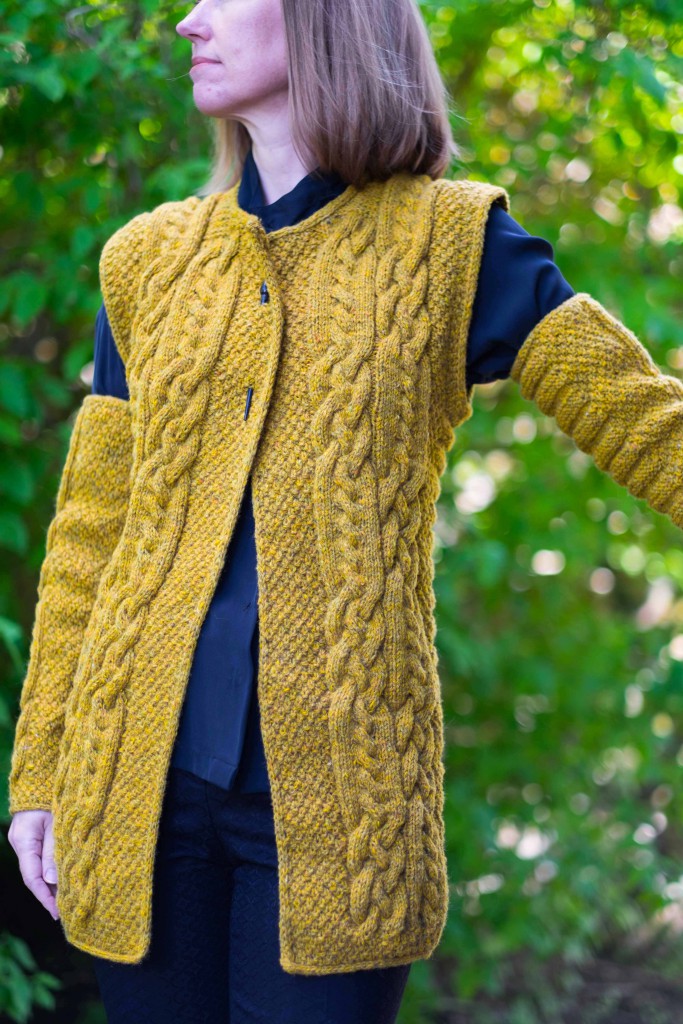 I found this cable pattern online and instantly adored it. The pattern repetition is long hence length and cable placement had to be carefully planned. This is my introduction to it: Poetic cables framed by reverse stockinette stripes and double seed stitch, was my idea for this straight long vest. Named after the Arabic Poet, Imra. A small round neck has the same I-cord treatment as the armhole, front and bottom edge. Match with a pair of loose sleeve that can also be around the waist or one as a neck tie. To achieve popping cables two yarns were combined to make a rich colored tweed yarn; the bouncy Hifa Ask and Rowan Fine Tweed. The mix as well as the color is one I have used before (read: hooked on) in my Shawl Sleeves. I also choose to knit them with a dense gauge using a 4 mm/US 6. I was delighted that Grete Jenssen – aka turbo test knitter, aka ma9 on Ravelry – knitted the sample vest and the loose sleeves for me! The Norwegian pattern will be published in "Familien Strikk" at the end of August, while the English pattern will be test knitted then released on Ravelry this autumn.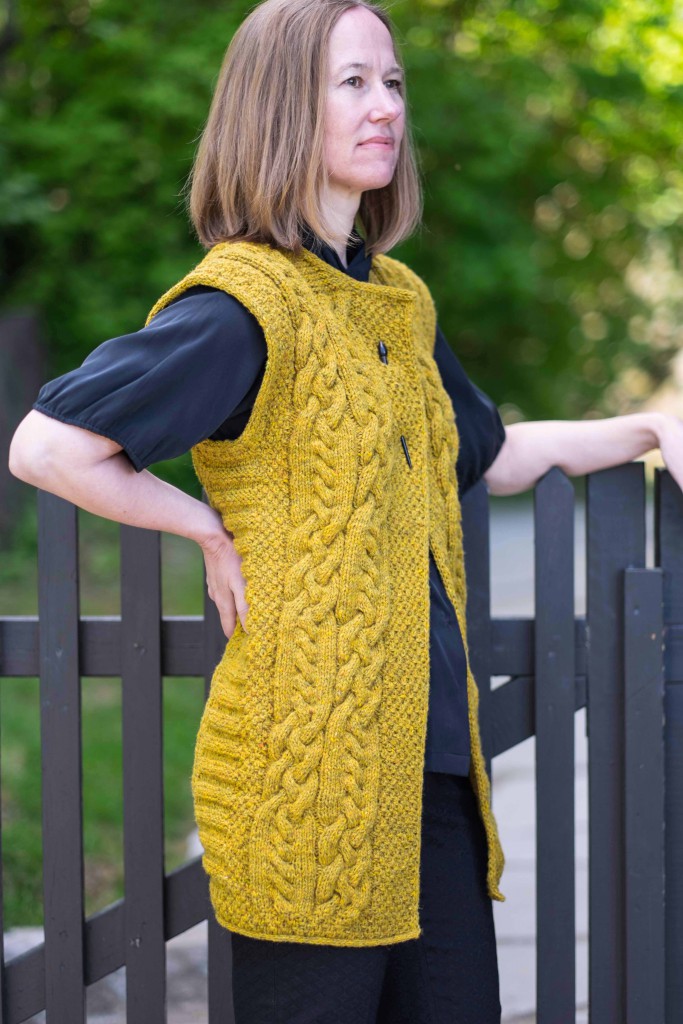 I-cord bind off on the neck and the armhole was essential to me. Why not give the fronts and the bottom I-cord edgings too? I thought. For the bottom one, I tested out a new method to me, make an I-cord and pick up and knit stitches from it. There is an I-cord cast on, but as you may know it does create a very loose first row, hence a different solution had to be found. I found it on YouTube. It has elasticity but holds in the bottom at the same time. Another solution would have been to use a provisional method and then afterwards use the I-cord bind off. The I-cord at the front is worked at the same time as the front using this method: newstitchaday.com/how-to-knit-the-i-cord-edge-stitch. Grete suggested adding a few extra rows in even intervals on the I-cord edge to avoid it holding in the edge, and tested it out, to my utter satisfaction.
The vest is worked in rows in one piece to the armhole where it is separated. Each front has a 3-sts I-cord edge that is worked at the same time as the vest. Both the narrow neckline and the armhole band has an I-cord bind off but the armhole band is worked in the round with a Double Seed stitch band. If you prefer a smaller armhole band continue working decreases. To achieve a looser bottom band, use a provisional cast-on method, and then make an I-cord bind off instead.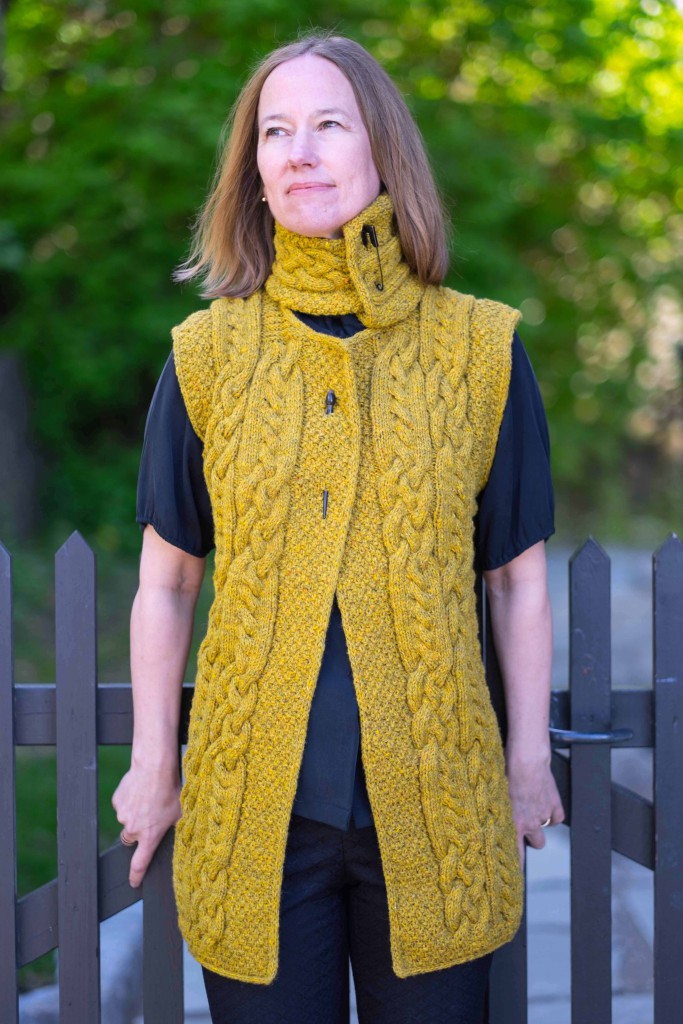 I choose double seed stitch as the main contrast stitch and reverse stripes – a welt pattern –  in each side bound off for the armhole. To make the armhole smaller, a band was made by picking up and knitting rounds in double seed stitch while decreasing. I could easily have continued to do so to make the armhole even smaller. The vest is graded to fit sizes XS to 2XL, with a finished bust measurement of 84 (91, 98, 106, 116, 126) cm/33 (33.75, 38.5, 41.75, 45.75, 49.5)". Both yarns have been kindly sponsored by Hifa and Permin, Rowan's Scandinavian agent. 
Above, I have joined the loose sleeves with 2 shawl pins and wear it as a belt. All the photos above where taken by my husband a few days before the professional photo shoot at Henie Onstad Kunstsenter. I look forward to showing you those stunning photos.