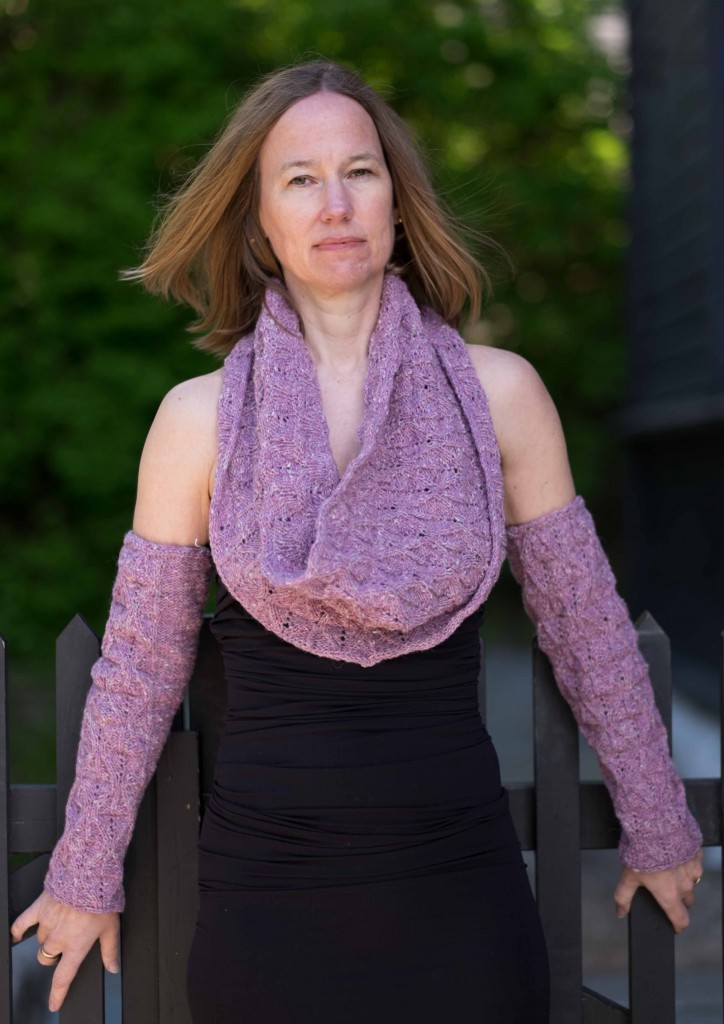 I loved how my design Atika came out, and discovered a new gorgeous textural stitch pattern for another cowl and loose sleeves to wear with a stunning dress or with a vest. Named after Syndra with her immense magical potential, is this cowl to warm your shoulders and the matching loose sleeves. Both the cowl and the loose sleeves are knitted in the round using a beautiful reversible stitch pattern called Reverse Fern Stitch with a lush texture and I-cord bands. Make your own perfect yarn by combining a lace weight yarn like the luscious Dreamline Soul from Du Store Alpakka with a fingering yarn like Pickles Merino Tweed. Syndra will be published together with Nuala (turquoise shawl & cowl) and Hertha (cerise shawl & loose sleeves) in the Norwegian special magazine Familien Småstrikk due out on 2. November. The English pattern will be published after a test knit in my Ravelry group.
The cowl is knitted sideways and in the round. You can adjust the length of the one size cowl by removing or adding pattern repeats of 10 sts. If you want to wear it twice around your neck, add 2 pattern repeats. The loose sleeves are knitted in the round to the end and come in sizes: S/M (L/XL, 2XL). An elastic band is threaded through the stitches on the wrong side of the top of each sleeve. Use knit-in elastic if you prefer. For edgings I choose I-cords and since the I-cord cast-on gives a loose edge I decided using a provisional cast-on (e.g. the backward loop cast-on) later to be replaced by an I-cord bind-off for the cowl, while for the loose sleeves I made an I-cord, then picked up and knitted stitches from it, see video on YouTube. The set is knitted with sponsored yarn from Du Store Alpakka on a 4 mm/US 6 needle.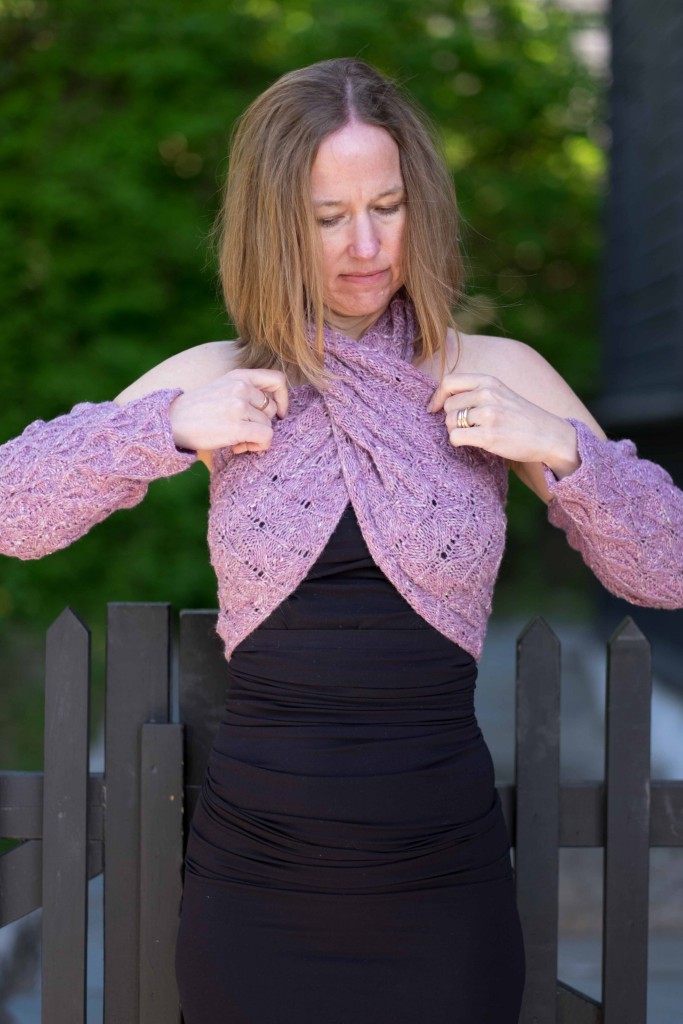 You can wear the cowl loose around your neck, or across your shoulder or twisted around your neck as above.  If this is how you prefer to wear it, pin together two of your scarf, try on and measure to get the right length. For these photographs, taken by my husband, I choose black but for the photo shoot I choose cream to let the stunning lilac color come alive. I think you will agree with me when you see the photos taken by Eivind Røhne at Henie Onstad Kunstsenter. Stay tuned, and keep knitting!